Smashing it! Jacob lands Euro title and men win gold, too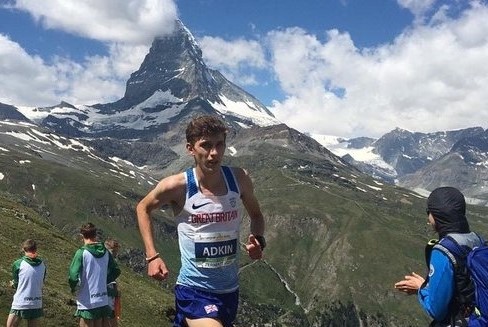 British Athletics website report
Jacob Adkin scaled new heights for Scottish hill running in the shadow of Switzerland's iconic Matterhorn.
The Keswick athlete coached by his GB and NI team-mate Robbie Simpson, who came through the ranks at Moorfoot Runners and Edinburgh Uni Hare and Hounds, conquered Europe with a superb individual gold medal success in Zermatt.
And Adkin's victory set the tone for a first-ever Senior Men's team win for GB and NI – with fellow Scots Robbie himself and Andy Douglas both inside the top ten as they placed seventh and ninth respectively.
Racing over a 10k uphill only course, Adkin became the first Brit to win a Senior European hill title since Emmie Collinge in 2016.
Jacob oozed class as he tore away from the opposition, winning in the end by 25 seconds from Norways Overgaard Aarvick Stian and Italy's Xavier Chevrier.
Meet Jacob Adkin – Q and A (from September 2018)
'I didn't have any specific expectations coming into the race,' said Jacob, who was sixth in the World Champs last summer.
'I initially set out to fight for the team and the individual placing didn't really enter my head until I hit the front with about a third of the race run.
'But when the opportunity presents itself to potentially go and win an individual medal at a major championships, that really pushes you on. There was support coming from team-mates and the crowd along the side of the course.
'And, ultimately, you want to do the hill justice, don't you?
'I want to say a big thank-you to everyone who has supported me along the way both today and previously.'
Many congratulations to Jacob, his family, coach Robbie and all involved in his development over the years into a world-class hill runner.
Douglas, who leads the World Cup Series, was the third counter had to hold off the threat of Italy's Martin Dematties for ninth place – and that ensured GB took gold on 17 points by a single point from Italy on 18.
Two Scots featured in the Junior Women's race as GB and NI were placed fifth.
Lauren Dickson of Lasswade was the second British athlete home as she was home in 12th place, with Edinburgh AC's Pippa Carcas in 26th place in her first appearance for GB.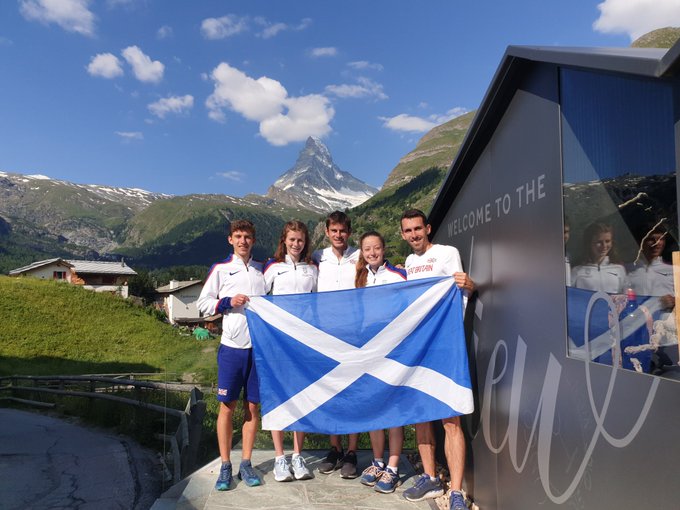 *Photo – with thanks to Andy Douglas and all the team
Tags: Andy Douglas, European Mountain Running Championships, Jacob Adkin, Lauren Dickson, Pippa Carcas, Robbie Simpson, Switzerland, Zermatt