Q and A with GB hill runner Jacob Adkin
Jacob Adkin claimed a fine sixth place finish at the World Mountain Running Championships in Andorra last weekend.
It has his debut at Senior level after a great season and Jacob, who started out with Moorfoot Runners, has been talking to Gregor Nicholson about his hill running career and his ambitions.
Q: This has been a breakthrough year for you. What has made the difference?
A: Ultimately it's down to how much more enjoyment I get back from running now and having a full year free of injury.
Previously, training could feel like a chore at times, particular when juggling university life as well, but recently I have been able to appreciate the sport for what it is and how much it can give back.
This is both in terms of the physical side of running, but also the brilliant people I have met along the way. I have been very lucky to have spent a good portion of this summer living and training in Chamonix in the French Alps, as well as travelling to races in amazing places, and this has only amplified the experience.
I have also been fortunate to benefit over the last few years from the Borders Athlete Support Programme which helped me through previous  injuries and support from Salomon UK.
Q: What has it been like working with your new coach Robbie Simpson (Commonwealth Games marathon bronze medallist) and what have you learned from him?
A: I have always been inspired and motivated by Robbie's work ethic, commitment and outlook of the sport.
Having chatted to him at races and on trips, he has so much great advice and knowledge which he willingly shares to help others. As a friend as well as a coach it works really well, creating a dynamic training situation which allows me to adapt things if necessary, while still maintaining the quality.
I have gained a lot more confidence in my running and racing through working with Robbie. The knowledge he has gained from racing at the very top is invaluable.
Q: What did it feel like standing on the start line in your first senior World Champs?
A: I felt a little nervous, but mostly relaxed as I knew I had done everything I could to be on that start line amongst some of the world's best mountain runners.
Wearing your country's vest gives you a sense of pride like no other, and I was just looking forward to testing myself in my first senior world championship race.
Q: What was your race plan and did you stick to it?
A: These races always start fast. Having seen most of the course in the days beforehand, and with the finish line at a high altitude, I knew a more conservative start was more appropriate.
Sticking to this, I was able to work my way through the field over the first half of the race, obtaining a good position to then work hard over the last tough climb to the finish. Overall, the plan went to plan!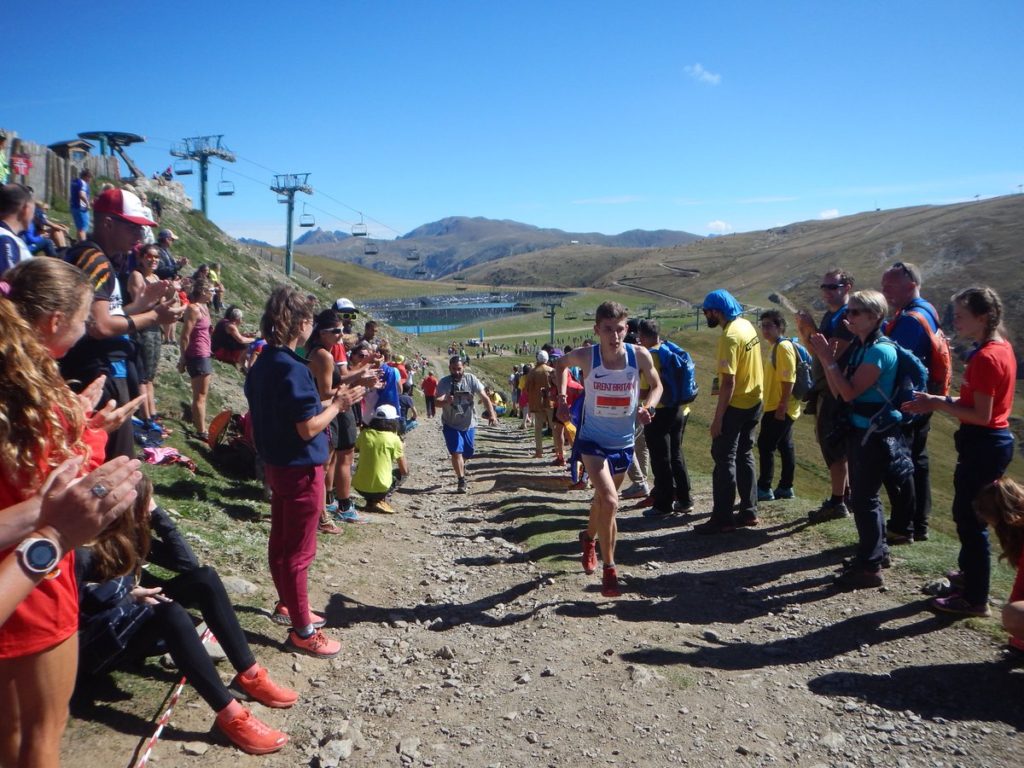 Q: How did it feel when you crossed the line in sixth place?
A: It didn't hit me straight away – I was too exhausted!
From fellow GB team-mates cheering me on, I knew I was up to sixth, but I was so focussed on trying to catch the runner ahead (Norwegian Johann Bugge was first European home just six seconds ahead) that I finished without registering the bigger picture.
Only afterwards when speaking to team-mates and the managers did it start to sink in!
Q: For the running afficionados out there, what did your final training week look like
A: Tapering down in race week is always tricky, as any running afficionados will know!
A short run on Monday after a final hard weekend the week before. Then another easy run (around one hour) on Tuesday with strides. A short hill rep session on Wednesday (3 minute reps) followed by a short easy run on Thursday before travelling. A chill run on the first half of the course on the Friday, and a final easy run with strides on Saturday before the race on Sunday.
Q: And how does this compare to your average non-race week?
A: A non-race week would have longer easy runs, two key sessions, and a good long hilly run. So definitely more mileage and quality, but still just as enjoyable!
Q: What have you learned from the whole experience of the World Champs and would you do anything different next time?
A: I have learned more than ever that even at the biggest races, it is important to try to treat it like any other race. Focus on your own running, rather than letting the enormity of it all get to you.
This race was one of those days when it just clicked, but I'm sure something will come to mind in the future that I think I could have done differently!
Q: What's next for you in the coming weeks. Rest and recuperation . . . or do you have any more races in mind
A: A bit of down time with just easy running and no specific race plans until October when I hope to compete in the British Fell Relays, before getting into some cross-country racing.
Q: You are just about to move to Keswick in the English Lake District. What's behind the move?
A: After finishing university this year, like many I had no idea what to do. Moving to the Lake District where I've often been for holidays will be a great new place to live, work and train, and I'm looking forward to the new opportunities it will bring!
Q: And for the winter and next summer, what are you hoping for now that you have established yourself as one of Europe's elite mountain runners?
A: I haven't set goals yet for this winter, but I hope to remain fit and try some new and some familiar races through the cross country season.
Back in the hills next summer, I would like to be able to do some more travelling and racing around Europe to see new places and hopefully gain more international experience.
Tags: Andorra, Jacob Adkin, Robbie Simpson, WMRA World Champs