Paula Radcliffe will be our Guest of Honour for FPSG Awards Dinner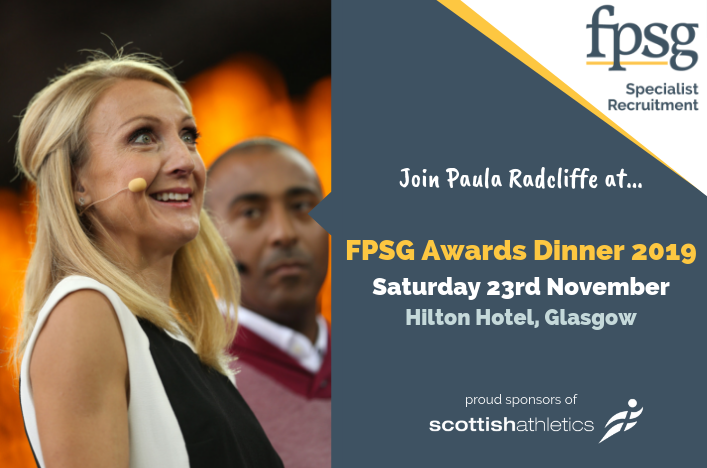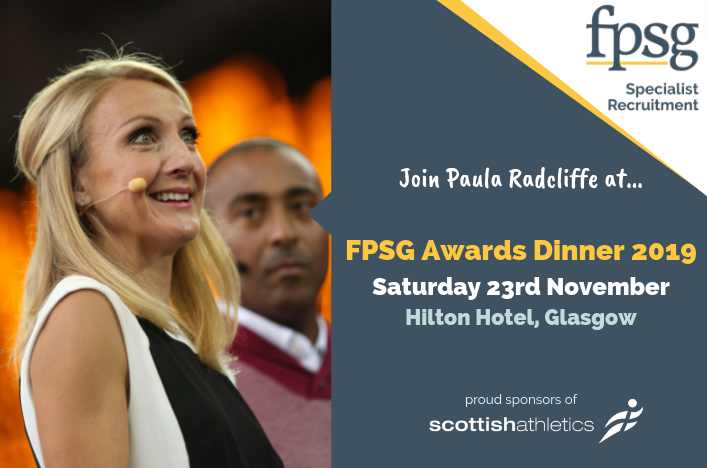 FPSG Awards – the full list from 2018
Paula Radcliffe will be Guest of Honour at the scottishathletics FPSG Awards Dinner later this year.
The Women's marathon World Record Holder will be in Glasgow for our big night on Saturday 23 November.
It's always a great occasion when the sport gathers to celebrate our FPSG Athlete of the Year and FPSG Para Athlete of the Year and also acknowledge the role played throughout the year by volunteers, coaches, Officials and clubs.
The Hilton Hotel in Glasgow is the venue and we will soon announce how to book tickets for the FPSG Awards Dinner. The nominations process will open in a few weeks, too, so we can receive tour suggestions for a whole range of special accolades to be presented that night.
Paula Radcliffe herself will present the FPSG Athlete of the Year and the FPSG Para Athlete of the Year crowns in tandem with our Awards Dinner sponsors.
And the BBC Sport athletics co-commentator and analyst is delighted to have been invited to be our Guest of Honour and follow the likes of Steve Cram and Dame Kelly Holmes in recent years in that role.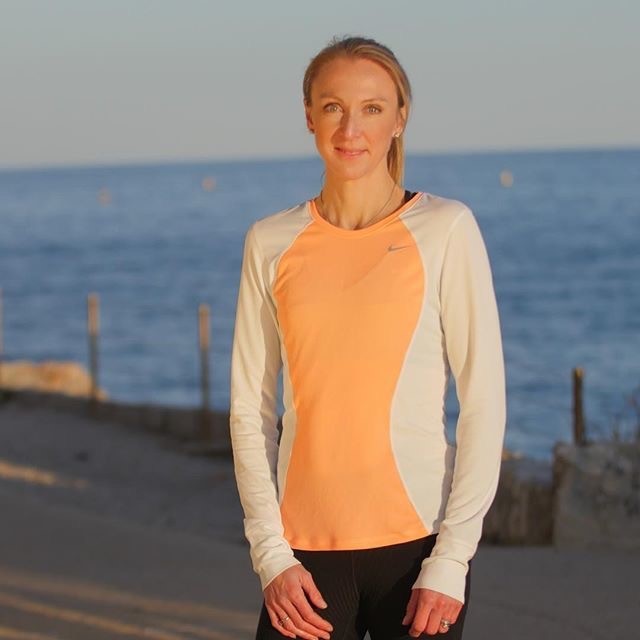 'It is an honour and a pleasure for me to come to Glasgow in November as Guest of Honour for the scottishathletics FPSG Awards Dinner,' said Paula.
'Scottish athletics is so strong and inspiring right now and I am sure 2019 is going to see that impact continue to grow and follow the pattern of recent years.
I am pretty certain my visit will confirm that it's the enthusiasm of clubs, jog groups and volunteers at grassroots level which has been the solid platform for excellent elite level performances.
'The successes of Laura Muir inspire so many people, and her courageous and attacking style of racing is exciting and fun to watch.
'To see her training partners following in her footsteps under the watchful eye of coach Andy Young is a pleasure and demonstrates all of their hard work. Scottish women are out in force covering UK middle distance!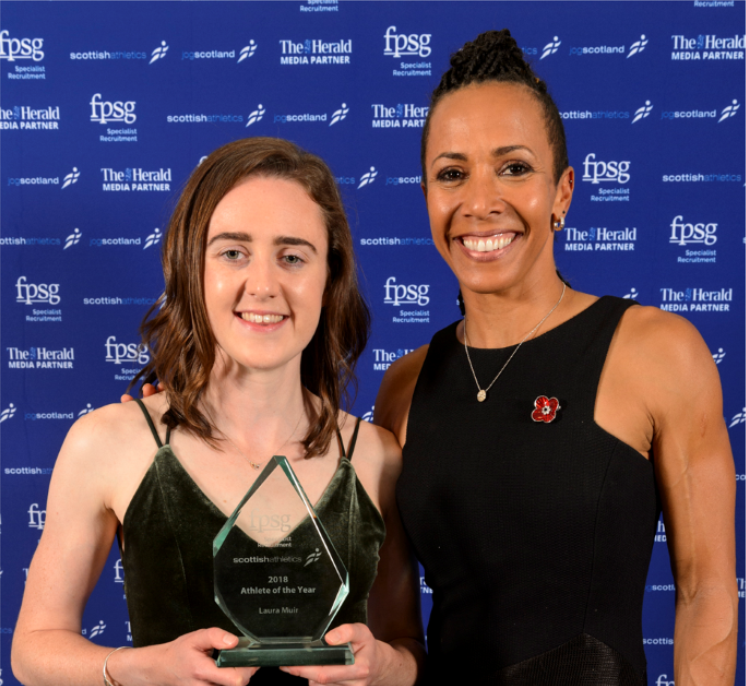 Laura Muir won the FPSG Athlete of the Year title with Dame Kelly Holmes making the presentation (photo by Bobby Gavin)
'The UK men's middle distance is clearly in safe hands thanks to the Scottish too, with Jake Wightman, Josh Kerr, Chris O'Hare, Neil Gourley and Guy Learmonth all showing good form.
'Eilish McColgan continues to go from strength to strength and I look forward to seeing what she can do this year. It's also exciting to see Andy Butchart bounce back from his injury and pick up where he left off.
'Eilidh Doyle and Zoey Clark have had a lot of success on the track in relay events and we saw Beth Dobbin make a breakthrough at 200m last year in Berlin by reaching the European final.
'Finally, what a joy it was to see Callum Hawkins run so well in the London marathon after that dramatic collapse on the Gold Coast.
'Callum, who is coached by his dad Robert, has shown real toughness and willingness to work hard and commit – which I think is reminiscent of his advisor, Steve Jones. In London, Callum clearly showed that he is back to his best with much more to come from him.
'Steph Twell is another Scot who so often comes up with good performances and we are seeing that now from Steph on the roads.'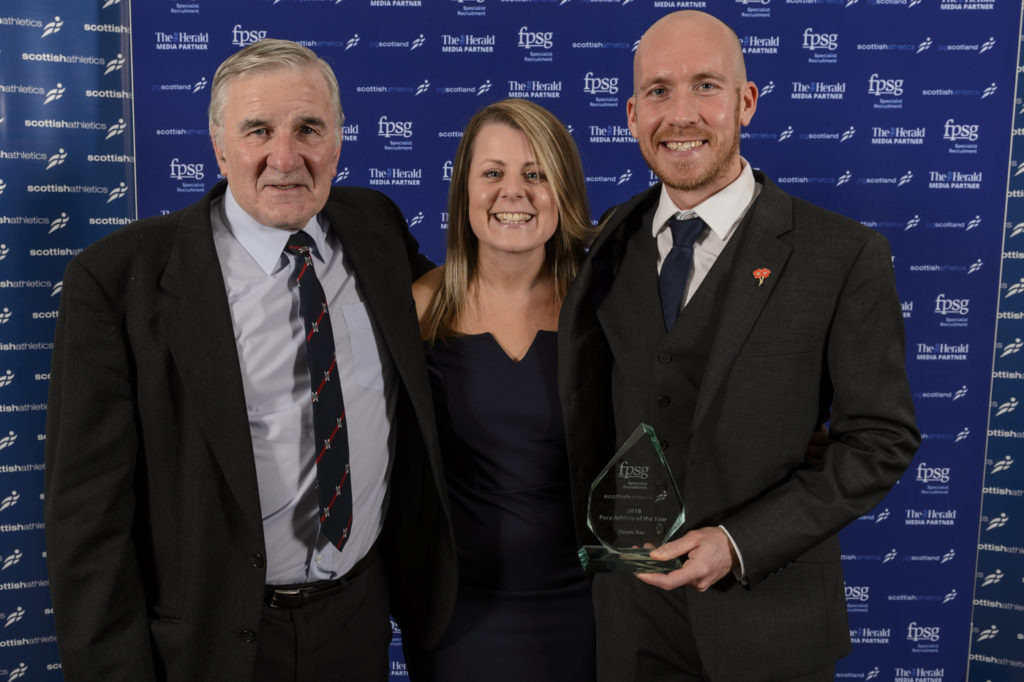 Derek Rae and his wife Susan are joined by coach Ron Morrison as he celebrates the FPSG Para Athlete of the Year award last year (photo by Bobby Gavin)
Tags: Derek Rae, FPSG Athlete of the Year, FPSG Awards Dinner, FPSG Para Athlete of the Year, Laura Muir, Paula Radcliffe