ENTER NOW for GAA Sprint Gala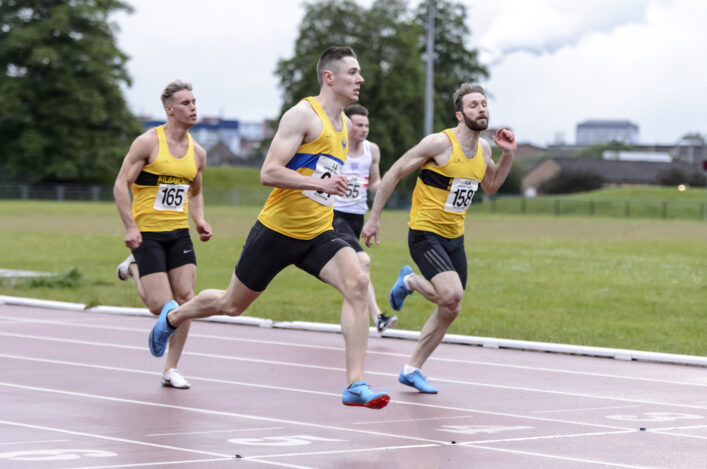 Action from the GAA Sprint Gala at Crownpoint (photo by Bobby Gavin)
The next GAA Sprint Gala is coming up at Scotstoun in Glasgow later this month – with Friday 28 June the key date for competition diaries.
It's a great chance to chase a PB and there's also a significant prize pot on offer.
Wet weather didn't dampen the first Sprint Gala of the summer at Crownpoint a few weeks but here's hoping good conditions will help contribute to strong performances on June 28.
Events on offer this time are 100,200, sprint hurdles, long jump and high jump.
Entries are open online – they close on Friday 21 June, so make sure you don't miss out on a slot!
In terms of the prize pot, it will be a 'dash for cash' with £300 each on offer in the men's and women's 100m races with the money having rolled over from Crownpoint if athletes hit certain times
Here's the breakdown:
£300 (Rollover) 100m Men – 10.75
£300 (Rollover) 100m Women – 12.05
£100 200m Men – 21.6
£100 200m Women – 24.5
£80 Men's 4x100m Relay*
£80 Women's 4x100m Relays*
* Prize pot money available to fastest non-International relay team, subject to three club/squad teams running
Reminder: Any athlete to run under the time will split the pot, i.e. if only one 100m male runner runs 10.75 he will take the £300 prize pot, if 3 athletes run 10.75 they will each receive £100, and so on for each event.
If no athlete hits the time for that event it will carry forward to the next Sprint Gala on Wednesday 24 July.
Tags: GAA Sprint Gala, Scotstoun