O'Hara U17 Record; SUPERteams entries close; Babcock 10K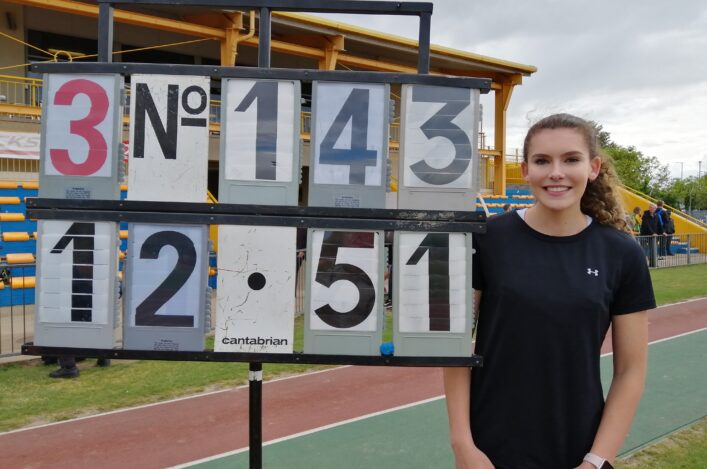 Ellie O'Hara celebrates her 12.51m leap at Bedford
Scotland's Ellie O'Hara was competing at the B.I.G. event ion Monday – and once again came up with a fine Triple Jump performance.
The Edinburgh AC athlete, who is coached by Linda Nicholson, leapt to a new PB of 12.51m that will push on even further her existing Scottish U17 Record for the discipline.
Ellie held the Record at 12.46m but her latest effort will add a further 5cm (subject to the usual ratification procedures).
It follows on from a first Senior Scotland vest at the Loughborough International, with the 16-yeard-old a first year in our 4J Studios National Athletics Academy.
Well done to Ellie, her family, her coach and all involved in her development in recent years.
Ellie was by no means the only Scot to impress at Bedford in the traditional Bank Holiday Monday meeting – with Zara Asante at 13.03m in the same triple jump event and Stef Reid at 5.53m in the long jump.
Nick Percy followed up his Loughborough win with throws of over 60m to take first place in the discus, with his best at 61.68m. And it was good to see Emma Nuttall win the women's high jump with a 1.83m clearance that leads the Scottish rankings for 2019 thus far.
+++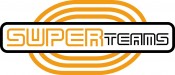 Details on our Event Section page
Calling all clubs – the deadline for entries for our FPSG SUPERteams event is fast approaching . . .
This is the event for our youngest club athletes and as such is open to U12s, starting from those aged nine on the day.
Scotstoun Stadium in Glasgow is the venue on Saturday 15 June and we are asking clubs to enter online now via the Events section page
Closing date for entries is May 30.
The age bracket is as follows:
Born between 01.09.07 and 15.06.10 – so that is aged nine years or over on the day of the event but U12 on 31 August 2019.
+++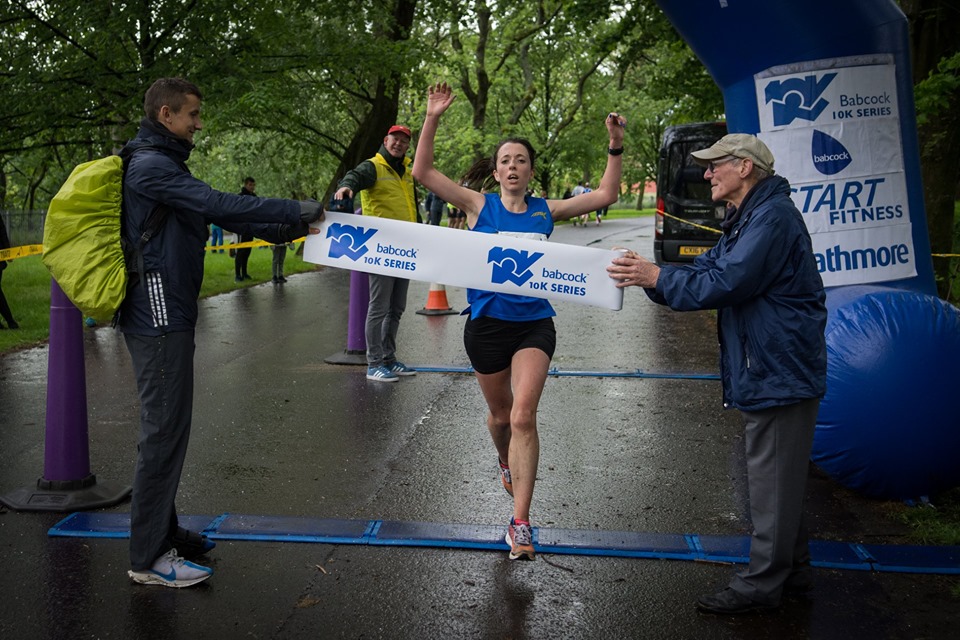 Fionnuala Ross crosses the line at Glasgow Green for a Course Record (photo by Daren Borzynski)
The Babcock Shettleston 10k on Glasgow Green produced another record, following series records from Weynay Ghebresilassie in Helensburgh and Fionnuala Ross in Dumbarton, last week.
This time, the two Shettleston Harriers were victorious once again on their home course. Ghebresilassie eased to his second victory in this year's series while Ross demolished the women's field in 34.12 – taking 13 seconds off her own existing Course Record.
Fife's Annabel Simpson was second to win the overall series title after a victory in Helensburgh and third in Dumbarton. Kilbarchan's Elspeth Curran was as consistent as ever in third place.
Rio Olympic marathon runner, Sonia Samuels, who travelled North from Loughborough, encouraged Kilbarchan's Gemma Rankin to overtake her in the finishing straight as she battled with post London Marathon injury niggles.
Stuart Gibson of Cambuslang broke up the Shettleston domination in second four seconds ahead of the host club's Peter Avent in third.
With almost 600 entries, the Babcock 10K Series concluded with around 2100 having entered three races in Dumbarton, Helensburgh and Glasgow Green.
Photos on Facebook by Daren Borzynski
+++
Tags: Babcock 10K Series, Ellie O'Hara, Emma Nuttall, Fionnuala Ross, FPSG SUPERteams, Nick Percy, Wayney Ghebresilassie, Zara Asante