'Loughborough can be useful learning curve' – Stephen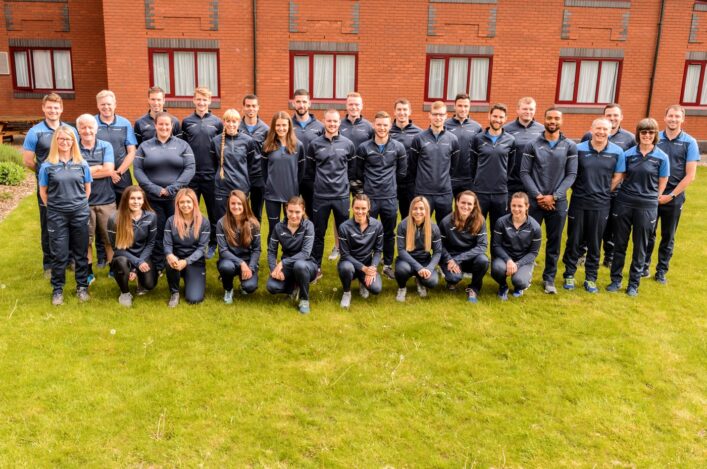 Scotland team and coaches gather at the hotel early on Sunday (photo by Bobby Gavin)
Loughborough International 2019 – event website
Scotland head for the Loughborough International 2019 this weekend – with Stephen Maguire insisting the whole trip can be a useful learning curve.
A number of young athletes have been selected for the action on Sunday at the Paula Radcliffe Stadium (and up-dated team is listed further down this article)
Six teams compete in all in the event – and Scots don't just compete for Scotland under the format – with those wearing the Joma Sport national kit up against England, Wales, hosts Loughborough University, GB and NI Juniors and a BUCS Select.
In fact, three young Scots will represent British Athletics in the GB and NI Juniors team this weekend following selections for long jumper Alessandro Schenini, triple jumper Miraji Ahmed and 400m runner, Billy Doyle, with the 4x400m Relay squad.
Pitreavie AAC athlete Doyle is now the Scotland 400m pick while Stacey Downie of Edinburgh AC has won the women's selection in that event and been added to the 4x400m Relay squad.
scottishathletics can also confirm the team staff for the event as follows:
Head Coach – Stephen Maguire
Team Manager – Leslie Roy
Sprints and Hurdles – Allan Scott, Francis Smith
Endurance – Linda Smith, Derek Easton
Jumps – Ken Allan
Throws – Alison Grey, Andy Frost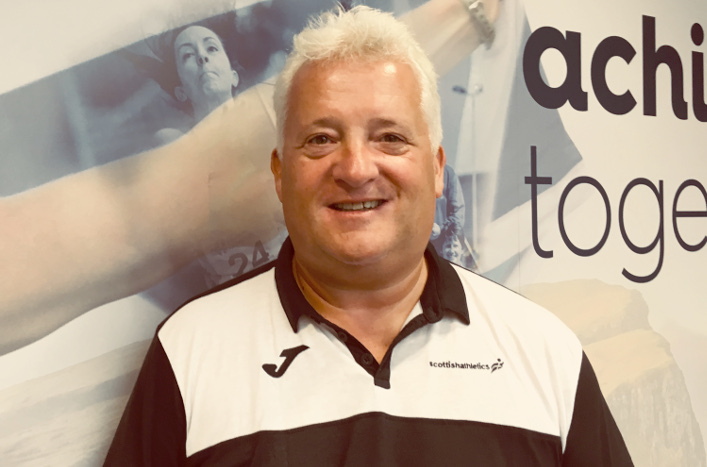 Stephen Maguire is looking ahead to leading Scotland team at Loughborough (photo by Sue Gyford)
Go Scotland! Superb new Joma kit for 2019-20
'It's a great early season event with a chance for our athletes to test themselves in a competitive environment in terms of UK athletes,; said Stephen.
'And, of course, our team are doing that with the added bonus of representing Scotland in track and field which does not happen all that often.
'The team this year has a good balance of some more experienced athletes and some younger one who are still in the early stages of their development.
'During the weekend I will be looking for those younger ones to learn from the more experienced athletes – out of the event competition itself – and there's always bits and pieces people can pick up from others in this kind of team environment.
'It is worth noting that the nature of the Loughborough International is such that Scots can compete for other teams as well as ourselves – like the Loughborough Uni team of the GB and NI Juniors team. So, sometimes, we have to look beyond the performance of Scotland as a collective and look at individual performances.
'We also have a large quota of world class athletes who, at this stage of the season, are very much focused on preparation which is looking to culminate in the World Champs in Doha at the end of September and the start of October.'
Scotland team for 2019 Loughborough International (as at 12 noon on Thursday)
Men's team
100m Greg Kelly; 200m Cameron Tindle; 400m Billy Doyle; 800m Patrick Taylor; 1500m Michael Ferguson; 3000m Alastair Hay; 110m Hurdles Andrew Murphy; 400m Hurdles Jack Lawrie; 3000m Steeplechase Michael Deason
High Jump Lewis McGuire; Long Jump Stephen MacKenzie; Triple Jump Chukwudi Onyia; Pole Vault Andrew Murphy; Discus Nick Percy; Hammer Ciaran Wright; Javelin Greg Millar; Shot put Craig Charlton
4 x 100m Relay: Tindle, Kelly, Fraser Angus, Adam Clayton
4 x 400m Relay: Lawrie, Shawn Wright, Lewis Brown, Patrick Taylor
Women's team
100m Katy Wyper; 200m Alisha Rees; 400m Stacey Downie; 800m Philippa Millage; 1500m Kerry MacAngus; 3000m Eloise Walker; 100m Hurdles Heather Paton; 400m Hurdles Anna Nelson
High Jump Emma Nuttall; Long Jump Sarah Warnock; Triple Jump Ellie O'Hara; Pole Vault Courtney Macguire; Discus Kirsty Law; Hammer Rachel Hunter; Shot Put Mhairi Porterfield
4 x 100m Relay: Wyper, Paton, Sarah Malone, Chloe Lambert
4 x 400m Relay: Nelson, Lambert, Millage, Downie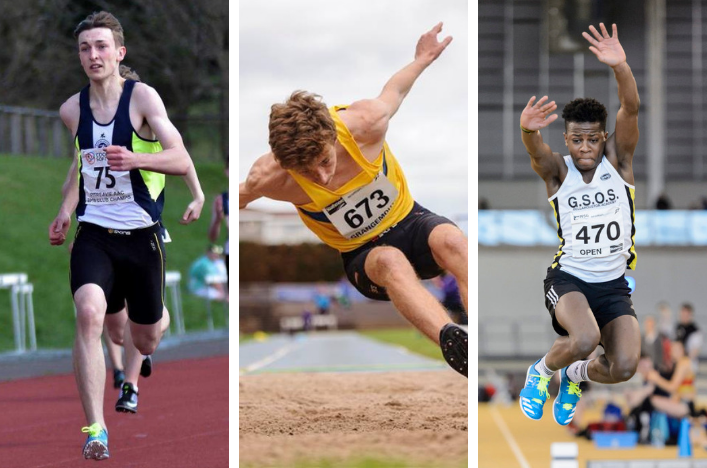 Billy Doyle, Alessandro Schenini and Miraji Ahmed are all picked for GB Juniors
Three Scots selected for GB Juniors for Loughborough
'I want to say well done to the three lads who have been picked to represent GB and NI Juniors in the jumps and the 4 x 400m relay,' said Stephen Maguire,
'Those selections reflect really well on the athletes and their coaches and clubs and we wish them all the best.'
+++
Aberdeen athlete Michael Ferguson races for Scotland on the track for the first time after previous appearances at cross country.
'I was delighted to get the call-up for the 1500m and especially because the event is so strong at the moment for Scottish men,' said Michael.
'I had to get a couple of races in quite quickly! I have been at the track at Loughborough before a couple of times but never for this event and I've heard a lot of good things so am looking forward to Sunday.
'I've been involved a couple of times in the International XC Relay – once at Edinburgh and then this year at Stirling.
'It is a real pity now that's gone from the Great Run calendar because it was a great race to be involved in, with a big crowd watching and TV coverage, and when you look back now a whole host of people have enjoyed winning vests at that one.'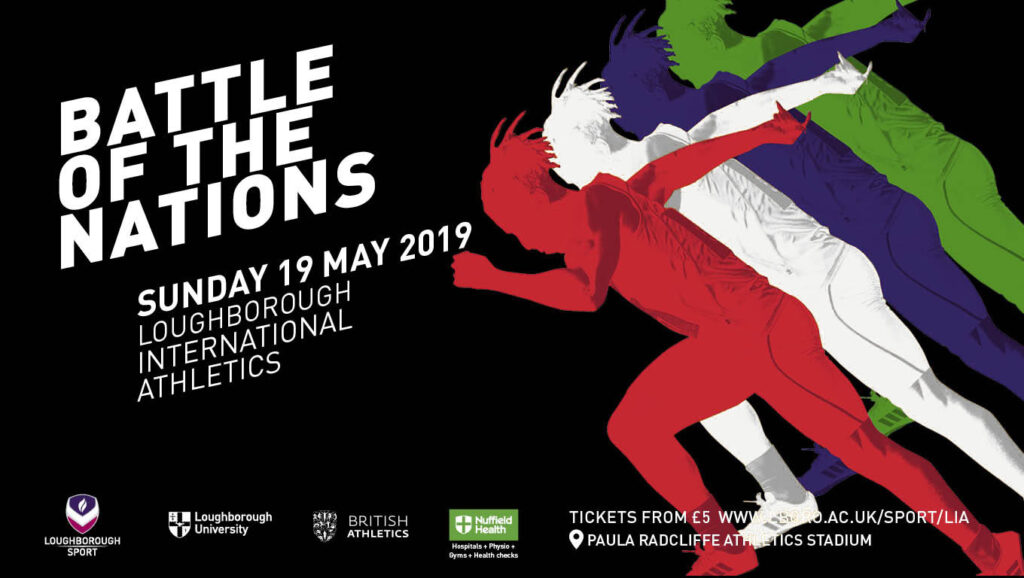 Tags: Alessandro, Billy Doyle, Joma Sport, Loughborough International 2019, Michael Ferguson, Miraji Ahmed, Stephen Maguire