Go Scotland! Superb new Joma kit for 2019-20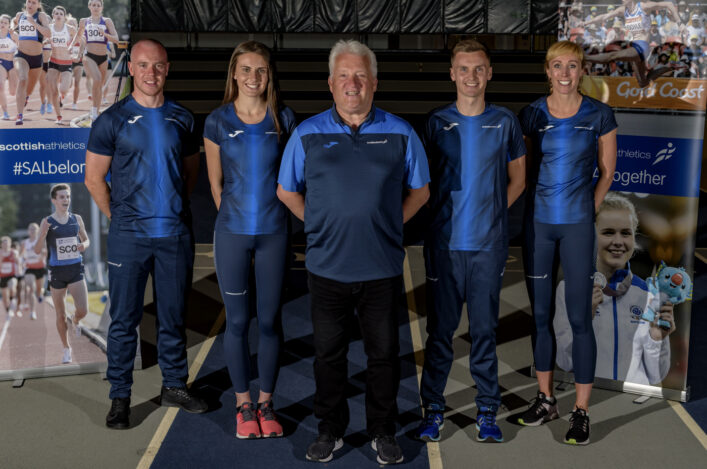 Stephen Maguire is joined by (L-R) Grant Plenderleith, Kerry MacAngus, Adam Craig and Philippa Millage at the Joma kit launch (photos by Bobby Gavin)
Joma Sport are our new kit suppliers
scottishathletics and our national kit suppliers Joma Sport have now been in partnership for 12 months.
And we celebrated the first anniversary of the agreement with the launch of the new Scotland kit for all disciplines for 2019-20.
The newly designed Joma kit will be worn for the first time at the Loughborough International 2019 this Sunday when Scotland compete in the traditional early season track and field event with five rival teams.
Middle distance duo Philippa Millage and Kerry MacAngus will race at the Paula Radcliffe Stadium in the new kit and joined us for the photo-shoot at the Emirates Arena along with Joma athletes Adam Craig and Grant Plenderleith as well as Stephen Maguire, our Director of Coaching and Performance.
'We're delighted to be working with scottishathletics and are really pleased with the way the partnership has developed over the first year,' said Andrew Barrowman of Joma.
Clubs across the country are also signing up for Joma and those include Shettleston, VP-Glasgow, Lothian, Corstorphine AAC, Kilmarnock Harriers, Pitreavie AAC, and Harmeny AC as well as a few more.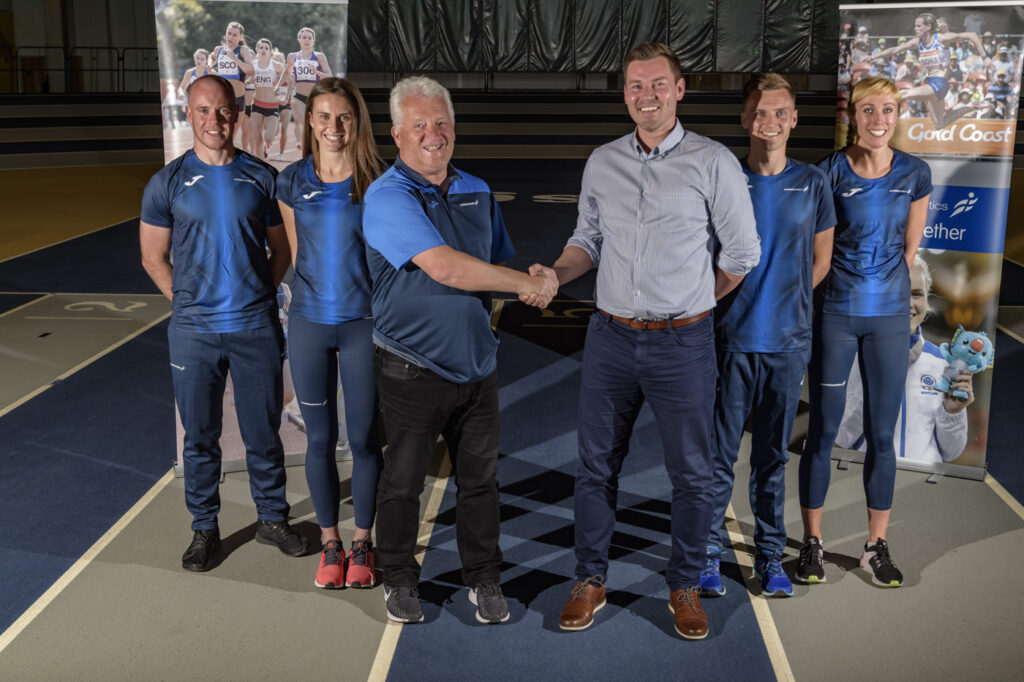 Stephen Maguire and Andrew Barrowman of Joma Sport shake hands on a great partnership at our kit launch
Photos on Facebook by Bobby Gavin
'It's been great for both parties and we've had a lot of good feedback from the athletes competing for Scotland in various events about the kit.
'The new designs for vests and T-shirts will be worn this weekend at Loughborough and this is the kit for the next season for road running, hill running, cross country and ultra as well as track and field.
'I'm also delighted with the way athletics clubs are switching on to Joma. That has really taken off in a big way.
'We now have agreements with well over 20 clubs to supply them Joma kit and that has just taken off so well in the past few months.
'The best marketing advertisement we can have is athletes wearing Joma to represent Scotland. Athletes are going back to their clubs and wearing the tops or the T-shirts and people within clubs are liking what they say and then starting conversations with us.'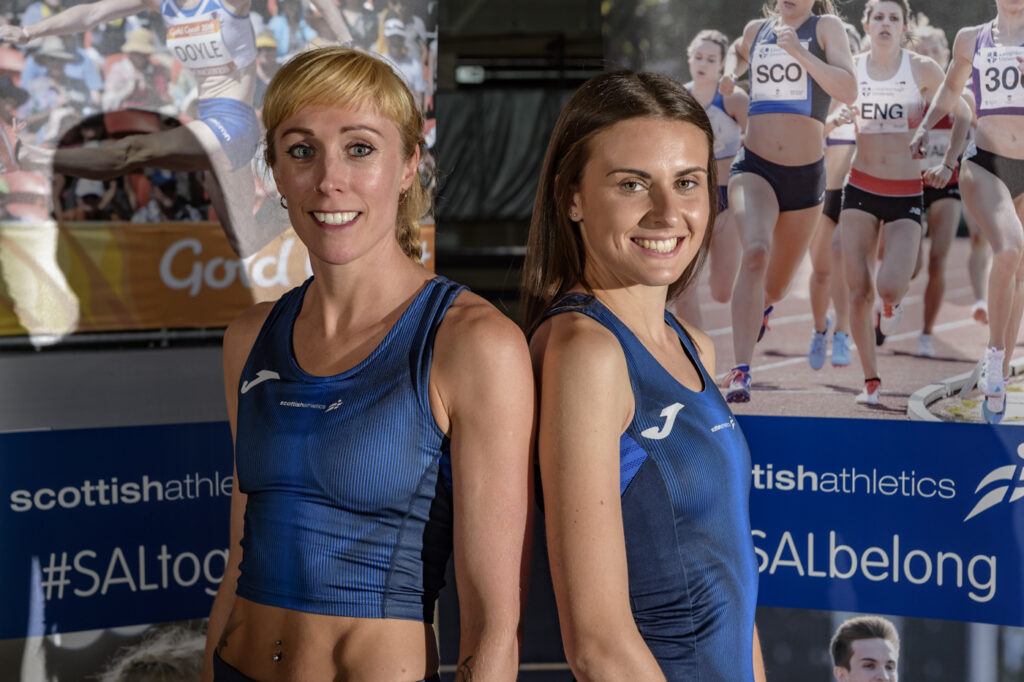 For Millage and MacAngus, Sunday will be a first experience of the Loughborough International.
'I've run for Scotland before in the International XC Relay at Holyrood and also in a mile race at the Manchester International,' said Philippa, our Masters Athlete of the Year in 2017 and still in fine form over 800m.
'I've heard a lot about Loughborough and am very excited to race at that event. It's early season but I will give it my best shot and am involved at 4 x 400m, too.'
Kerry was fourth in the British Indoor Champs with a six-second PB at 1500m as she took her time down to 4.20. A year ago, she was watching Loughborough on Vinco.
'My training partners Jemma Reekie and Sol Sweeney were racing last year so I remember watching the live footage online,' she said.
'I ran for Scotland on the road in Armagh in February and that went really well so I look forward to Sunday. I'll try and get points for Scotland but will also be looking to try and bring down my PB with 4.14 a target this summer as that is the Euro U23 qualifying standard.'
Grant unfortunately misses out on Loughborough this year as a precaution over a minor knee injury while Adam is now preparing for the Vitality 10K in London.
'The kit from Joma is really good and I'm sure athletes will be happy wearing it throughout the year in various disciplines,' said Grant.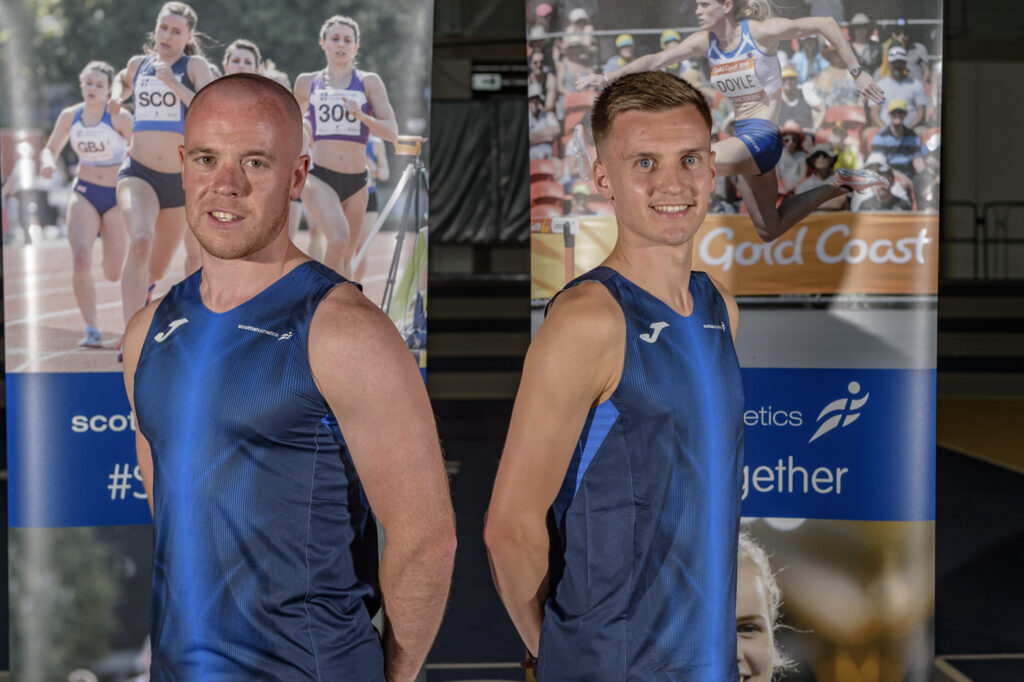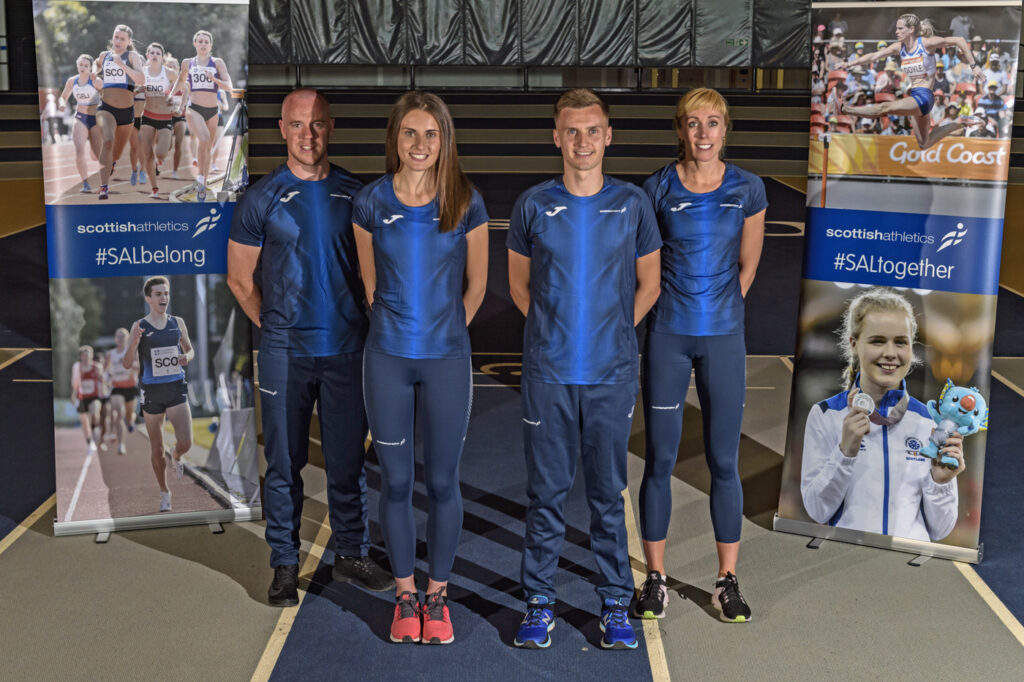 Tags: Adam Craig, Andrew Barrowman, Grant Plenderleith, Joma Sport, Kerry MacAngus, Philippa Millage, Stephen Maguire