Closes Thursday – FPSG Seniors and U17s; BMC Awards; Michael called up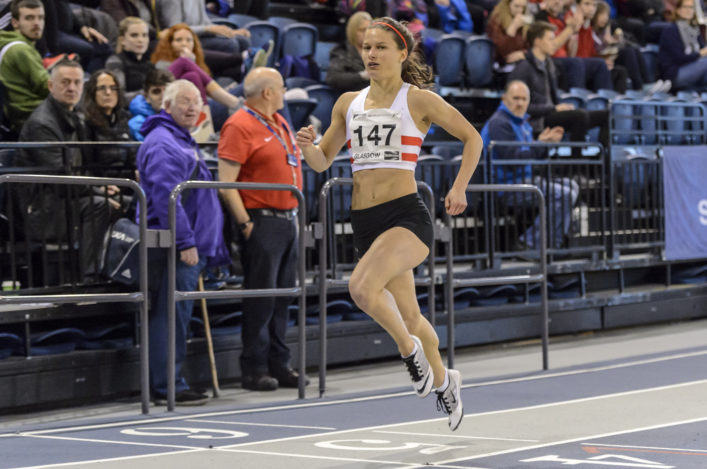 Zoey Clark set a National Record for 200m indoors last year at the FPSG Senior and U17 Champs (photo by Bobby Gavin)
ENTER for FPSG Senior and U17 Champs
The FPSG Indoor Season is upon us and one of the key events will be on Saturday 26 January when we stage the FPSG Indoor Senior Champs and the FPSG Indoor U17 Champs.
Once again this year we are combining the national championships at U17 level with the Senior Indoors – with Scottish national championship medals up for grabs in both age-groups that day at the Emirates Arena in Glasgow.
The Seniors was a popular event back in January 2018 and the highlights included a series of National Records for Heather Paton, Zoey Clark and Laura Muir.
Online entry opened a few weeks ago and the ENTRY DEADLINE will be at midnight on THURSDAY (10 January).
So don't delay, please enter via the online system now and make sure you don't miss out. Competition – It's What You Train For.
+++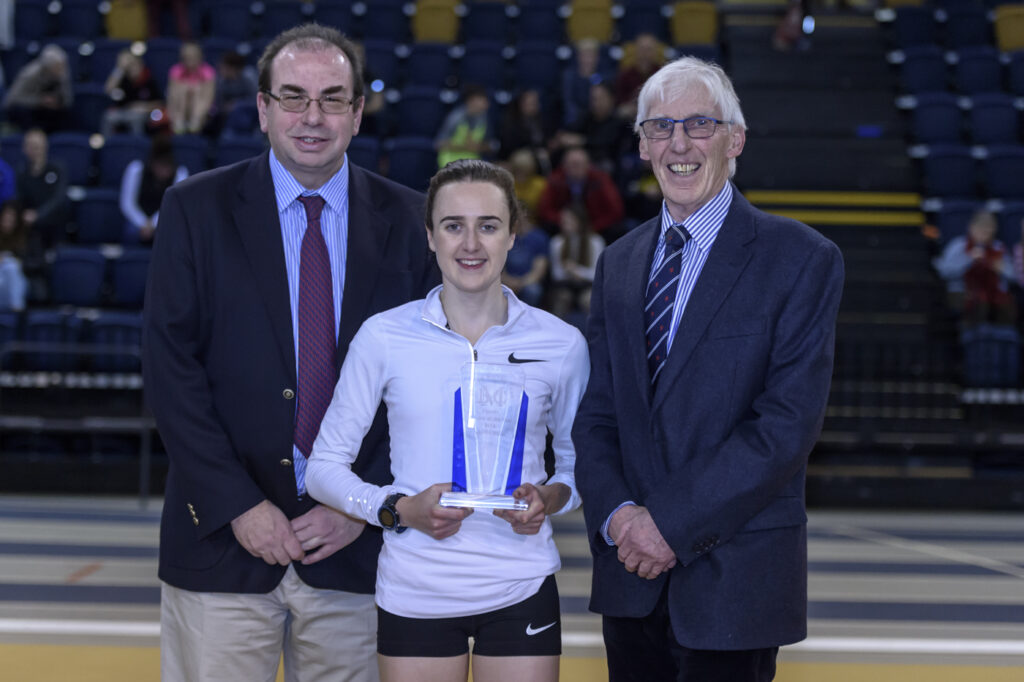 BMC award winners Laura Muir and Hugh Barrow with treasurer Matthew Fraser Moat (photo by Bobby Gavin)
The GAA Miler Meet and Scottish 3000m Champs were a big success on Friday evening at the Emirates Arena with thanks due once again to the British Milers Club for their assistance with these meets.
 BMC awards were made on the night to a couple of Scots – with founder member Hugh Barrow receiving the Frank Horwill Award for Services to the BMC from treasurer Matthew Fraser Moat. Hugh was actually member No 1 when the BMC was formed back in 1963.
Hugh then presented the BMC Female Athlete of the Year Award to Laura Muir – after her fine performance over 5000m on the Emirates track she knows so well.
+++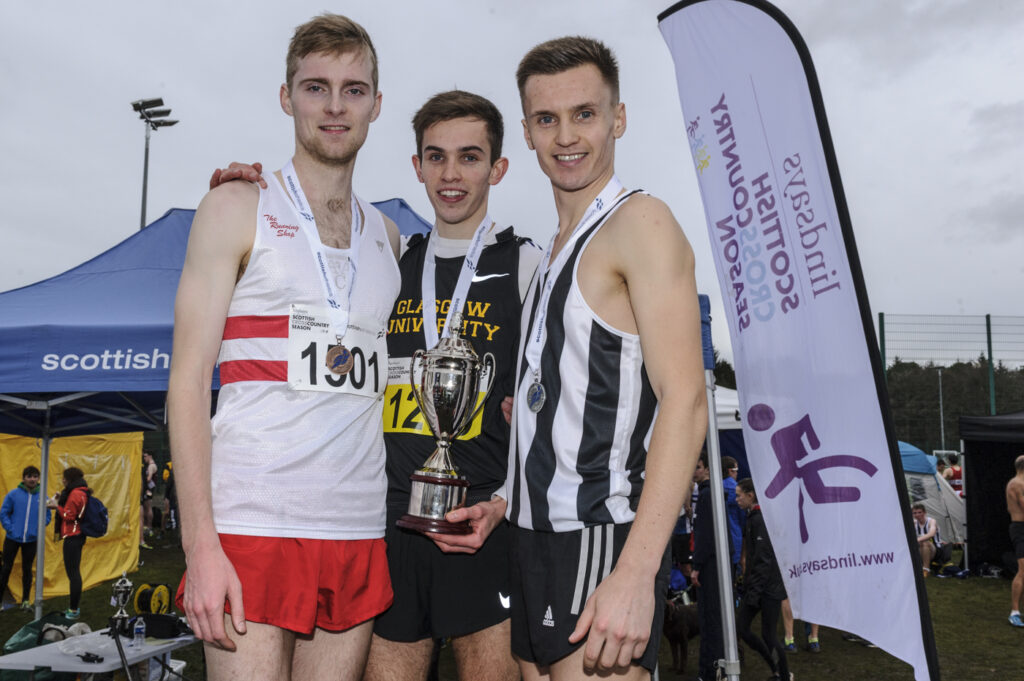 Michael Ferguson (left) now joins Adam Craig (right) in the Scotland team for Stirling with Sol Sweeney headed for the Emirates – all three were medallists at the Lindsays Short Course XC at Lanark (photo by Bobby Gavin)
Michael Ferguson is the latest athlete selected for Scotland for the Great Stirling XC event this Saturday.
The Aberdeen AAC runner will now compete with the Senior team in the International Mixed Relay which closes the event's proceedings around 2.30pm in Stirling.
Sol Sweeney has now elected to race the FPSG National Open at the Emirates Arena with the European Indoors very much a target for the new Scottish 3000m indoor champion.
Ferguson, who clocked 8.28 in the 3000m on Friday night, joins Mhairi Hendry, Adam Craig and Steph Pennycook in the Senior Scotland team.
We announced on Sunday that an U20 Scotland team will also race in the Mixed International Relay with that selection to feature Kane Elliott, Erin Wallace, Joe Ewing and Sarah Calvert.
Congratulations to Michael, his family and coaches Joyce and Ken Hogg on his selection.
Tags: Aberdeen AAC, Emirates Arena, FPSG Seniors and U17s, Hugh Barrow, Laura Muir, Michael Ferguson