Loch Ness Marathon and 10K; Traynor win; Results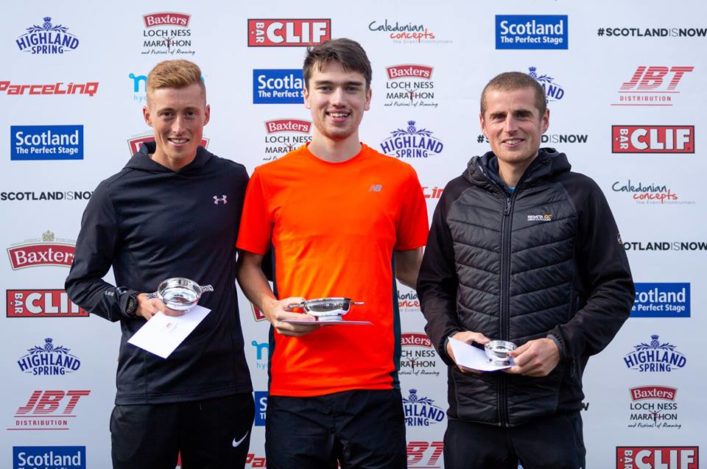 Euan Gillham (centre) savours Loch Ness 10K win in a PB from Kenny Wilson (left) and John Newsom
Report by Fraser Clyne
Mohammad Abu-Rezeq has set his sights on earning a place at the 2020 Tokyo Olympic Games after completing a hat-trick of wins in the Baxters Loch Ness Marathon.
The Manchester-based athlete completed the course in 2.23.56 to finish well ahead of his closest challengers then announced he is targeting next April's London marathon where he hopes to achieve a fast enough time to gain selection to represent his native Jordan in Japan two years from now.
Abu-Rezeq's time was the slowest of his three victories at Loch Ness but he was delighted with the result and feels he can run much quicker in future to gain Olympic selection.
He said: 'The conditions were good today and it was a very nice race. I like this course so much which is why I keep coming back here. It's not an easy course and I know I can run much quicker.
'My big aim is to run for my country in the Olympic Games so I need to run under 2:18 at London and I am sure I can do that.'
Prolific long distance runner Adam Holland (Tavistock AC) showed great strength over the final two miles to pull away from Kenyan athlete Isaiah Kosgei to take second position in a PB of 2:24:24. Kosgei, who was fifth last year, finished third to take top spot in the over-40 age group in 2:26:37.
Fife AC's Sheena Logan set a fine new PB of 2:51:11 to win the women's race by finishing ahead of two-time previous champion Jenn Wetton (Central AC) who was competing nine months after giving birth to son Adam.
'I am stunned by the result, completely blown away, and I really enjoyed it,' said Sheena. 'It's an improvement of more than four minutes on my previous best set before I had my children who are now aged one and four. Jenn is such a great athlete and I was with her until halfway and after that I was on my own.'
Wetton, who recorded 2:53:19, was equally happy with the outcome. Hazel Wyness (Metro Aberdeen) picked up the over-40 award when finishing third overall in 3:00:27.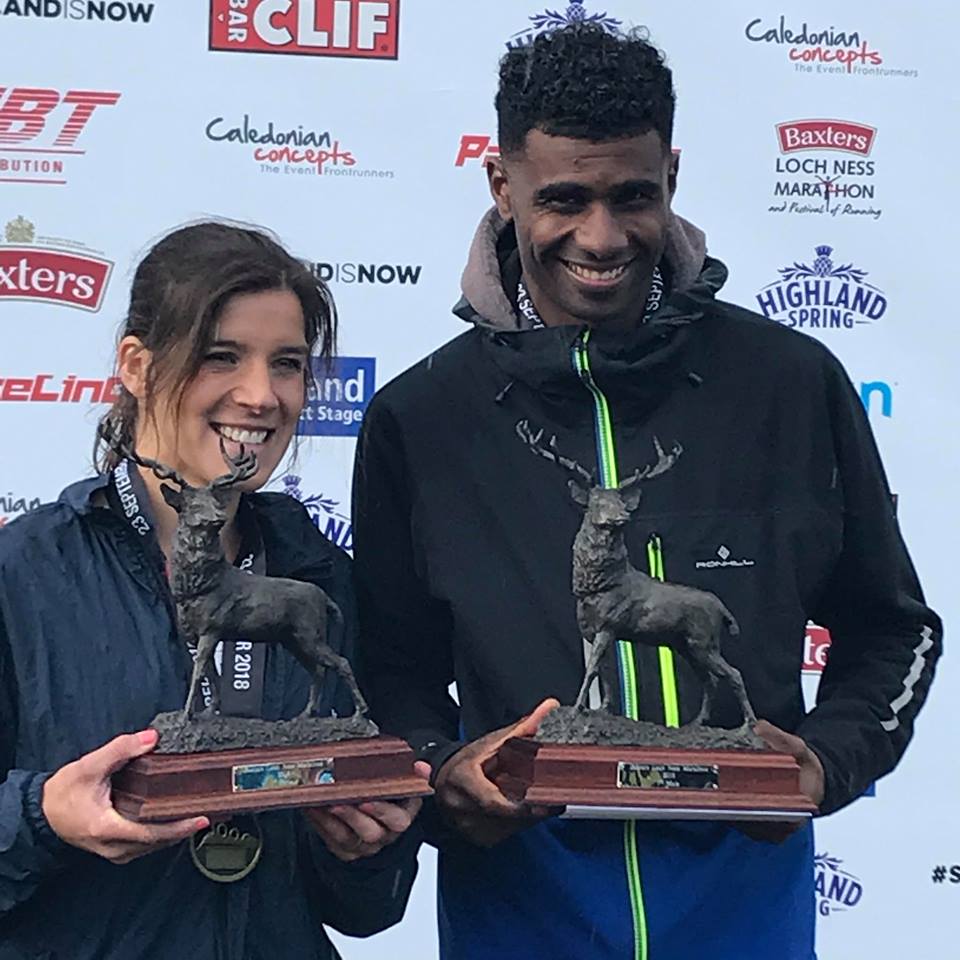 Sheena Logan and Mohammed Abu-Rezek celebrate their marathon wins
+++
 Kilbarchan's Euan Gillham got the better Moray's Kenny Wilson in an enthralling battle for supremacy in the Baxters River Ness 10K.
The duo were locked together in the early stages before Wilson pulled away, opening up what appeared to be a decisive lead. But Gillham, who was bronze medallist in the Scottish 10K champs at Stirling a fortnight earlier when Wilson finished fifth, gradually reeled in his rival and burst clear in the closing stages to win by 11 seconds in a PB of 30.22.
'Kenny went out at a good pace and I just couldn't go with it,' said Euan. 'He had a decent lead at 7K but when we hit the bridge about 1K from the end I managed to catch him and I went past as hard as I could so as not to give him a chance to react. I'm pleased because that's 24 seconds faster than my previous best set at Paisley last month.'
John Newsom (Inverness Harriers), the 2013 race winner, finished third in 32.13 and led Inverness College UHI to the Corporate Challenge team title.
Jenny Bannerman set a PB of 34:53 to score her third victory in five years in the women's race. The Inverness Harriers club member sliced 14 seconds off her previous best and charted new territory by dipping under the 35 minute barrier for the first time.
'I am really delighted,' said Jenny. 'I wanted to win the race today but getting a good time was more important. So I'm so happy to have done both.
'It's has taken me a long time to get under 35 minutes. I don't know many times I've tried. I ran 35:15 in 2015 and thought I was getting to close to it then, but it has taken another three years to do it.'
Edinburgh AC's Ella Revitt was only a few secs outside her personal best when finishing second in 35:35 while Rosanna Andrews (Rugby ad Northampton) finished third in 37:08.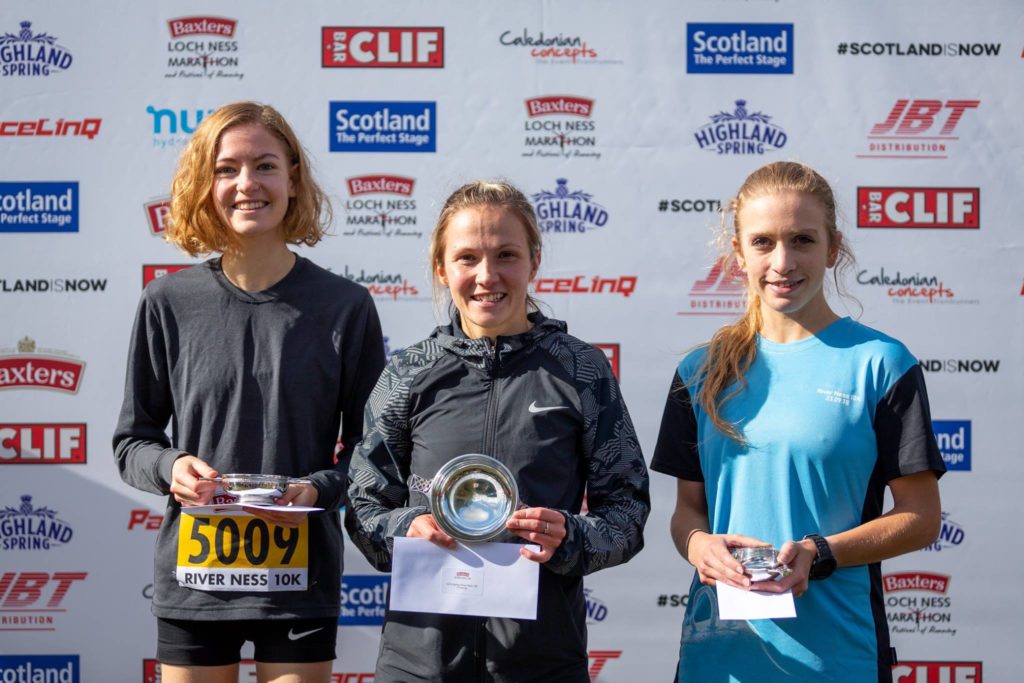 Jenny Bannerman claimed her third Loch Ness 10K win in a PB ahead of Ella Revitt and Rosanna Andrews
+++
GB international Luke Traynor warmed up for the Great Scottish Run in Glasgow this forthcoming weekend by taking the win in the inaugural Hamilten 10K on Saturday.
Luke clocked a chip time of 29.40 to bring home the field in fine conditions.
+++
The West District Half Marathon Champs were held within the Dumfries Half Marathon Champs on Sunday. There were wins for Craig Reid of Bellahouston Road  Runners and Lisa Finlay of Dumfries RC.
+++
RESULTS for the Scottish Half Marathon and Scottish 10K in East Lothian
(NOTE: despite the title, these are not the Scottish Half Marathon Champs nor the Scottish 10K Champs)
+++
Tags: Euan Gillham, Hazel Wyness, Jenn Wetton, Jenny Bannerman, Kennny Wilson, Loch Ness Marathon, Mohammad Abu-Rezeq, Sheena Logan