Jake lands 1500m bronze at European Champs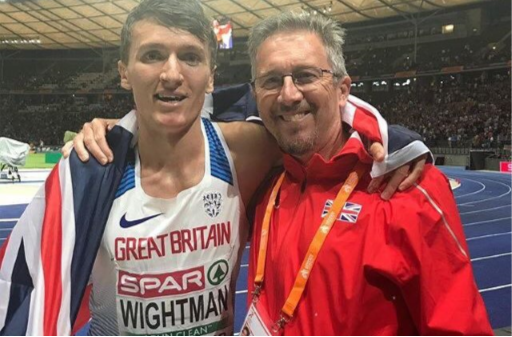 Celebrations begin in Berlin for Jake and Geoff Wigthman (photo via Twitter)
Jake Wightman claimed his second major medal of 2018 with a superb run at the European Championships.
The Scot took bronze in a terrific men's 1500m final as he matched his podium place at the Commonwealth Games at Gold Coast 2018 back in April.
Wightman landed third in 3.38.25 as the amazing 17-year-old Norwegian, Jacob Ingebrigtsen, pulled off a famous win with Polish athlete Marcin Lewandowski's late surge ensuring he snatched the silver from the Edinburgh AC athlete.
Jake led home the British challenge to the three Ingebrigtsen brothers with Chris O'Hare, in the hunt until close to the end, finishing in ninth place and Charlie Da'Vall Grice placed fifth.
Many congratulations to Jake, his family, dad/coach Geoff and all involved in his development over the years which started at Edinburgh AC.
To collect individual medals at two championships in the same season is an excellent performance and he also raced the 1500m final at the World Indoors, where he finished sixth.
Here's Jake talking to Sue Gyford of scottishathletics in Berlin
Here's JAKE WIGHTMAN fresh from that closely-fought 1500m European bronze medal: "It was such a close finish that I think… if you were within about 10 metres of it in the last 100 you had a chance of winning," And much well-earned praise for dad and coach Geoff – "He puts in more effort than I do and this medal's probably more his than mine."#SALSuper17

Posted by Scottish Athletics on Friday, 10 August 2018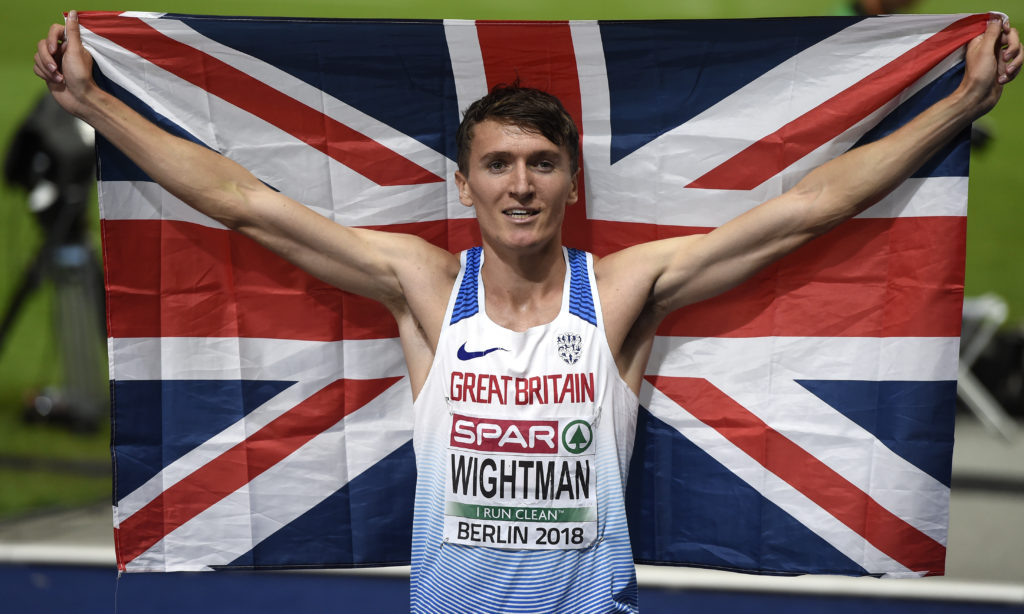 Photo by Mark Shearman
'I'm relieved to be fair – that was the most pressure I've put on myself at any championships,' said Jake.
'You have no idea what's going to happen and the way people have been running up to this point meant that it was a pretty exciting race for people to watch and it was a pretty amazing experience going into the final 100m with us Brits and the three Norwegians attempting to win it. I do think if you ran that race 100 times there would be 100 different outcomes
'There have been occasions, especially Europeans last time around [2016], when I made the wrong move and compromised my whole race. I made sure I was patient today and left it until the home straight which is why it was so intense in the home straight, but another bronze medal; I can't complain with how it's gone for me.'
Chris said: 'It's annoying; I know I could have medalled, and there is 7/8 guys who could medal.
'It's about doing everything right, but there were just a few things that were wrong. I just kind of covered moves I should have let go and been patient. I'm massively disappointed but I am happy for Jake.'
Well done to Chris and his family and coach, Terrence Mahon, on representing GB and NI in Berlin.
+++
Lynsey Sharp was looking to try and complete what would have been a remarkable European Champs hat-trick after winning the title in 2012 and taking sivler two years later in 2014 in Zurich.
But in a messy final which led to something of a scramble for the places over the last few metres, the Edinburgh AC athlete had to settle for sixth place in 2.01.83 as the race was won by the Ukrainian, Nataliya Pryshchepa, in 2.00.38.
GB and NI's Adelle Tracey took fourth place with three British athletes involved in the Women's 800m final for the first time at these championships.
'I'm just disappointed,' said Lynsey. 'The first lap was physical and I didn't panic but I just tightened up a little bit down the home straight; I didn't do what I did in the semi-final.
'I really, really wanted that and I don't know maybe I just wanted it a bit too much. There was a lot of pushing in the first lap and I wasn't able to find maybe the rhythm I had in the heats and the semi. At 200m to go I was there; but I tightened up on the home straight and didn't have that turnover I had in the heat and the semi, and you can't get away with it in the final.'
+++
It wasn't to be for Eilidh Doyle in the 400m Hurdles final.
The highly-decorated Scot was in the hunt initially but over the last 100m or so that lack of races and injury absence took a toll as she came home in eighth place in 56.23.
It was a marvellous night for Eilidh's GB team-mate, Meghan Beesley, however, as she took the bronze with a run from lane one of 55.31 as Swiss athlete Lea Sprunger triumphed in 54.33.
'I'm obviously gutted with that – I thought I was going really well on the back straight and then I hit hurdle six and lost my strides coming into the home straight and I was bit all over the place,' said Eilidh.
'After running the semi-final I'm really gutted – I really thought I'd go out there and win a medal but maybe the injury [earlier in the season that she has recently returned from] had more of an effect on me that I realised.'
Well done to Lynsey and Eilidh and their families and coaches, Terrence Mahon and Brian Doyle, on representing GB and NI in Berlin.
Tags: Berlin, Chris O'Hare, Eilidh Doyle, European Championships, Jake Wightman, Lynsey Sharp