Butterfield on way back after surgery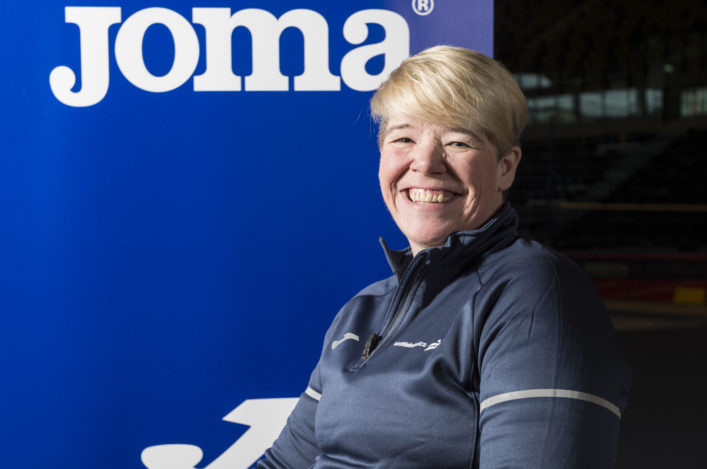 Para star Jo Butterfield joined us for the scottishathletics kit deal launch with Joma Sport recently – and it was good to hear the thrower will soon be back in action.
Jo actually first sustained a shoulder injury almost two years ago while in Rio for the Paralympics.
The problem continued to flare during 2017 and, after delaying surgery to compete in London, Jo duly had an operation towards the end of last year – and is now back in training with the WPA European Champs this summer a potential target.
'I have just been signed off to start training so that is quite a nice feeling,' said Jo.
'I had a labral tear, and it was operated on in October. The whole shoulder was loose so it all got tightened up. I hate rehab, but a bit of it is always going to be in my programme from now on. If I can maintain the shoulder, hopefully I won't hurt it again.
''he last two or three weeks I have been throwing, although it got a little bit niggly again a few weeks back; but that is just a typical athlete, going in too fast, trying to do everything the way I used to do it before.'
Had the 2017 World Championships not taken place at the London Stadium, Butterfield would have gone under the knife before she did.
Instead, much like Mark Dry at the Commonwealth Games, she threw in severe pain. Unlike Dry, she didn't get a medal to show for her efforts, finishing an agonising fourth place.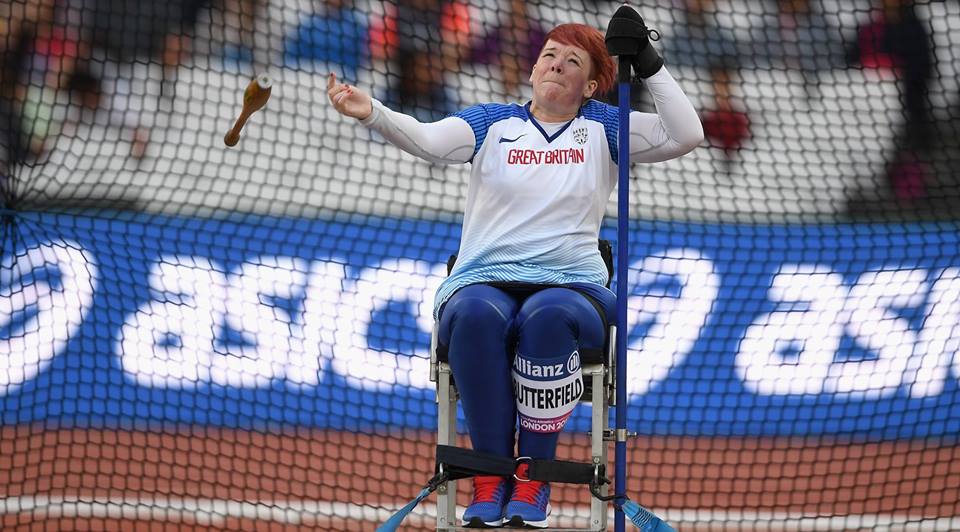 Jo throwing in London last summer
'If it wasn't in London, I would have had surgery before,' she added. 'It was a case of 'let's hold off, it's too big an opportunity to miss'. To come fourth in London wasn't what I wanted. It was not what I want to be doing so I just want to forget it.
'But I guess as soon as I had done one throw I was pretty much in agony and just had to fight through it. The frustrating thing was that I probably threw better than pretty much every other girl, but the other three girls had one throw that was better than mine. Consistency-wise, my throws were the best but I didn't have that big throw, that extra power, that bit of speed.
'Sadly the Gold Coast didn't feature my event, it wasn't there, I did try to wangle it as much as I could with the organisers to try to get it in there. Now I will keep pestering Birmingham to get it in there in 2022 instead.
'The Europeans are my focus. It is not a definite, but it is a definite maybe, if you know what I mean. If I am throwing well, I want to go. There is good competition, the world champion I assume will be there, so it is a good competition, but there is not the same strength and depth and the world.
'It is a good cycle, you are starting that off for Tokyo, Europeans, worlds then Tokyo. The Europeans is where I started and that is now it is building up. As long as I feel when I start throwing fully that my shulder isn't struggling, I should be fine.
'I don't think I will be throwing PBs straight away, but if I turn up and perform consistently then I would be hopeful of a medal.'
With thanks to Stewart Fisher of the Herald
Tags: Jo Butterfield, Para athletics