World ultra trail; BMC; Junior hill trial; Kerr, Percy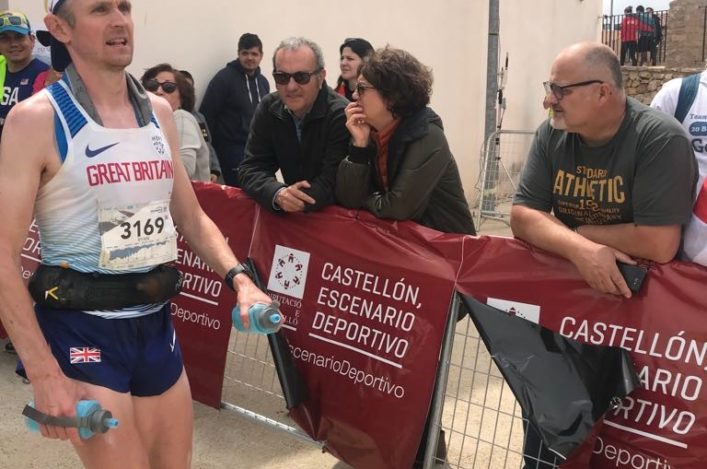 Ryan Smith at the finish in Spain (photo via Adrian Stott)
Tom Evans won a superb individual Bronze medal and led Great Britain to team silver at the IAU/ITRA Trail World Championships in Spain on Saturday.
He clocked 8:49:35 for the 85.3km race.(53mile) which included a challenging 5000m of climb. Evans, was followed over the finish line by team mate Jonathan Albon who recorded 8.53.41 for fourth. Ryan Smith was the top Scot and his 16th-place finish in 9:25:50 secured GB the team silver.
Tom Owens, who was fourth in 2015 when he led the team to bronze, placed 25th (9:39:26) in Penyagolosa, while Rob Sinclair was 38th (9:54:26) and Casey Morgan 53rd (10:14:40).
Spain's Luis Alberto Hernando won his third consecutive title, recording 8:38:35 to win ahead of his team-mate Cristofer Clemente with a time of 8:46:19 as the host nation secured the team title and France finished third.
Holly Page was the leading British female athlete. Her time of 10:37:52 placing her ninth, two places ahead of Beth Pascall with a time of 10:40:58. Katie Kaars Sijpesteijn's time of 11:10:09 for 21st secured GB fourth place in the team standings
Sarah Morwood finished 34th in 11:39:26, while Sally Fawcett's 12:21:13 saw her finish 53rd. Rachael Campbell had stomach issues and had to withdraw at the 50km checkpoint.
Ragna Debats of Netherlands won the women's title in 9:55:00, while Spain's Laia Canes was second in 10:11:11. France's Claire Mougel with a time of 10:15:23 took bronze.  Spain secured the team title ahead of France and USA.
Team manager Adrian Stott said: 'The standard of the World ultra trail championships seems to get stronger year by year. We are all totally delighted the men came home with medals, and although somewhat gutted the ladies came so close in fourth, everyone in the team can be proud to have shown Great Britain can compete with the best in the world on the ultra distance trail scene.'
+++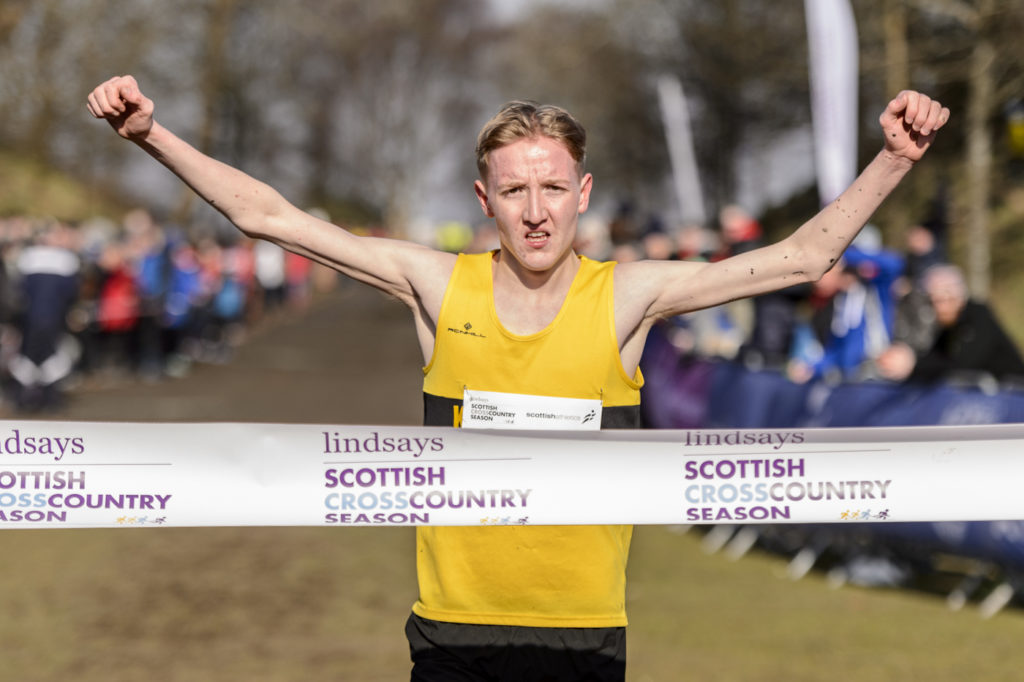 Cameron Wright – the National XC U17 champion now on form at 2000m steeplechase
Several Scottish athletes were in action at the British Milers Club meeting at Sportcity in Manchester on Saturday in endurance events.
And there were a number of very strong performances including a string of PBs -led by the likes of GB international duo Sol Sweeney and Jemma Reekie. Sol clocked 14.0391 to take second place ihis 5000m race while Jemma dipped under 2.04 for 800m for the first time with second place in 2.03.91.
Also in women's 800m there were good runs for Cara Anderson (2.10.22) and Kerry MacAngus (2.10.77) while Sam Brown, the U20 Edinburgh AC athlete, clocked 1.51.29 for a new PB – with club-mate Joe Ewing at 1.54.10.
At 1500m, two emerging athletes had terrific performances as Kane Elliott of Falkirk Vics went close to a Scottish U17 record with 3.52.65 while Eloise Walker, only just into the U20 age group, recorded 4.22.17.
Among the other 1500m performances were 3.51.06 for Ben Potrykus and 4.35.97 for Jenny Selman.  And there was a Euro Youths qualifying standard for Cameron Wright of Kilbarchan in the 2000m steeplechase with 6.02.61. Sarah Tait clocked 7.05.74 with the Lasswade athlete now sixth on the U20 Women all-time list.
+++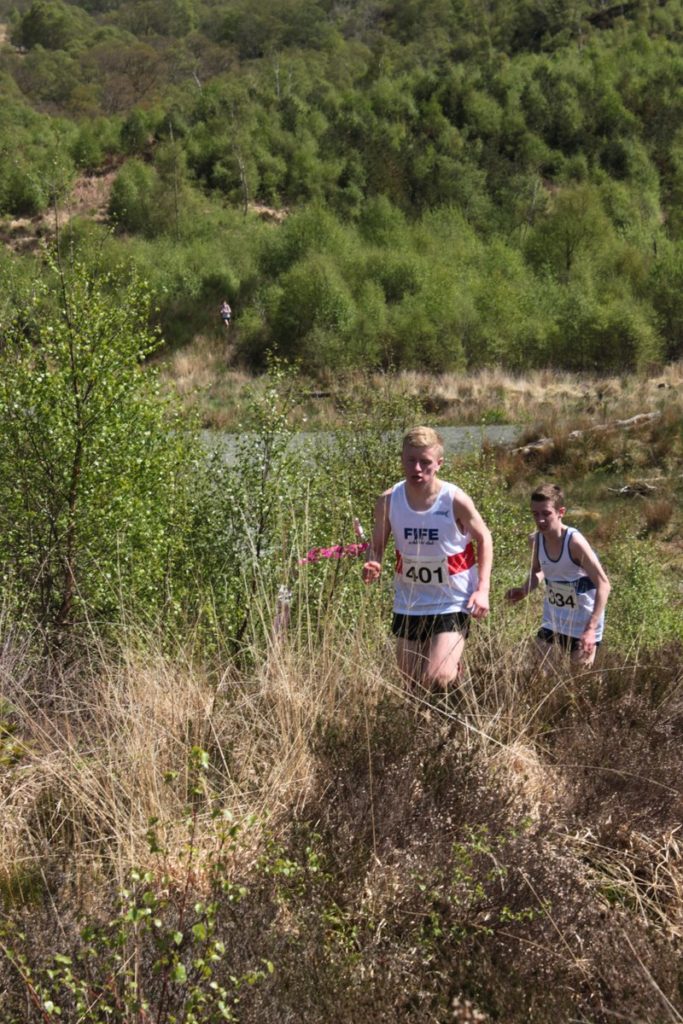 There were sunny conditions for the junior athletes racing on the loer slopes of Ben Lomond on Saturday.
The event was used as the trial race for Scotland selection for the WMRA International Youth Cup, which takes place in Lanzada in northern Italy on 16 June.
The Youth Cup is for 16 and 17-year-olds (born in 2001 or 2002), and Scotland will be sending a team of three male and three female athletes to Lanzada.
There was a little bit of everything facing the juniors on the testing courses, with the terrain being a mixture of dirt road, well made-up tourist path, smaller paths and a twisting technical section which descended through the woods.
The event was also the third of eight races in the scottishathletics 2018 Junior Hill Running League. The League categories are U15, U17 and U20 (male and female).
In the U15 category, there were wins for Sam Griffin (Aberdeen AAC) and Isla Hedley (Fife AC). U17 winners were Sunny McGrath (Deveron Harriers) and Beth Hobbs (Moorfoot). At U20, there were wins for Robert Sparks (Fife AC) and Katie Rourke (Gala Harriers).
With thanks to Malcolm Patterson
+++
West District Hill Running Championships, Ben Lomond, May 12
The classic Ben Lomond race was the venue for the scottishathletics West District Hill Running Championships on Saturday, with 128 athletes racing over the 12km course to the summit and back in sunny conditions.
Christina Rankin (Kilbarchan) took the Women's District gold medal, just as she did last year.  She was followed by Fiona Comrie of North Ayrshire, who also took the FV40 title.
Kenny Richmond (Shettleston) took the Men's District title, ahead of Justin Carter (Cambuslang) and Lucas Cheskin (Shettleston).  Kieran Cooper (unattached) was 1st U20 male.
Kenny and Justin also finished 1st and 2nd MV40, with Mark Whitelaw (Annan & District AC) taking the bronze medal.  Walter Henderson (Shettleston) took the MV50 title, as his club completed a good day by finishing 1st team ahead of Westerlands.
The race was won by a certain Robbie Simpson, "fresh" from taking the bronze medal in the marathon at the Commonwealth Games, and already talking of doing the somewhat hillier Zermatt and Jungfrau marathons in the summer. ( see interview here: http://scottishrunningguide.com/news/robbie-simpson-targets-tokyo-olympic-marathon )
A big thank-you to John Donnelly and his team of helpers from Westerlands, who successfully organised the race and agreed to host the Championship.
 With thanks to Malcolm Patterson
+++
Mountain West Outdoor Track & Field Championships, California.
Josh Kerr, who broke the NCAA 1500m record earlier this year, won his third-straight Mountain West 1500m title clocking 3:44.69.
Kerr is the first athlete in league history to win the metric mile race for three consecutive years.
Similarly, discus thrower Nick Percy won the Big Ten Championship for the third time with 61.23m.
Tags: Adrian Stott, BMC Manchester, Jemma Reekie, Josh Kerr, Junior hill trial, Nick Percy, Sol Sweeney, World Ultra trail