Scottish districts land four Inter-Counties XC team medals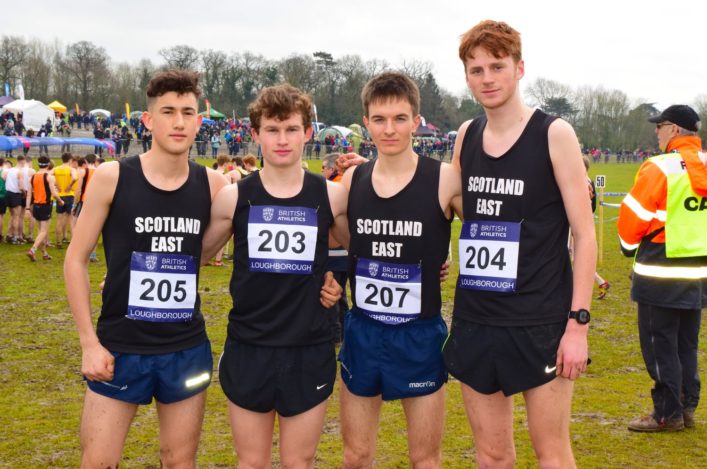 Scotland East U20 men took silver team medals in the mud at Loughborough (photo by Neil Renton)
RESULTS (under Loughborough tab)
The Inter-Counties XC at Loughborough were held on what can only be described as the muddiest cross country course imaginable. The whole venue and large parts of the course were a porridge of deep mud.
The highlight race of the day for Scotland was the U15 Girls race. A podium second place for Lily-Jane-Evans-Haggerty (Scotland West) with Anna Hedley (Scotland East) in third place was rounded off with Scotland West taking the team golds following by Scotland East with the team silvers.
It is the first time in an Inter-Counties XC that Scottish Districts have won two set of team medals in the same race.
Winning Scotland West who retained the U15 title they won last year were Lily-Jane-Evans-Haggerty(2nd), Anya McLean (4th), Rosie Davidson (12th), Kate Richardson (26th).  Silver Medals for Scotland East went to Anna Hedley (3rd), Pippa Carcas (9th), Isla Calvert (39th), Carrie Banks (61st).
The day started well with Scotland East winning the U20 Men silver medals with Freddie Carcas (8th), Tristan Rees (13th), Joe Arthur (31st) and Faisal Khursheed (40th).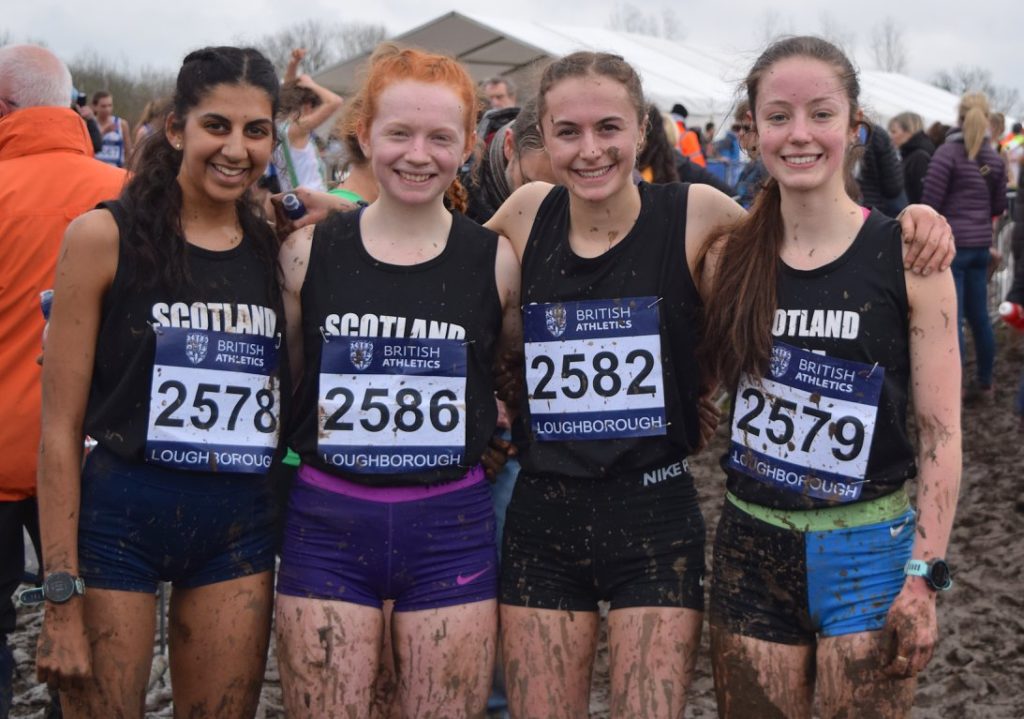 In an U20 Women's race that saw Anna McFadyen (Scotland North) finish just out of the medals in fourth place, Scotland East U20 Women's team packed in well to match the U20 Men for team silvers via the efforts of Naomi Lang (8th), Lauren Dickson (9th), Clare Stewart (21st) and Anisha Badial (31st) with 71 points only four points behind winners Kent on 67 points
Best placed finisher in the Senior Women's race was Kayleigh Jarrett (20th) for Scotland East.
For U15 Boys, Jack Patton of Scotland West was sixth with Scotland East packing well for fourth team to just fail to get bronze medals by three points.
In U17 Women,  Cera Gemmell (5th) , Eloise Walker (11th) both Scotland East were the top finishers. Best-placed Scot in the U17 Men's race was Christian Graham(8th) for Scotland East.
The final race of the day saw the Senior Men with a best placing for Lachlan Oates of Scotland West, his seventh improving on 16th place in last year's race. The top Scotland East finisher was Will Mackay (23rd)
With two individual medals and four team medals, the large Scottish contingent has much to celebrate at what is still the best in depth quality cross country meeting of the UK calendar.
This year the depth of mud was the main talking point.
With thanks to Alex Jackson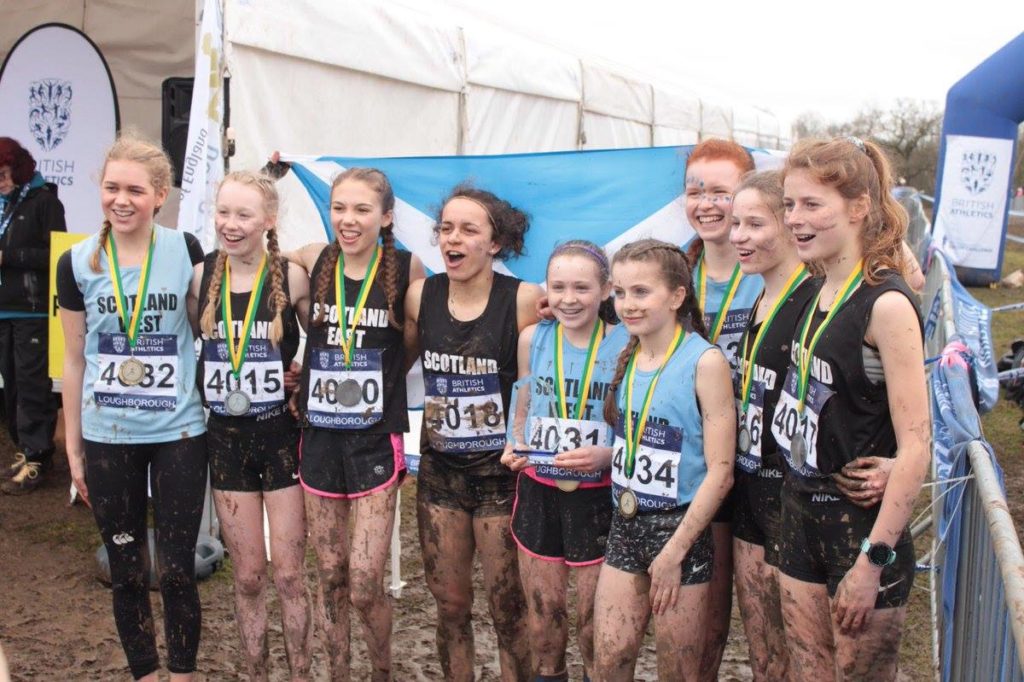 Scotland West and Scotland East U15 women celebrate gold and silver teams medals (photo via Twitter)
Tags: Inter-Counties XC, Loughborough