Scots run fast times in Armagh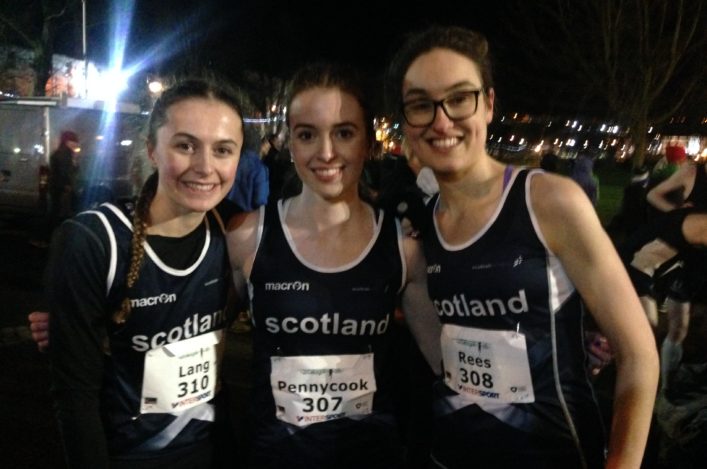 Scotland took third in the Women's 3k team race – thanks to (L-R) Naomi Lang, Steph Pennycook and Holly Rees
Eight Scottish team and club members, headed by the four-strong Scotland squad, contributed to a 5K world record at the Armagh International Road Races when they were among the unprecedented 94 men who broke 15 minutes for the distance in the same race.
Leading the way was Luke Caldwell, the Glasgow 2014 Scotland international, who ran a sparkling 14:05 for seventh place in a highly competitive contest over almost five laps on a cold night on Armagh's Mall.
Caldwell was followed home by Scotland team mates James Donald (14:26), Alastair Hay (14:30) and Lachlan Oates (14:34). Scotland finished fourth in the team contest.
Kenny Wilson (14:35), Aidan Thompson (14:39),  Calum McKenzie (14:40) and Gavin Bryson (14:52) were also well sub-15.
It was a superb run in particular by U23 selection, James Donald of Dundee Hawkhill, as he is still in the U20 age bracket for the road and cross country domestically.
Similarly, six women, including the entire selected Scotland trio, were among 34 athletes who broke the 10 minute barrier in the women's 3K.
Steph Pennycook, 10th in 9:26, led the charge while Holly Rees was 13th in 9:30 on her Scotland debut. U23 Naomi Lang recorded 9:56 to finish second Junior and completed third placed Scottish team.
Outwith the selected Scotland athletes, Shettleston's Northern Ireland internationalist Fionnuala Ross was 12th in 9:29 while Jenny Bannerman recorded 9:50 and Megan Davies 9:52.
For United States based Holly, racing in Armagh was part of flying trans-Atlantic visit which also includes the 3000m at the weekend's British Indoor Championships.
Holly said of her Scotland vest debut: 'I only started running races two and a half years ago and if I think back even to five years ago it would have been just a totally distant dream that I could ever be asked to run for Scotland.
'It's such an honour to be asked and I'm so happy to be able to come and do that at Armagh.'
With thanks to Charles Bannerman in Armagh