Thompson lands Great Scottish Run glory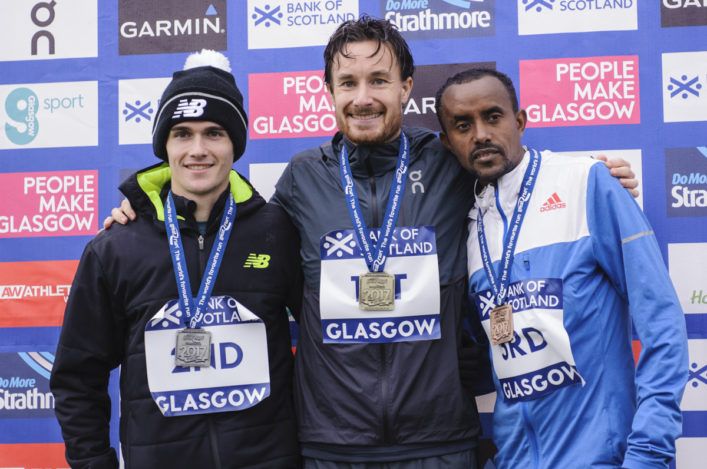 Chris Thompson celebrates with Callum Hawkins and Tsegai Tewelde (photo by Bobby Gavin)
English athlete Chris Thompson emphatically seized the Great Scottish Run headlines as he swept aside the opposition in fine style in Glasgow on a wet day which became #GreatScottishRain.
Thompson won the half marathon race in 62.44 with home favourite Callum Hawkins left locked in a battle for second place with fellow Rio Olympian Tsegai Tewelde which the Kilbarchan AAC athlete only won in the final strides.
Fionnuala Ross added to Shettleston's decent day with third place in the women's race to take the Scottish Half Marathon gold medal while for Andy Butchart the step-up in distance from 5000m on the track proved a steep learning curve in his first half marathon outing.
Exactly 12 months ago, Thompson told scottishathletics – in an interview subesquently pulished in PB magazine – that he 'wished he was Scottish'. He spoke in glowing terms about the progress of Scottish athletes and his words proved prophetic with 16 selected for the World Champs in London.
Scots are a breath of fresh air – Thommo
'I remember saying that and I meant every word – in an athletics sense,' smiled Thompson, who is from Hampshire.
'I really do feel it would have been good to be part of that 'band of brothers' kind of thing which seems to be going with Scottish athletes. I could see it back then and the London 2017 selections backed me up. As I said at the time, it has been a breath of fresh air blowing through British athletics.'
Photos on Facebook by Bobby Gavin
Video interview with Callum Hawkins on Facebook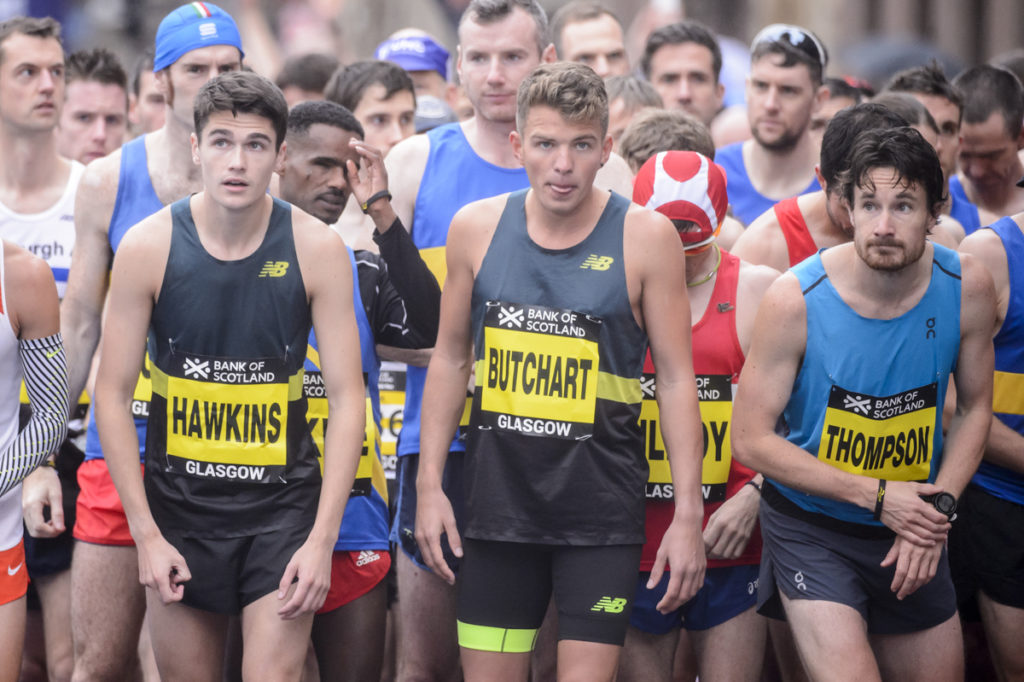 Thompson went ahead early in the race and then kept pushing on as much as he could either to hold his advantage or stretch it – with Hawkins and Tewelde in pursuit.
'This is a hard way to beat Callum because he's usually doing this to other athletes.,' said Chris.  'At my age I have good days and bad days. This was a good day especially when you're ahead of someone who was fourth at the world championships. It was as much a mental battle as a physical one because he is such a good athlete.'
Hawkins took the Scottish title with Shettleston's Tsegai Tewelde landing the silver medal and Kris Jones the bronze. (We will add details of other Scottish championship medals in due course).
'I had a bad patch around three or four miles and Chris pushed it on,' said Callum.
'I think it closed a bit a couple of times but not enough and eventually, with a mile or two to go, I had to concentrate on trying to get second of Tsegai. We'd quite a battle with that and I had hoped to have had it sorted before the last few metres.'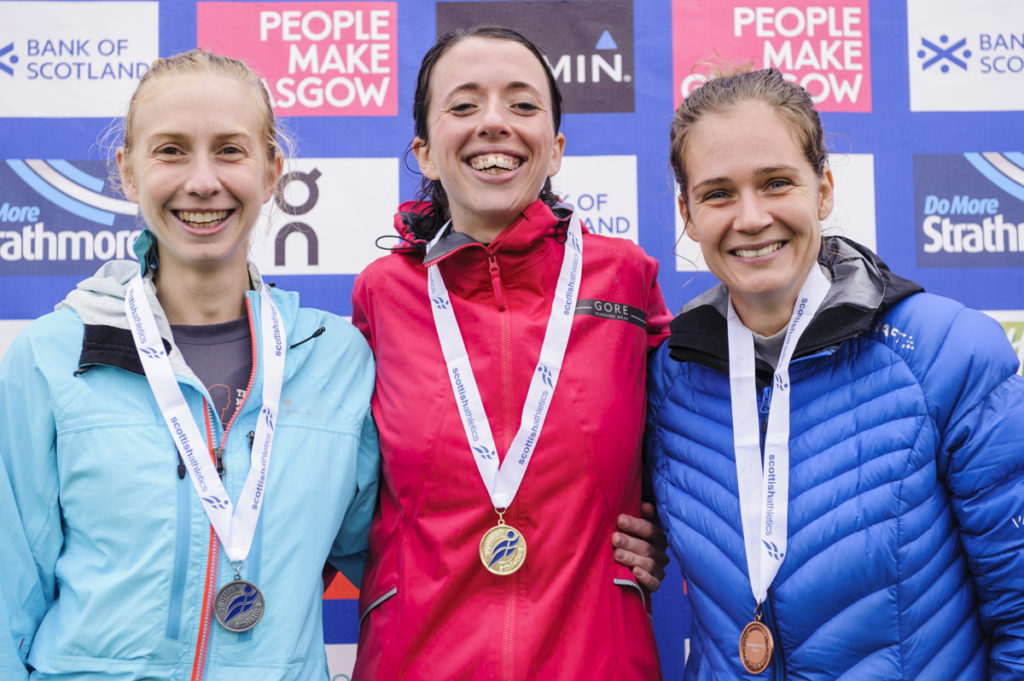 Fionnuala Ross is flanked by the other Scottish half marathon medallists – Gemma Rankin and Fanni Gyurko
In the women's race, Commonwealth marathon champion Flomena Daniel was utterly dominant.
The Kenyan who took gold in Glasgow three years ago clearly loves running in the Scottish city and won in a time of 70:17, with Aldershot's Charlotte Purdue second in 72:18 and Fionnuala Ross of Shettleston third in 74:26. Jo Pavey, who has not had her injury troubles to seek this year, was seventh in 78:11.
Ross won the Scottish title from Gemma Rankin of Kilbarchan AAC, with the bronze claimed by Central AC's Fanni Gyurko.
'I have run a PB so that is a good feeling and my previous was at 75.45 so it is another step forward.
'I think it is just a level of training and racing starting to pay off.  I have not changed anything specifically in the last couple of years but it is encouraging that the improvement is coming along for me.
'The rain didn't bother me and the actual conditions for racing were not too bad at all. Hopefully that sets me up for a good run in the Frankfurt marathon soon.'
Scottish Para athlete Derek Rae stuck with Daniel for much of the 13 miles and was rewarded with a 70.06 run that was a PB by a couple of minutes. Butchart, in 14th place, was just ahead of Rae with 70.03.
k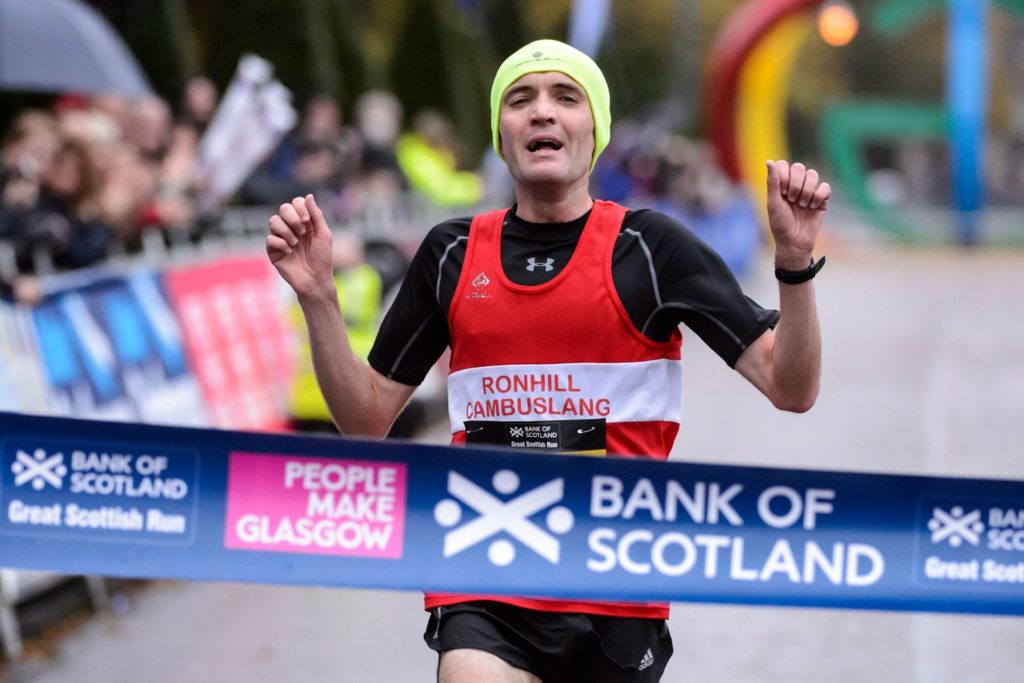 Cambuslang athlete Stuart Gibson won the 10K with a run of 31.37 with Shettleston's Alasdair Macleod second in 31.55. Third went to English athlete Darren Thom in 32.55 following a DQ decision for Douglas Roberts of Cambuslang.
I'm pleased with that as I had such a heavy work schedule in September that i had to write it off in terms of races. I did do the 'Roon the Toon' race at Kilmarnock for the West District Champs and the Men's Health one the following week and won both of them with virtually the same time.
'This was a wee bit quicker than that so I am happy with that. I also did a big BMC 10,000m meet on the track in Manchester and went under 31 minutes in a race where there was so much depth of competition that it helped me.
'The cross country season is coming up and I'm looking to do the West District Relays at Hamilton and the National Relays at Cumbernauld.'
GB international Rebecca Murray won the women's race in 34.30 from Jenny Bannerman of Inverness Harriers (35.50) and Fiona Bruce of Metro Aberdeen (35.55).
'I'm pretty happy with the time and with the win,' said Rebecca, who has a Scottish grandparent.
'I've run at the Edinburgh XC before and did a BUCS race when it was in Scotland but this was my first time racing in Glasgow. I enjoyed running through the city and seeing it that way.
'I was injured earlier in the summer so this is me coming back and I'm doing a couple of road races. Then it will be about the Euro Cross trials at Liverpool and seeing if I can make a Senior GB team for the first time. I was with the U23 team in Chia last December.'
*There was an elite wheelchair event over the 10km distance too, with Sammi Kinghorn preparing for her marathon debut in Chicago next weekend with a time of 29:45,.
Sammi, who said her wrist injury was fine, finished second behind men's winner Sean Frame (29:28), with Simplyhealth Great North Run winner Simon Lawson third overall in 31:36.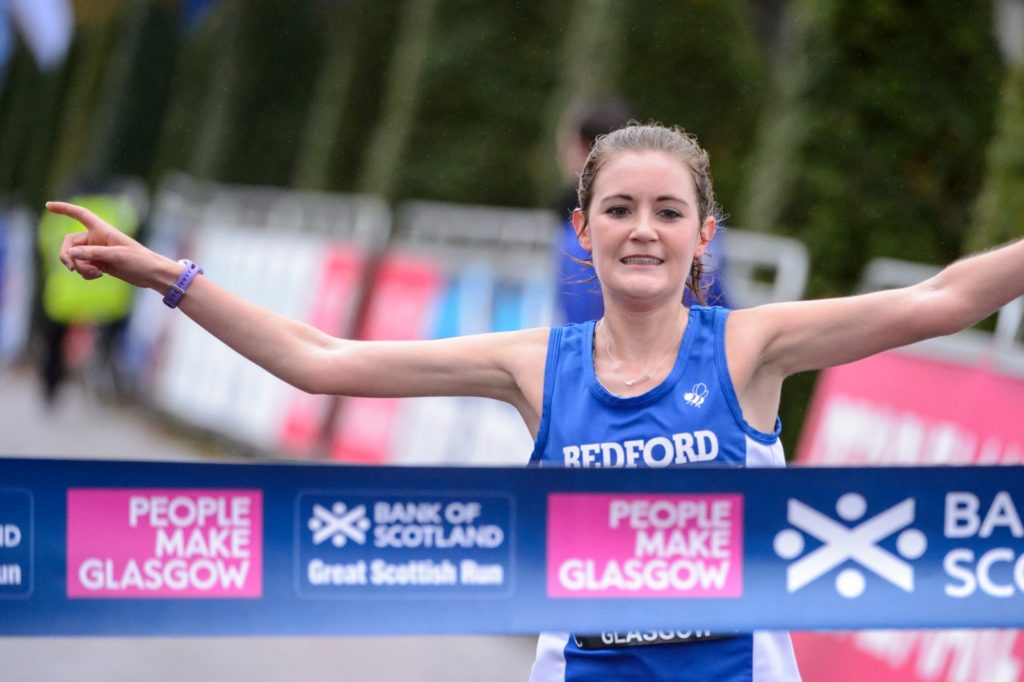 Rebecca Murray – women's 10K winner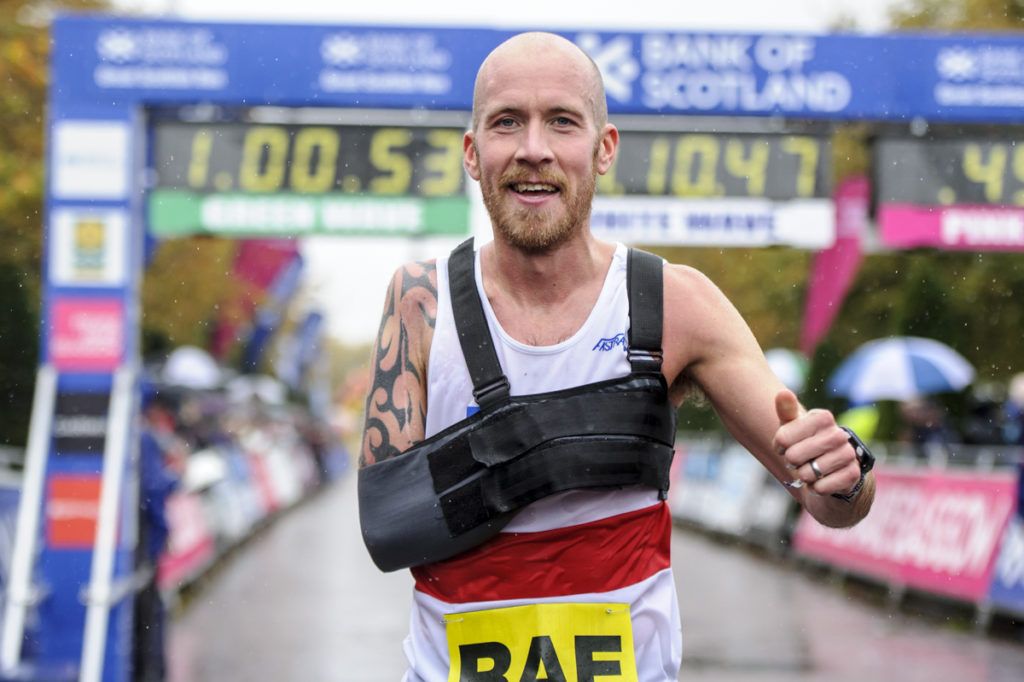 Derek Rae – big PB at half marathon
Tags: Andy Butchart, Callum Hawkins, Chris Thomson, Fionnuala Ross, Great Scottish Run, Rebecca Murray, Sammi Kinghorn, Sean Frame, Stuart Gibson, Tsegai Tewelde