'Scots are a breath of fresh air' – Thompson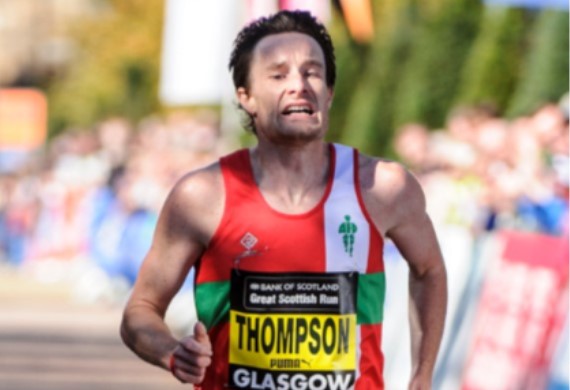 Chris Thompson – full of praise for Scottish athletes (photo by Bobby Gavin)
Top English athlete Chris Thompson has hailed the huge impact made by Scots on the sport in 2016 and highlighted the support they receive from scottishathletics.
The European 10,000m medallist and English Commonwealth Games representative even joked he wishes he could swap nationality such has been the revival in track and field, road running and cross country north of the border.
Record representation at the Olympics and Paralympics by Scots on Team GB and NI in Rio caught the attention last summer and Thompson was hugely impressed.
'The impact being made by Scots on British athletics, and further afield, has been noticeable and I have to say – I think it has been a breath of fresh air,' said Thompson, in a special 44-page 2016 Review edition of PB magazine, which has been issued to scottishathletics members.
'So many of these athletes seem determined to be the best athlete they can be and don't worry too much about the opposition. I think we've seen that particularly from Callum Hawkins and from Andy Butchart.
'There's a generation coming through who are not content to be second best. It is difficult, of course it is, but they are willing to have a go. Always in athletics as you go up the levels, you have to ask yourself 'Do I belong here?' and you have to react and find ways to do so if you find out you do not.
'But I am seeing Scots all over the place step up levels and prove they are where they should be. Butchart has stepped up time and again in the past couple of years and he looks comfortable. His Olympic performances were stunning.'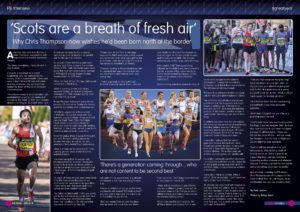 Read the full interview in PB magazine
Hawkins and Butchart are joined by Steph Twell and U20 European 1500m champion Josh Kerr in the British team for the Euro Coss in Italy this weekend. Thompson believes teenagers will be motivated by current success.
'You definitely feed off others around you and I think that has happened with Scots,' he added.
'People in athletics tend to say 'If he can do it, then why can't I?' And once they ask that question of themselves, and the answer is 'work harder' then things can take off from there.
'If athletes see those from the same place, who have had the same kind of experiences, then they believe more and I think you physically have to see it happen. Butchart wasn't at Glasgow 2014 but he was up close with some of those who were.
'I am a firm believer that the current generation inspires the next one. Once momentum gathers in sport, it can a great force and I hope that's happening for Scottish athletes. Those Olympians are definitely athletes your youngsters can identify with.'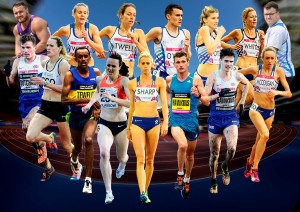 To help that, scottishathletics is backed by public funding by sportscotland and has to lend support across all areas of the sport including backing Scotland teams in various disciplines, club development, national events, coach education and trying to help elite athletes not otherwise centrally funded by UK Athletics (which includes the likes of Olympians Twell and Beth Potter).
'What level of support can you offer as a governing body?' asked Thompson in the PB interview.
'I don't really know how your funding works. Not huge sums of money, I wouldn't imagine. But I do know that, how can I put it, you seem to support and care for athletes better. I know you did that for Laura Whittle – and she made the Olympics – and the likes of Steph and Callum might be other examples.
'Sport is ruthless enough as it is, with performances often dictating levels of funding and so on. But it is great if, as a governing body, you can maintain a supportive position wherever and whenever possible. If athletes can feel the love and be part of something, that's half the battle.'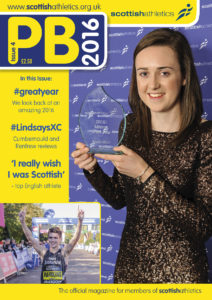 The 44-page special 2016 Review edition has been issued to members
Tags: Chris Thompson, Olympics, Paralympics, PB magazine, scottishathletics