Scotland soar at Manchester International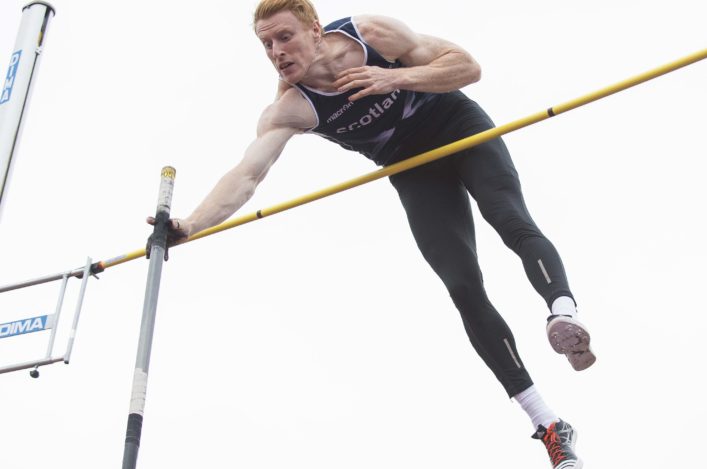 Jax Thoirs on his way to a 5.40m and second place in Manchester (photo by Gary Mitchell)
Scotland stepped up superbly at the Manchester international to deliver four individual wins, a relay success and a number of other solid performances.
In fact, when those five wins plus performances by Scots in GB of British League Select vests plus second places are added together, it emerged Scottish athletes were placed first or second in around one third of all 42 events in the 2017 match at the Manchester Regional Arena.
Scotland 4 x 400m women took the win – just as they did at the Loughborough International – but our 4 x 100m women were disqualified after crossing the line first in the shorter relay.
The match ended with Scotland fourth, only seven points behind GB Juniors as England won and the British League Select took second.
The 4 x 400 quartet of Stacey Downie, Jill Cherry, Beth Dobbin and Kelsey Stewart dominated throughout – with Downie handing over a lead on the first changeover, which was only stretched thereafter as they won in 3.40.13.
Then, when England made a mistake on their final changeover, the 4 x 100m looked to have repeated that feat as Katy Wyper brought the baton home after contributions from Chloe Lambert, Downie and Heather Paton. But our appeal against a DQ was dismissed, with one of the changes too early.
Vinco coverage on runjumpthrow.com
There were other event wins by team captain Kirsty Law in the discus; Luke Traynor in the 3000m; Emma Nuttall in the high jump; and Myra Perkins in the hammer on a night when Scots Jemma Reekie and Alisha Rees also won their events wearing GB and NI vests.
Among the athletes to take second places were good performances by Dobbin in the 200m, Jax Thoirs, Jack Lawrie, Jade Nimmo, Wyper at 100m and the 4 x 400m men (albeit in a race of three). British League Select duo Susan McKelvie and Mark Dry also took second places.
'I was happy to win the comp and doing so wearing a Scotland vest and as captain makes it even better,' she said Law, after throwing 52.79m.
'You want to get the points for the team. The conditions were okay for us and I wish I had thrown further but it didn't happen. I took the chances after competing early to talk to a few more of the team and encourage them and support them.'
Nimmo landed a second place finish in the long jump with 6.09m and it was 2.14m for third for Allan Smith in the high jump, with Nuttall winning her event in 1.78m.
In the Women's 3000m there was a good PB for Steph Pennycook as she clocked 9.21.83 – bringing her best down from 9.27 – as the Fife AC/Edinburgh Uni AC athlete took fourth place. Likewise, Lauren Stoddart set an eight-second PB with 10.41.79 in the 3000m steeplechase.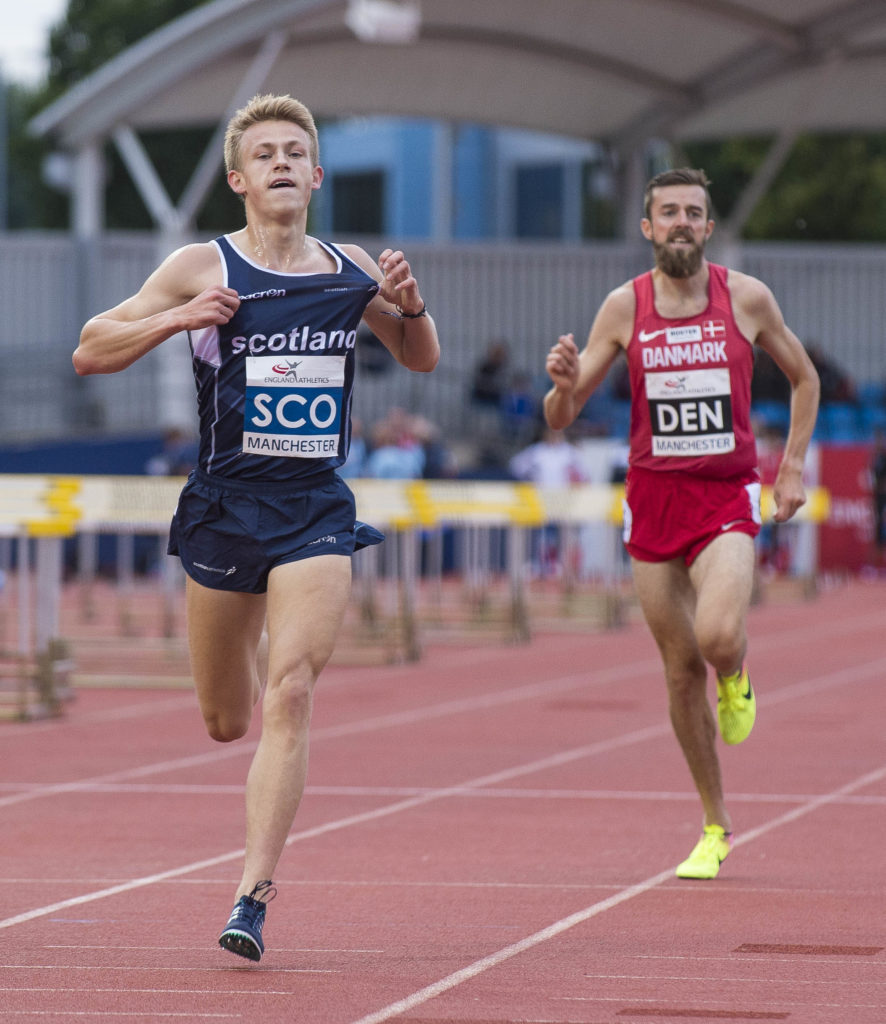 Luke Traynor celebates 3000m victory (photo by Gary Mitchell)
Thoirs was second in arguably the best field competition of the night – the men's pole vault.
The British Champs medallist cleared 5.40 but had to defer to GB Juniors representative, Joel Leon Benitez, who cleared 5.50.
'I wish I could have gone higher and won the competition but it is another Commonwealth Games standard,' said Jax.
The 100m races saw Katy Wyper represent Scotland for the first and run a PB of 11.61, although it has to be recorded as a windy time. Michael Olsen clocked 10.61 in the men's match race. In one of the guest races, Kade Thomas set a PB of 10.69.
Jack Lawrie took a silver in the 400m Hurdles with a run of 51.72 in another event where the wind seemed to play its part. Kirsten McAslan was third in her 400m Hurdles race in 58.97 and Kelsey Stewart was another third place in the 400m with 54.47.
Shawn Wright clocked 48.79 in the Men's 400m and David Feeney was at 14.4 in the sprint hurdles. Heather Paton was at 13.59 in the 100m Hurdles.
There were field wins, though, for Nuttall in the high jump at 1.78 and Perkins in the hammer with 60.34m to add to the overall points tally. Paul Ogun came up with a Season Best 7.52 in the long jump.
For shot putter Mhairi Porterfield, it was a return to international action after a 15-year gap – in the same city.
'I threw hammer for Scotland at the 2002 Commonwealth Games in Manchester so it was fitting to come back here,' said Mhairi, whose daughter Meghan actually threw a Scottish U13 shot putt record last weekend (subject to ratification).
'I couldn't believe it when the selection email came through but I was delighted to wear the vest again after all these years. I threw a Season's Best 13.30m in the shot so I'm pretty pleased with that.
'My kids couldn't be here, unfortunately, as they are back to school on Thursday! There's definitely a bit happening in throws in Scotland but we still need more shot putters – male and female.'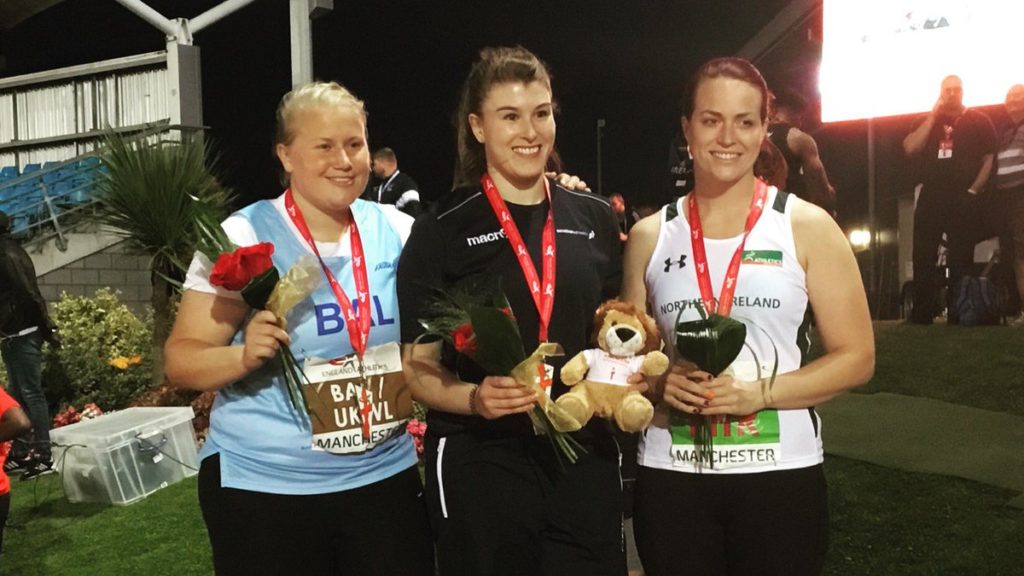 Myra Perkins savours win in the hammer (photo via Twitter)
In the 800m races, there was a fourth for Mhairi Hendry in 2.12.13 and fifth for Cameron Steven in 1.55.33.
Aidan Quinn was at 13.59 in the triple jump and Carolyn Harvey at 11.44 in her first Scotland appearance, while Mark Dry, competing for the British Leagues, was second in the hammer with 67.90 as Andy Frost threw 58.89.
In the Women's hammer, Perkins won it with 60.34 with McKelvie taking second. Euan Campbell ran 4.24 in the Mile and Mike Deason 9.18.94 in the 3000m steeplechase.
The men's 4 x 400m were second to NI and Ulster as Wright, Martin Lipton, Lewis Brown and Steven carried the baton round. The men's 4 x 100m team finished sixth and Greg Millar was third in the javelin.
*We've covered a whole host of performances herein – please accept our sincere apologies if someone has been missed out . . .