Fine wins for Rees and Reekie in Manchester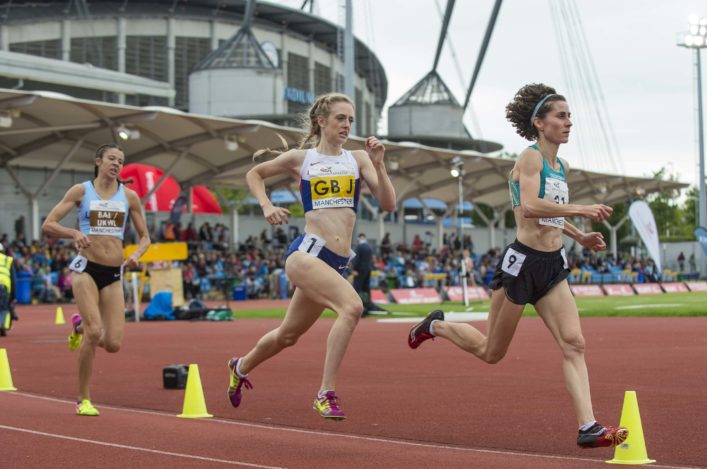 Jemma Reekie chases down Charlene Thomas at the Regional Arena in Manchester (photo by Gary Mitchell)
Jemma Reekie and Alisha Rees were among the event winners at the Manchester International as they represented GB and NI Juniors in fine style.
European Junior 1500m champion Reekie won the Mile race with the Kilbarchan AAC athlete taking control in the final lap to win from Charlene Thomas.
And Rees, still frustrated at a fourth place finish in those European Junior Champs in Italy last month, won the 200m in a new PB of 23.32 – with Scotland's Beth Dobbin also enjoying a good run for second place in 23.50.
Reekie sat on the shoulder of Thomas until 250m to go and then launched a strong run for home as she added another win in a season which featured the European Juniors 1500m gold in Italy in July. Philippa Millage, representing Scotland, was seventh in 4.48.49.
'That was really good, windy, but I've grown so much in confidence after the Euros,' said Jemma.
'I knew my kick was good so I just held onto the girls and knew I'd finish well. I'm quite happy with the time too, as I thought it was going to be slow after that first lap.'
'I used to run all over the place but I've started to run more sensibly and I know I've got that kick now. Next up is the scottishathletics National Senior Championships and then I might try and chase a quick time, as at the Euros I raced three days in a row – I feel like I could go a bit quicker.'
Rees won the 200m in 23.32 with a 1.6 legal wind, on a night when the gusting conditions cost the 100m women a legal time.
'I didn't think that was going to happen tonight at all – a PB,' said Alisha. 'So I am really pleased with it. I came into the bend and I seemed to be on my own – it just felt like I was alone so I just had to concentrate and run my own race.
'I am still gutted I didn't get a medal in the 200m final in Grosseto. I can't change that now and I will go to the Scottish Seniors and just do my best there.'
Alisha Rees (GB vest) en route to a 200m PB with Beth Dobbin (Scotland vest) taking second – photo by Gary Mitchell
Tags: Alisha Rees, Beth Dobbin, GB Juniors, Jemma Reekie, Philippa Millage