Scotland cap Wilson ready to run Aberdeen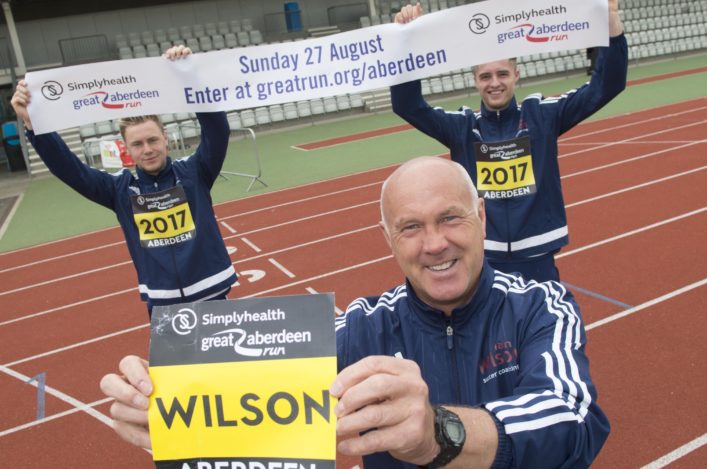 By Fraser Clyne
Thirty years ago this month, Aberdonian Ian Wilson was living every schoolboy's dream by preparing to make his Scotland debut against England in front of 80,000 boisterous football fans at Hampden Park.
Now the former Leicester City and Everton midfield star has swapped his football boots for a pair of running shoes and is getting ready to join thousands of participants of all ages and backgrounds taking part in the Simplyhealth Great Aberdeen Run on Sunday 27 August.
Ian, now 58, has signed up for the 10K but there's also a half marathon, family mile and business challenge on the programme of events. All the runs will start and finish on Union Street and the routes take in many of the city's key historic landmarks such as Marischal College, Castlegate, the Beach Ballroom and Brig O'Balgownie.
It might be difficult to match the experience of running out at Hampden to face the Auld Enemy in the world's oldest football international, but Ian admits when he stands on the starting line on Union Street this summer, there will still feel be a feeling of anticipation and competitiveness coursing through his veins.
'Playing against England was an amazing event in my life and then a few days later I faced Brazil,' he recalled.
'If you could choose the two best countries to meet in your first internationals it would have to be those two. Even though it came late in my career, it was a great opportunity for me to play with, and against, some great players, although the England game was a bit disappointing as it ended in a 0-0 draw.
When I go to the start of the 10K, there will still be adrenaline there because you always want to do well. At the same time it's a bit of fun and you want to enjoy it, and I'm sure there will be a good bit of banter with the guys I'm running it with.
'Having said that, I am still a bit competitive. I always want to catch the next person ahead of me, whoever it might be, and when I do that, I focus on the next one.'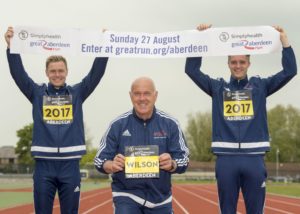 Ian Wilson with fellow football coaches and Great Aberdeen runners, Jamie Buglass and Blair Bowie
Ian has persuaded many of his colleagues from the children's football coaching school, which he set-up 18 years ago, to take part.
'There should be about eight of us running and we will be doing it to raise funds for the Archie Foundation, which is a local charity we have supported for a few years.
'We have close links with people in the charity and we try to do a little bit to help children when they are ill, in hospital or in need of long term care. Last year we raised around £5,000 from various runs and through donations made at our summer soccer camps.'
Ian has his wife Tracey to thank for getting him to take up running but admits he has still to get into the full swing of training for August.
'Tracey was a Scottish U15 sprint champion many years ago, so she has always been very interested in running. She encouraged me to give it a go and I've done a few 10K races over the years, but I've still to get properly started with my preparations for August.
The first Simplyhealth Great Aberdeen Run takes place on August 27. The event is being delivered in partnership with Aberdeen City Council, Aberdeen & Grampian Chamber of Commerce, VisitAberdeenshire, and Aberdeen Inspired.
Enter the Great Aberdeen Run
Tags: Fraser Clyne, Great Aberdeen Run, Ian Wilson