Muir lands 1500m Euro gold and Records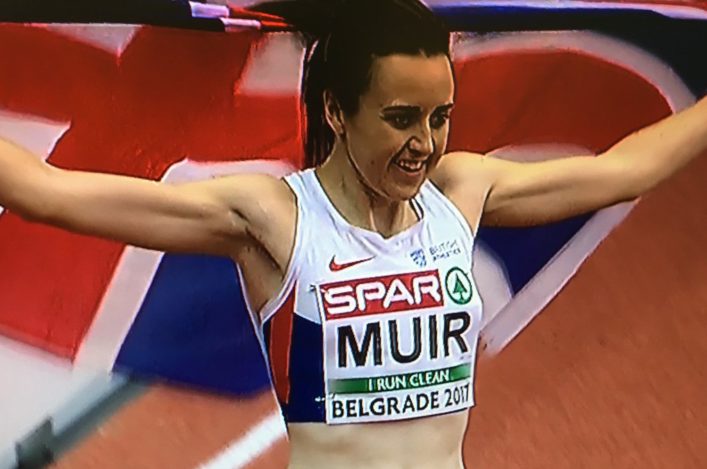 Photo via Twitter
Laura Muir claimed 1500m gold at the European Indoor Champs in Serbia on Saturday evening with a stunning performance.
The Scottish Athlete of the Year did it in the way she knows best – front-running with supreme authority and determination – to claim her first Senior medal at an international event.
Muir clocked 4.02.39 for a European Indoor Championship best and also a British Indoors and Commonwealth Indoors Record.
Many congratulations to Laura, her family and coach Andy Young on a superb performance in Serbia and it was clear for all to see what it meant to the 23-year-old as she dodged the officials to embark on a lap of honour and the tears flowed.
Watch as Laura defies 'orders' for lap of honour
Watch clips from European Athletics
BBC commentator Steve Cram had been fulsome in his praise pre-race – 'Laura is a ferocious trainer' – and Muir duly became the first British woman to win a European crown at 1500m for 40 years since Mary Stewart back in 1977.
'To get that medal – I'm so happy,' said Laura.
'I was actually quite relaxed because I knew what I had to do and I knew that I was stronger than a lot of the girls – I knew that if I got out pretty early then I'd be fine.
'I didn't expect someone to be on my shoulder with 300m to go, but I just put the welly in and managed to come away with the win.
'I had to fight for that lap of honour, didn't I! The lady was just saying 'we don't have time', but for my first medal I'm not going to lose out on my lap of honour. I won it as well, so I was going. I got it in the end, so I'm glad I got the medal and the lap of honour.'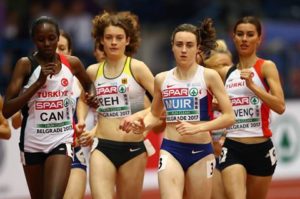 It's also well worth noting that Laura joins Eilidh Doyle and Lynsey Sharp in becoming a European Champion on the track in recent years, with Lynsey belatedly awarded gold for the 800m in Helsinki in 2012 and Eilidh winning the 400m hurdles in Zurich two years later.
Muir and Doyle, of course, both attended Kinross High School and it seemed fitting in many ways that as scottishathletics social media exploded with the news, the very first 'share' on our Facebook post was by . . .  jogscotland Kinross!
Now Laura will prepare for Sunday's 3000m final, with Eilish McColgan and Steph Twell in the field for that one, too.
*Congratulations to Allan Smith, who reached the high jump final after successfully coming through the qualifying on Saturday morning.
Allan cleared 2.25m and was one of the eight men to go through to the final. We wish him well for that on Sunday and will report then in full on his performance at Belgrade.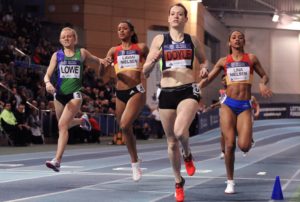 Doyle heartbroken to miss out on European final
*Eilidh Doyle and Guy Learmonth both suffered qualifying disappointment in Belgrade on Friday.
Doyle successfully navigated her 400m heat in the morning, winning the race, but then narrowly missed out on the final.
The Scot went out hard in her semi-final and led for the bulk of the race, only to be pipped by both Zuzana Hejnova and Malgorzata Holub with the finish line agonisingly close.
'I was going out hard but I ended up dying on the home straight,' said Eilidh.
'The way I was running, I knew there were people behind me so I was trying to get to the line as quickly as possible. I knew Hejnova was there and I was trying to beat her so I'd get a good lane. But I'm absolutely gutted to get caught out by the Polish girl as well.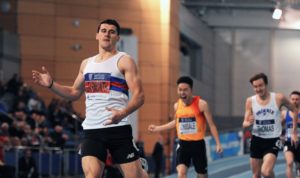 Learmonth's story was similar in his opening round in the 800m as he led for much of the race.
But he was over-hauled in the final 20m or so to finish fifth with 1.48.73 and that wasn't enough for one of the fastest losers slots.
'I felt good; I thought I'd just take it out and run good and run strong,' said Guy.
'My body felt good going into it, but I just got caught off guard over the last 5-10 meters, so I'm not through, which is absolutely devastating.'
Tags: Allan Smith, Belgrade, Eilidh Doyle, European Indoors, Guy Learmonth, Laura Muir