'Muir can cement her status in 2017' – Holmes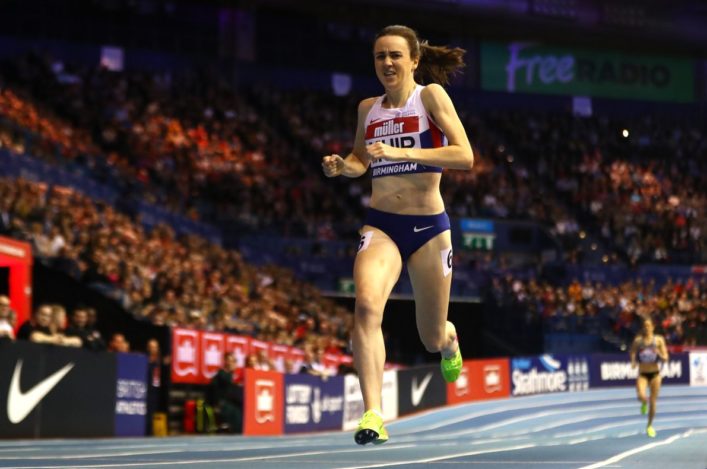 Muir breaks the 1000m indoor record held by Kelly Holmes 
'This is our time and it's special' – Steph Twell
Dame Kelly Holmes has given Record-breaker Laura Muir a special seal of approval and believes she can be a bona fide medal contender at the World Champs at London 2017.
The middle distance track legend watched her long-standing British Record over 1500m being eclipsed not once but twice by the 23-year-old Scot during a memorable 2016.
Muir then smashed the 1000m indoor best held by Holmes at the recent Birmingham Grand Prix to take her second European Record of 2017 – with the Scot now headed to Belgrade this week for a double medal bid in the 1500m and 3000m with GB and NI at the European Indoors.
And Dame Kelly, the 800m and 1500m Double Olympic champion in Athens in 2004, joined the chorus of appreciation and insisted Laura can be a strong role model for young Scottish athletes.
'Laura first came to my attention when she was fifth at the World Championships in Beijing in 2015,' said Kelly.
'She is an unassuming girl in some respects but you can see she is very strong runner. Laura has shown immense talent on the track becoming the fastest 1500m runner in the world last year.
'Laura truly can go all the way in the sport – and by that I mean start to medal at major championships. She has shown her form and has the capability to run fast and now needs to translate that by racing well on the world stage.
'Championships are all about placings and, at only 23, Laura has already taken the world by storm. I believe that in 2017 at the World Championships she can cement her place in history.'
English icon Holmes was a role model herself before Jessica Ennis-Hill assumed that mantle.
The retirement of Ennis-Hill arguably leaves a vacancy at the top of British Women's athletics and Kelly is comfortable that young Scots – particularly girls – can look to the likes of Muir, Eilidh Doyle, Lynsey Sharp and Eilish McColgan for inspiration.
'Role models are important in society generally, but role models from the world of sport I believe have the most credibility – especially if you are trying to inspire girls and women,' she said, with Muir, Doyle and Sharp having completely dominated the Scottish Athlete of the Year award in recent years.
'Scotland have had some amazing talent in the past and it looks like it is continuing. I wish Laura a healthy and productive Winter and look forward to following her progress in 2017 and beyond.'
Muir, McColgan and Doyle are among six Scots making up 20 percent of the GB contingent for Belgrade. They are joined by Steph Twell, Allan Smith and Guy Learmonth.
Dundee Hawkhill Harriers duo Muir and McColgan are both doubling up in the 1500m and 3000m and start their medal bids on Friday morning.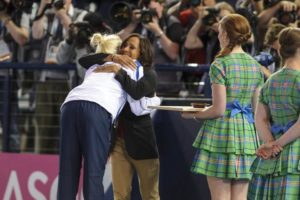 Dame Kelly Holmes presents Lynsey Sharp with silver at Glasgow 2014
Tags: Athlete of the Year, Dame Kelly Holmes, Eilidh Doyle, Eilish McColgan, Laura Muir, London 2017 World Champs, Lynsey Sharp