Hood savours Scotland vest again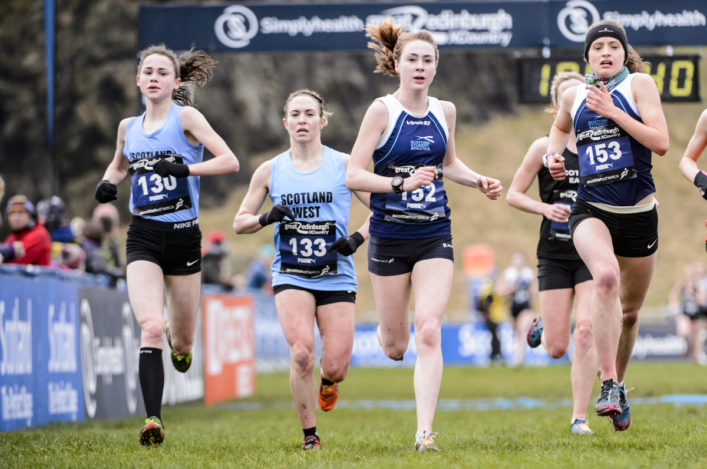 Nicola Hood (second from left) in action at the Inter-District XC
Nicola Hood will pull on a dark blue Scotland vest in Northern Ireland this weekend and take a moment to reflect on her return to international athletics.
The Dumfries Running Club athlete once won GB honours at cross country and was a steeplechaser before moving to the United States to study.
Injury then severely hampered her competitive career but the comeback this winter has been impressive – and will now be 'capped' by representing Scotland at the British Cross Challenge in Antrim.
'It was a great moment when the word came through that I was being selected,' said Nicola.
'I actually went back to scottishathletics to check the email was really meant for me! It's been a number of years since I raced for Scotland so I am really looking forward to the race in Antrim – it is good to go in at that level again.
'I've had a few months of consistent training and really got back into it with the 4K Champs at Renfrew (finishing fourth).
'I then won the West District XC title at Ayr and took second behind Morag MacLarty at the Inter-Districts in Edinburgh. Mind you, last Saturday was a bit of a battle because it took me almost the whole race to get in front of Anna Macfadyen (the North U20 athlete). I couldn't shake her off at all!'
Morag MacLarty interview in The National (late November)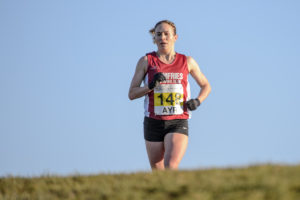 Nicola on her way to West District XC success at Ayr
Hood has GB ultra runner Joasia Zakrzewski as a club-mate at Dumfries but in fact Nicola's training partners are usually 16-year-old boys – under the guidance of her dad and coach, David.
'I train with 16-year-old boys and you can imagine some of the chat,' she laughed. 'But actually it works well for the group. My dad is coaching me again, with a bit of input and help from Graham Smith at VP-Glasgow.
'I ruptured my Achilles a few years ago and I guess it cost me these opportunities so now I just want to make the most of it and do as well as I can. I am enjoying my running and I'm delighted to get this opportunity.'
Hood and Central AC's MacLarty are joined by Steph Pennycook of Fife AC/Edinburgh Uni Hare and Hounds for Antrim.
Representing Scotland in the Senior Men's race will be Lachlan Oates (Shettleston Harriers) and Jamie Crowe (Central AC) with Andy Douglas (Inverclyde AC) unfortunately having had to withdraw.
As well as those athletes there are a number of other Scots headed across the Irish Sea – including GB international, Sol Sweeney, who is looking for important points in the overall U20 British Cross Challenge.
And also really good to see the name of Derek Hawkins on the start-list, with the Kilbarchan AAC ready for his first XC outing for quite some time.
Tags: Antrim, British Cross Challenge, Derek Hawkins, Jamie Crowe, Lachlan Oates, Morag MacLarty, Nicola Hood, Steph Pennycook