'Getting serious is fundamental at Central,' – Crowe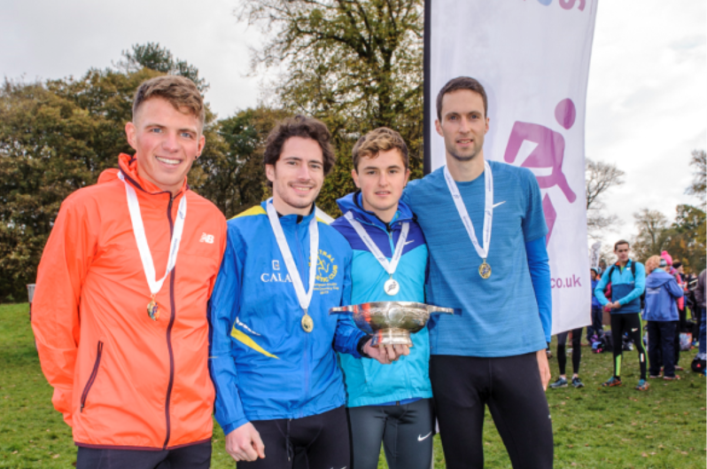 Central AC's National XC Relay gold medallists Andy Butchart, Michael Wright, Jamie Crowe and Alastair Hay (photo by Bobby Gavin)
Scots ready to invade Merseyside
Central AC represent Scotland  in a 'Battle of Britain' in Liverpool on Saturday as they chase a place in the European Clubs XC Champs in Portugal in February.
Olympian Andy Butchart leads the selection coached by Derek Easton and Striling Uni student Jamie Crowe is among their team members as one of the Scotland picks at U23 level.
Crowe can't wait to represent club and country on Merseyside and has told scottishathletics about his development at a club where the role models include the likes of Butchart, Alastair Hay and Ross Houston and just making the Central AC A team commands respect from domestic rivals.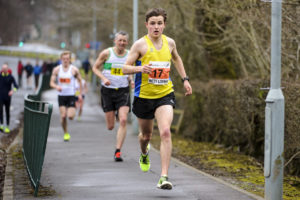 Jamie Crowe at the Road Relays at Livingston
'It is always a good event at Liverpool and I am really looking forward to it,' said Jamie, in a special pre-Liverpool blog post for scottishathletics.
'Central are competing with Aldershot, Farnham and District and with Swansea for the European Club Cross Country Champs place as Britain's representatives and we will give it our best shot on the day.
'There are always people with fitness niggles or colds at this time of year but while we might miss one or two, we should still have a strong six with the top four of those to count.
'I believe they score the race for that place within the race, if you understand me, so it can be close in points terms and could come down to how the guys third and fourth for their team perform.
'We've Andrew coming back from the Pyrenees and he's a great guy to have in your team!
'Until I moved to Stirling Uni, I only really did a bit of hill running and cross country and I saw running as just for fun. It is a good deal more serious now and, yes, it can be pretty competitive within Derek Easton's group at Central AC.
When I first went along two or three years ago to fall into easy runs with someone like Alistair Hay, a guy I had read about competing at the Commonwealth Games, was great. He was a terrific role model and now of course we've an Olympian in our midst in Butchart.
'You might think he wouldn't have time or would not want to train with his club-mates but nothing could be further from the truth.
'He's always desperate to train with us and, as you can imagine, he's very competitive on reps and even very competitive on the easy runs. Well, he calls them 'easy' . . .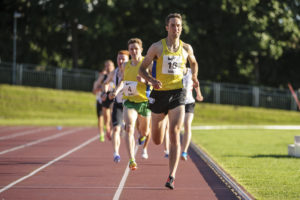 Alastair Hay – a role model at Central AC
'So for me to get involved in that kind of training has been great to develop my track speed and hopefully there is still a good bit more to come.
'I'm already having the conversations with Derek about what happens after I finish at Uni (Jamie is in final year studying Sport Science) and he's pretty quick to stress the need to leave the Uni social life behind.
'That's what Andrew started doing three or four years ago – we were actually in a Scotland selection together in Cardiff for the Celtic Nations XC – and after taking it more seriously he made a great leap forward.
'I've just about decided to get really serious about it for a couple of years and give it a right good shot and then see where that takes me.
'The Scotland selection for Saturday is a boost. I was in the Celtic team back in January and Scotland vests being up for grabs is always a motivation. If you don't make it at one time then you can target it for another event or the following year.
'Ben Stevenson won the 4K race at Renfrew and Michael Ferguson was third and they are both U23 so we look to have strong guys in that age group.
'I've a year or two still to come at U23 so while a GB vest would be the ultimate, it might be more realistic for 2017 to think about challenging for that.'
Scotland selections for Liverpool
+++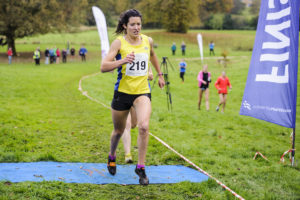 Morag MacLarty has been handed a Scotland call-up for the Liverpool event and will race for Central AC in their Euro Clubs XC Champs challenge against AFD and Swansea.
The 30-year-old was the fastest at Cumbernauld in the National XC Relays (photographed above) and finished third to Laura Muir and Rosie Smith in the 4K at Renfrew.
'It's really nice to be selected,' said Morag.
'The strength of Scottish athletics at the moment is just crazy with athletes like Laura Muir, Lynsey Sharp, Eilish McColgan and others and that's great to see.
'I don't have any great expectations for Liverpool – I'll just go down and see how it goes but I feel that I'm getting stronger and fitter all the time so that's encouraging. Cross country is so good for making you strong so that's why it's such a good event to do.
'I'll be running for Central but Aldershot will be the big favourites for the women's team event. We'll  see how we can do as a team.
'It's hard for the Scottish clubs to get enough strong runners to have a full team but we definitely want to be doing more XC events and try and make Scotland's presence felt.'
Tags: Andy Butchart, Central AC, Derek Easton, Euro Clubs XC Champs, Jamie Crowe, Liverpool Cross Challenge, Morag MacLarty