World Indoors review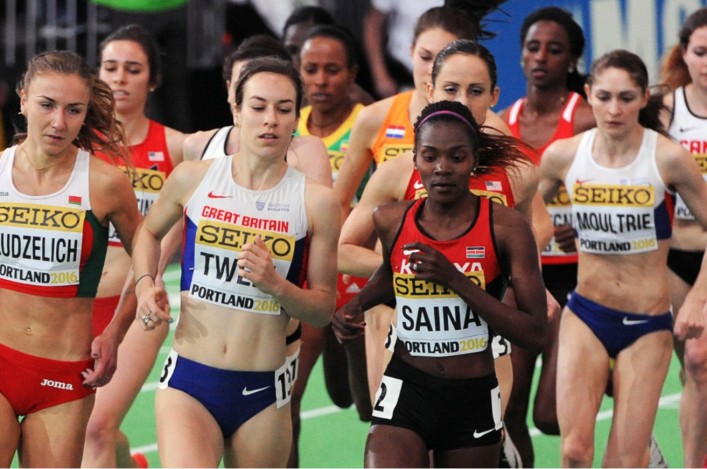 Scots to the fore – Steph Twell and Josephine Moultrie in final action in Portland
British Athletics website report
For the second time in two years, there were four Scots in action at the World Indoors with GB and NI – our largest representation for these championships.
When the dust settled on the Portland 2016 action, Steph Twell was the happiest of the quartet as she continued her return to the very elite level of the sport.
The Beijing 2015 World Champs finalist at 5000m finished in a very creditable sixth place in a 3000m final predictably dominated by Genzebe Dibaba.
Josephine Moultrie was in the same race as she competed in her first Senior Champs with GB but ultimately was disappointed to finish in 13th place.
Chris O'Hare made it three out of four Scots in finals as he made it through his 1500m heat in fine style before coming home in eighth place in the final.
Lynsey Sharp had headed to Oregon in the hope of learning more about indoor competition and she missed out on a final place in a tough 800m competition where second place in the second of three hests proved not enough.
In a  final which started slowly, Twell did her best to push the pace on and then fought her to finish higher than her pre-race PB ranking with a run of 9.00.38.
'I'm happy,' said Steph.
'It's different to a diamond league race. It's a world championships and you're here to compete. And I wanted to contest every single place – that's the sort of competition I need for a major championship final.
'At Diamond Leagues I'm used to getting on the train and just hurting, but from where I started quite high up on the bank– it felt like I was following a police car with Dibaba and Defar – everyone was looking for her.
'I was really happy with the way I ran it – and it was harder for me at the finish – I couldn't finish it how I wanted to, because I did the work early on. But now that's touched something and now I know where I am at.
'Seeing myself on the start-list sandwiched between Defar and Dibaba was interesting! If you look at the rest of the field you could throw a blanket across us – we're competitive. I felt strong and its taught me more than it has in the past.'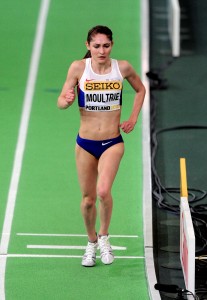 Moultrie, coached by Bill Parker, has had an exciting few months with a GB vest at cross country at the Great Edinburgh XC and then a silver in the British Champs when she ran under nine minutes to make the British selection for Portland. But 9.29.10 wasn't what she had hoped for in an event that became a straight final.
'Being a straight final I was looking for it to be steady/easy and then winding up, I felt fine but then when it went after 800m it was earlier than expected,' said Josephine.
'I just couldn't get on the back of it, but then there was still 10 laps to go so I was thinking 'don't go off crazy sprinting they'll come back to me'. But then when I caught a girl she came back past me and I felt awful.
'I don't know what was not there today. It's a long way to go not feeling very good.
'Being my first major championships, I wanted to come out and put in a performance that showed I belonged here so I am disappointed in that way.'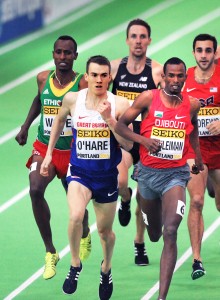 O'Hare was deeply frustrated he couldn't get in the medal mix in a men's final won by American Matt Centrowitz at 3.44.22. Chris clocked 3.46.50 as the race became a burn-up over the last two laps.
'I was happy where I was but then when I went to tap into those last couple of gears it just wasn't there,' he said.
'The frustrating thing is I know I can do it – and I know I didn't. My whole race plan was really around running one of the fastest last 200m in the field and that didn't happen.
'If you are in the final at a major champs, then you are in with a shot of a medal in my opinion. I knew I was capable of that so it is very frustrating.'
Listen to a post-race interview with Chris on the sound file: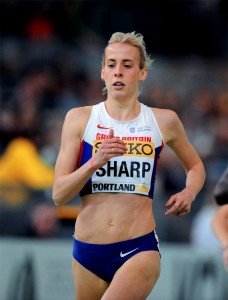 Sharp is convinced the Portland experience will be useful to her as she now turns her sights on the Olympics in Rio later in the year.
The Scottish record holder faced a tough 800m qualifying process to reach the final – with only the three heat winners assured of going through plus the next three fastest athletes.
Lynsey  was second in her race in 2.02.75 and said afterwards: 'I had confidence in my last lap but she had pretty good speed as well!
'The race I ran 2 minutes flat in earlier in the year wasn't a race as I won by three seconds – so it was essentially a time trial. Indoors is a lot harder when there are people in the race, indoors is a lot more tactical than outdoors, and that was the purpose for indoors –  to learn that  and to use it outdoors this year.
'We didn't sit down and say the aim of this year was a medal at the world indoors, it was a stepping stone to Rio – I do feel like I've learned a lot in the races I've done.'
With thanks to British Athletics for comments from the athletes in Portland
Tags: Chris O'Hare, Josephine Moultrie, Lynsey Sharp, Portland 2016, Steph Twell, World Indoors