Why I love being a Volunteer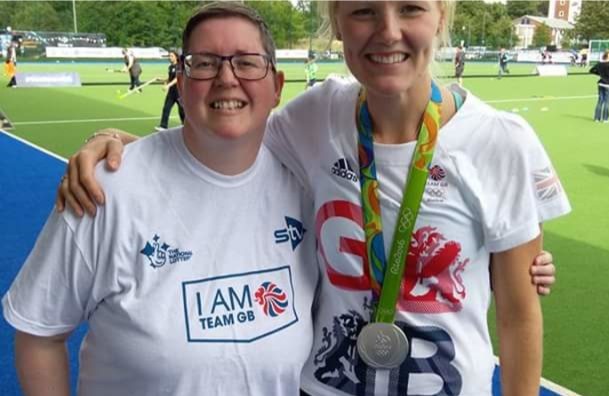 Angela Thomson with GB Olympian Polly Swan taken at Scottish Hockey team GB day
Carolyn McKinnon blog post on Volunteering
We never tire of repeating the mantra: the sport of athletics can't survive without the assistance of our dedicated Officials and volunteers.
At every level from the start of the pathway at clubs to elite events in the Diamond League and Olympics, there's always someone required to lend a hand.
Angela Thomson became a Clydesider for the Commonwealth Games in Glasgow and from there became involved in other events as a volunteer. Angela was on declarations for scottishathletics during the Indoor Season at the Emirates Arena.
We asked her to answer a few of our questions about Why I love being a Volunteer?
Why did you get involved?
I caught the volunteering bug after being a Clydesider at the Commonwealth Games and have stayed involved in sport since then.
What kind of things have you done so far and how was the volunteering experience?
I have volunteered for Commonwealth Games, World Gymnastics Championships, Scottish triathlon, Scottish hockey, scottishathletics and Ignition car festival and Revolution cycling series.
The experience from every event has been excellent. I have also been fortunate enough to volunteer with my younger sister.
Why do you think others may enjoy it, learn from it or contribute?
I have made many new friends. I've had ad backstage access to venues and been able to see how things work behind the scenes.
Also, everyone works part of a team and you learn new skills that can be added to your CV.
And there's a volunteering Facebook group called Vamos which is a great way for anyone wishing to volunteer to learn of any opportunities and also help groups like scottishathletics use if volunteers are needed for a specific event.
There is a bit of a feel-good factor at the moment around our Events – do you think being part of that can making helping out fun for those involved?
Yes, as I think that everyone who volunteers for an event wants to have fun and enjoy the experience.
From personal experience, if attending any event and you feel you have received good customer service, then it makes the event more memorable.
Tags: Emirates Arena, Glasgow 2014, Indoor Season, Volunteering