Whittle: Prague six enthuse me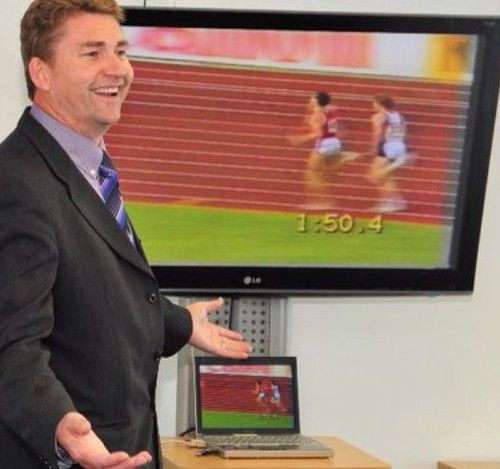 Brian Whittle: Encouraged about the sport in Scotland
Erasing previous bests from the record books is always an on-going process in athletics.
And, thankfully, in Scotland in the past two of three years that has very much been the case across certain race distances and field events.
The 'Class of 2015', to neatly label the current generation, are making an impact on the all-time lists which are stored on the comprehensive scotstats.net website.
But as the European Indoors event looms in Prague later this week, with six Scots set to make the journey with British Athletics, the issue of Scottish representation on GB and NI teams is well worth visiting.
It transpires that six is the best Scottish streak in a GB team at this event in its 45-year history and arguably in a 49-year period with the European Indoor Games in 1966-69 preceding the current event, which began in 1970.
Brian Whittle was among the 'previous best' four athletes who featured when the Kelvin Hall in Glasgow staged the Europeans back in 1990. Tom McKean, who won gold at 800m in Glasgow, Karen Hutcheson and Lynne MacIntyre (MacDougall) were the other Scots wearing GB vests.
The Olympian and Commonwealth Games and European medallist maintains his enthusiasm for the sport now and Brian, in this special blog post for scottishathletics, confirmed he's enthused and excited about the Prague prospects for Laura Muir (3000m), Guy Learmonth (800m), Kirsten McAslan (400m and 4 x 400m), Chris O'Hare (1500m), Allan Smith (high jump) and Jamie Bowie (4 x 400m).

'I don't think there's any doubt that the sport in Scotland has gone through a tough time but now seems to be emerging again in a much healthier state.
'The best representation in a GB and NI team for a European Indoors event with six Scottish athletes heading to Prague this week merely underlines that.
'And I have to say I do find myself much encouraged about the those athletes selected and the future for us as a sport in broader terms.
I think the main point to make is that we seem to have a bigger group of people now stepping up to the plate at British Championships and that's leading to more GB vests.
'It is a first Senior champs for the likes of Guy Learmonth, Allan Smith and Kirsten McAslan, who went to Moscow in 20143 for the World Champs but didn't get a run. I think the Euro Indoors is perfect for them to learn and to gain experience.
'I went to Madrid for my first in 1986 and went out in the first round. I just didn't have the experience to cope but I must have learned something because I think I went to the European Indoors on a further four occasions.
'I'm pretty sure someone like Guy will do better than that but the main thing is that this become a stepping stone along the way at that kind of level.
'Kirsten is making a big breakthrough and I do think the women's 400m is an event where we can prosper. I happen to believe by the next Commonwealth Games that could actually be our best event.
'I knew Kirsten's mother when she was Fiona Hargreaves and we met again recently at an age group champs. She told me that her 'daughter was quite good' but it was only then I made the connection with Kirsten!
'We've other athletes bubbling under the Seniors and probably the Euro U20s and Euro U23s this summer should tell us a lot more about the next generation and the kind of potential we have in Scotland. As I say, I do think we're much healthier now than for a very long time.
'Glasgow in 1990 is the biggest regret of my career. I'd medalled in the Commonwealths in New Zealand at 4 x 400m (silver) and was running well at 800, finishing fourth in the final there ahead of Seb Coe and Tom  McKean.
'There were 5000 people packed into the Kelvin Hall each day and I cruised through the first round and the semi. Tom McKean and I were actually drawing up plans for the final and how we would blast the first 600m and then sort out the gold and silver medals thereafter.
'Then, on the day of the final, I woke up ill and had to pull out. Tom won it with a Scottish record of 1.46.22 – but he still didn't go as hard as we had planned for the first 600m! I can say that because Tom is my  golfing partner nowadays.
'We'd four athletes in that GB team then and the atmosphere was brilliant. It was far from being the best surface at the Kelvin Hall – the track was poor in fact – but the arena itself could be a great place to run when it was full.
'I'd love the European Indoors to come to the Emirates and the way the Scottish public back sporting events tells me it would be a wonderful event. It is a great arena for an athletics championships like that.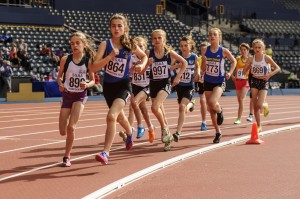 'I'm certain Rodger Harkins will be working towards getting more Scots on GB teams. He has GB coaching experience himself so that is a foot in the door.
'Stephen Maguire is there, too, and I'm sure Stephen is contributing in the background trying to ensure some of the things he put in place in athletics in Scotland have a decent legacy. I definitely think we're seeing green shoots of recovery springing up across the sport.'
I was out recently in very poor weather near where I live in East Kilbride and there was a 15-year-old out training on his own. He was a 400m runner doing hills, with his rucksack hanging from a tree. I just found that in itself really encouraging – because I think we are seeing teenagers now inspired by role models and that's what you need in athletics.'
Tags: Allan Smith, Brian Whittle, Chris O'Hare, Euro Indoor Champs, Guy Learmonth, Jamie Bowie, Kirsten McAslan, Laura Muir, Prague