Throws and Jumps Grand Prix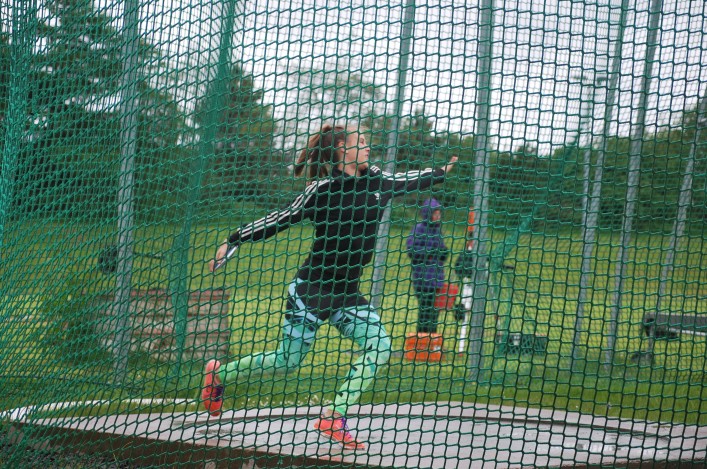 Photo by Ralph Connolly
All the Results (see download bottom left)
The second match of the scottishathletics Throws and Jumps Grand Prix  took place at Craigswood Stadium at the weekend.
And,despite the fact the was horrendous on Saturday, over the weekend the 200 athletes who took part managed to record 60 PBs.
There were many performances worthy of note but the outstanding one of the second event in the series from George Evans (Inverness Harriers) U18 Discus and Shot, Andrew McLoone (Shettleston Harriers) U17 Shot and Kirsty Costello (Kilbarchan) U13 Hammer.
George Evans who already has qualifying Standards for Discus at the forthcoming World Youth Championships and and Commonwealth Youth Games added a further qualifying Standard of 61.24m which takes him to No5 on the IAAF World Youth Rankings.
He topped this performance off with a 18.11 Shot Put which is also a Commonwealth Youth Games Qualifying Standard. George is a member of the scottishathletics National Academy.
Andrew McLoone in the U17 Shot Put launched a massive 17.23m put, which added almost a metre to his PB and is also a Commonwealth Youth Games Qualifying Standard.
Andrew's success has been meteoric to say the least, adding over three metres to his PB this season.
Kirsty Costello competed on Saturday afternoon after winning the Scottish Schools title in the morning at Grangemouth. With a throw of 43.04 she added a metre to her morning's performance and almost 3m to her previous best. Which takes her to No 1 age group best for the event in the UK.
The next meet in the series will take place at Craigswood, Livingston on July 25 and 26.
Mary Anderson has kindly agreed to take the entries for the two remaining GP events and can be emailed here  (note, not the scottishathletics email address)
mary_anderson0908@yahoo.com
(with thanks to Hugh Murray)
Tags: Andrew McLoone, George Evans, Livingston, Throws and Jumps Grand Prix