Team Scotland do us proud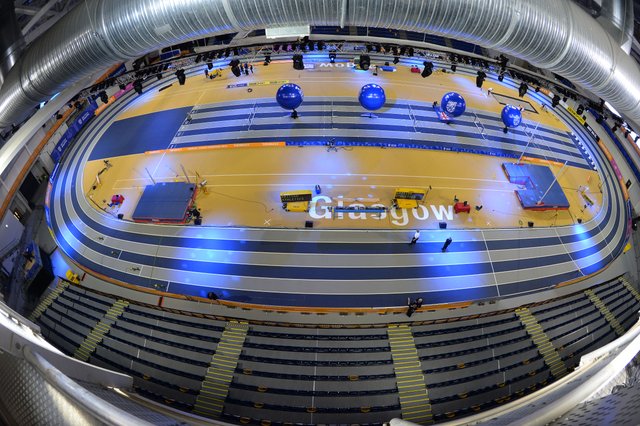 All the Results – Club:Connect Relays and International Match
Team Scotland produced a series of fine performances in the Sainsbury's Glasgow International to the delight of an enthusiastic Emirates Arena audience.
Jamie Bowie came up with a victory in the Men's 400m and there were four second places in all – including both of the 4 x 400m relay teams.
With a clutch of PBs and SBs from our athletes, there really were plenty of positives to take from the traditional Glasgow indoor event. And there was a good feel, too, to the Junior Club relays with infectious enthusiasm at U13, U15 and U17 level for the 4 x 200m races.
Director of coaching, Rodger Harkins, had looked for Pbs and SBs from a youthful team against the more experienced GB and Ni, France and Germany and the match scoreline revealed Scotland amassed 35 points in fourth.
Germany won it with 50 points in dramatic fashion after France were disqualified in final event, the 4 x 400 Men's relay, and GB and NI took 'runners-up' on countback with the same 49 point tally as France.
For Scotland, the best scoring performances came from Jamie Bowie, Ray Bobrownicki, Guy Learmonth and those two relay teams – Kirsten McAslan, Zoey Clark, Diane Ramsay and Kelsey Stewart for the Women and Greg Louden, Grant Plenderleith, David Martin and Pat Swan for the men.
And what about 16-year-old schoolboy Cameron Tindle? He clocked a PB in the 60m sprint with a third place finish after World Indoor champion Richard Kilty false started. Josephine Moultrie, in the 1500m, was another third place. McAslan was third in her individual 400m, with a PB.
British Athletics website report
Bowie was spurred on by the roar of a Scottish crowd inside the Emirates once again to win in 47.38 with a fine finish. He had to out-muscle Conrad Williams in the final few metres, posting his first victory over the GB athlete, to his obvious satisfaction.
'To win against Conrad (Williams) is pretty special,' said Jamie. ' The time wasn't great but I think that will come in the next few races. I probably should have been a little bit more aggressive at the break. I nearly got cut off in the final straight but I found the line and got the win in the end.
There were second places in the 800m for Learmonth and Bobrownicki in the high jump. Bobrownicki cleared 2.19 but couldn't quite manage an indoor PB of 2.23 as the event was won by GB's Chris Kanud.
Learmonth lost out to Germany's Robin Schembera, with the winning time 1.48.41.
The real drama of the day arrived in the men's 60m. World Indoor champion, GB's Kilty, was disqualified after a false start but young Cameron kept his nerve well to clock a PB of 6.92 seconds.
The 16-year-old was not fazed by the occasion and Cameron said later: 'It was a great experience – it is the biggest crowd I have ever run in front of. I've enjoyed every single bit of it.
'False starts don't usually bother me and I just tried to keep calm and I think I handled it pretty well. I've competed for Scotland as a youth but to get a senior cap is very special and a dream. '
Kirsten McAslan took third in the women's 400m race and she managed an indoor PB at 53.40 with a decent effort, as well as a good first leg run for the Women's 4 x 400 – which was crowned by Aberdeen AAC's Kelsey Stewart's fine last leg.
'I felt a bit rusty on my 400m individual but it wasn't too bad – it was a good opportunity to blow the cobwebs away,' said Kirsten.
'You've got to get out really quick in a 400m and I didn't quite manage that today. It was nice to get a chance to where the Scottish vest again and compete in front of this loud crowd.
'Kelsey was amazing in the relay and we're pretty pleased with second place in that company. I didn't expect us to beat Germany and France.'
In the pole vault, Sam Adams came up with a PB of 4.80m while Myles Edwards was another to manage an indoor PB in the 1500m.
Sprint hurdler Hazel Ross was disappointed with her time in a fourth place finish but she still felt her long journey from Canada was worthwhile.
Hazel said: 'I am glad I was here and wearing the Scotland vest. I always said that if I studied abroad then I would still want to come back and compete here – in events or for Scotland if that happened. So I am glad I did and the crowd was amazing out there.
'I would like to have run a little faster but didn't manage it. I will be at Aberdeen for the Senior Champs next summer and defend my title there – that is part of my competition plan.'
Moultrie came up with third place in the Women's 1500m with 4.17.07 but Katy Brown was just outside her SB in the 800m with 2.05.04
There were fourth place finishes in their events for Peter Muirhead (6.82m) and Sarah Warnock (6.18m) in the long jump and David Feeney in the 60m H.  Kathryn Christie was just one hundredth shy of a Season's Best in the 60m at 7.64.
Tags: Guy Learmonth, High Jump. Ray Bobrownicki, Jamie Bowie, Rodger Harkins, Sainsbury's Glasgow International