Support boost for Tindle and Reed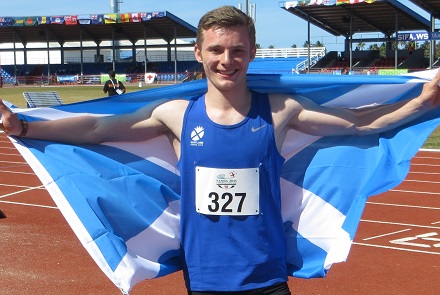 Cameron Tindle – has received more funding support
Athletes benefit via SportsAid funding
Two Scottish track and field athletes are among the beneficiers of the PHM Scholarship Support Fund for 2016.
This source of additional athlete support funding is administered by the Commonwealth Games Scotland Youth Trust, following support from a private individual impressed by the potential of Scotland's young athletes.
The fund provides awards of up to £1,000 to prospective Commonwealth Games athletes, under the age of 26, towards their preparation for events leading up to the Bahamas 2017 Commonwealth Youth Games, Gold Coast 2018 Commonwealth Games and beyond.
Sprinter Cameron Tindle is one the new additions to the list following his bronze medal at the Commonwealth Youth Games in Samoa last September.
And hammer thrower Kimberley Reed is retained on the list, which features competitors from various sports. Both are athletes with Edinburgh AC and Kimberley was Scottish U20 Athlete of the Year in 2014.
Read more on the Commonweath Games Scotland website
Tags: Cameron Tindle, Commonwealth Youth Games, Kimberley Reed