Super Scots win five out of six at Celtic XC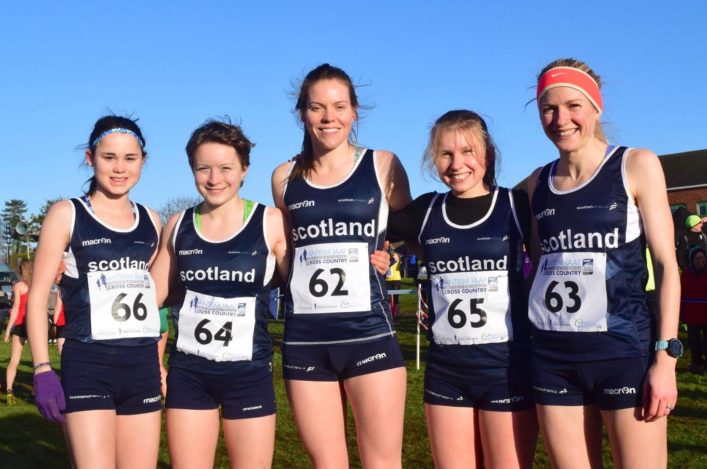 Scotland U23 Women gold medallists Gillian Black, Catriona Graves and Annabel Simpson and Senior Women Rebecca Burns and Fiona Brian (photo by Neil Renton)
Scotland athletes impressed over the mud at the British Cross Challenge in Antrim on Saturday – and clinched team golds in five of the six Celtic XC events.
It was a clean sweep for Scotland in the women's division as they took the U23, U20 and U17 team gold medals with individual success in each of those races.
Many congratulations to all the athletes and coaches involved and thanks to our (volunteer) team managers who travelled over to Antrim. to offer support and guidance
Topping the podium in Antrim in those Celtic XC races were Annabel Simpson of Fife AC at U23, Eloise Walker of Edinburgh AC at U20, and Cera Gemmell of Team East Lothian at U20.
In the men's races, Scotland only missed out at U17 level as both the U23 and U20 teams again took the gold medals back across the Irish Sea.
Aidan Thompson of Central AC won gold in the U23 division within the Senior race and he was joined on the podium by Shettleston's Ross Gollan, as he took bronze in his first international appearance in XC. Euan Gillham helped that duo to team gold.
Cambuslang Harriers athlete Gavin Smith was the sole Scottish medallist at U20 and U17 level as he took a bronze in the elder of those age groups. Nonetheless, the U20 team took the gold medals – by three points from Ireland in one of the tightest contests – with Gavin backed up by Finlay Todd of Glasgow Uni and Faisal Khursheed of Gala Harriers.
Kenyan success in the Senior races
Giffnock North's Luke Traynor was the best-placed Scot at eighth place in the Senior/U23s race with Andy Douglas of Inverclyde at 15th and Shettleston's Lachlan Oates one place further back. Thompson's strong run for U23 gold took him to 11th place in the overall race.
Simpson was likewise running the Senior Women's race but won the U23 division with a fine performance as she headed two Welsh athletes.
Annabel was 11th overall and there were also top 21 places for Rebecca Burns of Edinburgh AC at 14th and Fiona Brian of Metro Aberdeen at 21st. Backing up Simpson, Gillian Black and Catriona Graves ensured gold medals for the Scottish U23 Women.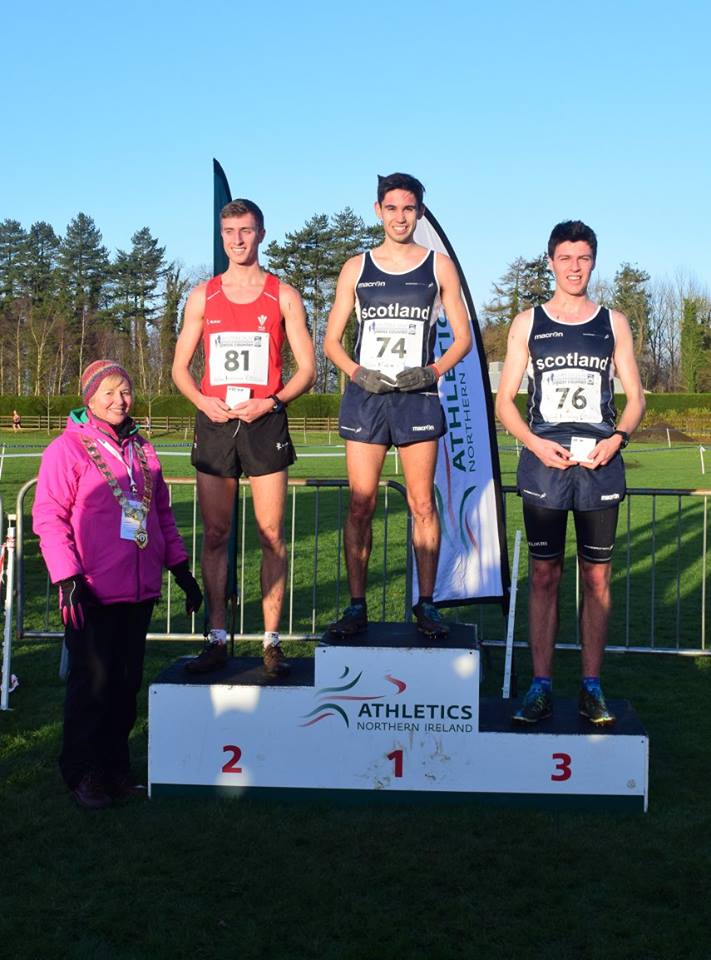 Aidan Thompson and Ross Gollan on the Men's U23 podium (photo by Neil Renton)
Scotland completely dominated the U20 and U17 Women's races – as they took team gold in both age groups with some terrific performances.
In fact, it was a 1-2-3 as Walker of Edinburgh and Kate Gallagher of Central took gold and silver in the U20 age group and third-placed Gemmell of Team East Lothian won the Celtic XC U17 gold. There was an U17 bronze medal for Lily-Jane Evans-Haggerty of VP-Glasgow. There was a good run in the British Cross Challenge U17 race by Giffnock's Lynn McKenna, as she took second place.
Scotland U17 men found it tough with Jack Patton of Kilbarchan AAC best placed of the quartet that also featured Kristof Hornyik (Dundee Hawknhill), Ben Sandilands (Fife AC) and Jack Trainer (Garscube). There were good runs in terms of the British Cross Challenge U17 age group from James Gillon of Law and District and Ben Shaw of Giffnock.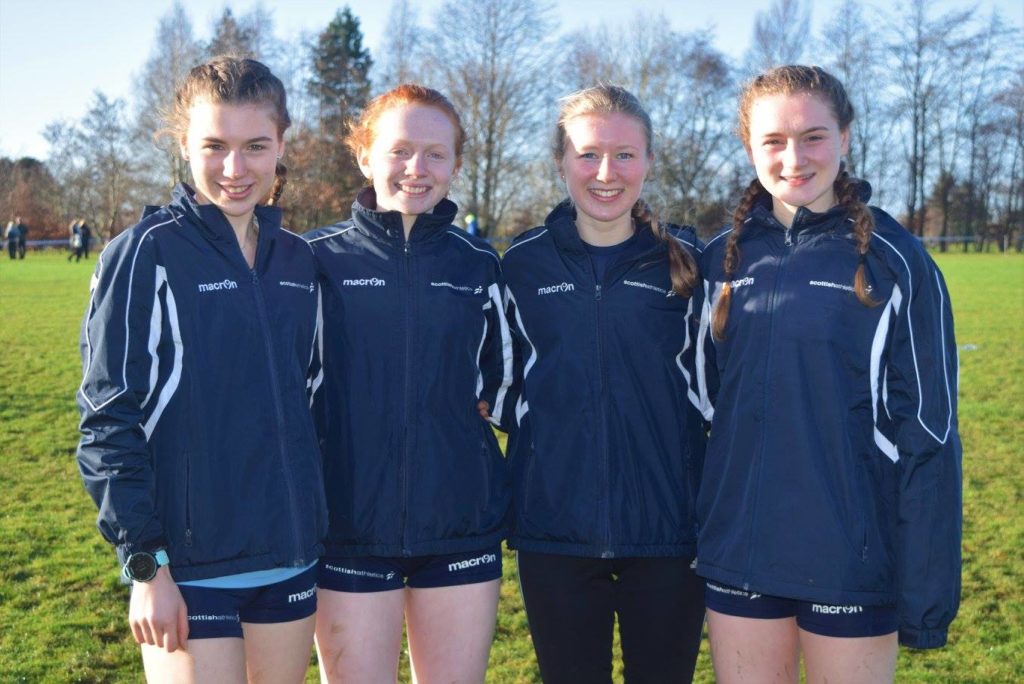 Scotland's U20 Women gold medallists – Eloise Walker, Clare Stewart, Laura Stark and Kate Gallagher (photo by Neil Renton)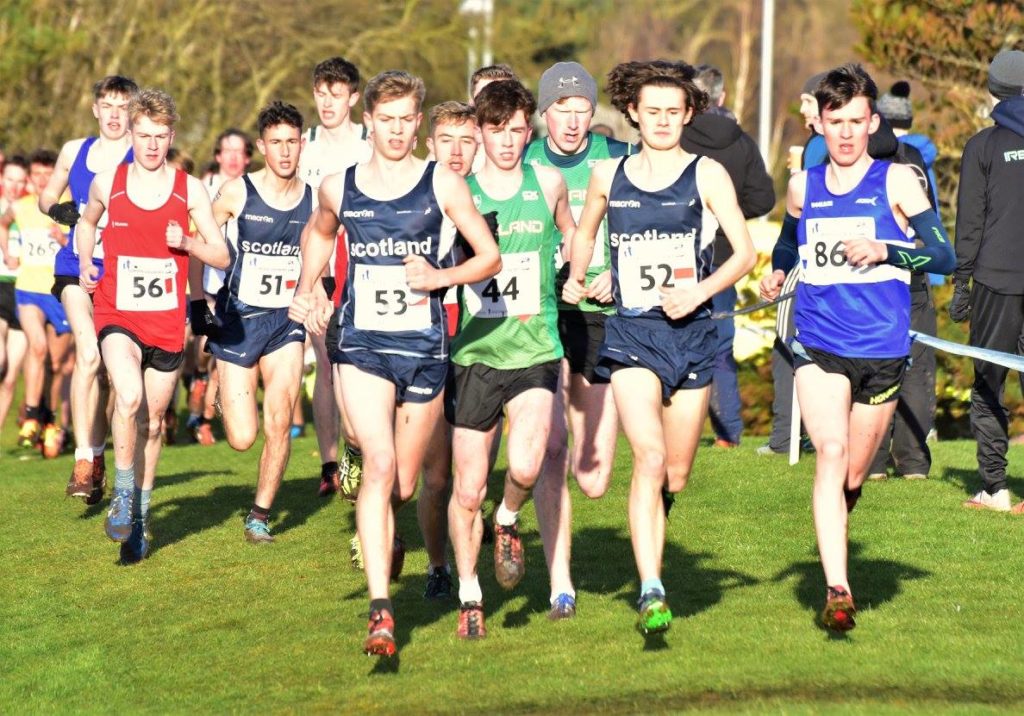 Finlay Todd (no 53),  Gavin Smith and Faisal Khursheed helped Scotland U20 Men to team gold (photo by Neil Renton)
+++
There were some fine performances in the lower age-group British Cross Challenge races in Antrim (outwith the Celtic XC races).
VP-Glasgow's Valencia Wright won the U13 Girls race with Hannah Ryding of Giffnock North in second and Isla Hedley of Fife AC taking third place.
In the U13 Boys race, there was a fourth for Reuben MacDonald of Giffnock North with eighth for Fergus Currie of Garscube Harriers and 10th for VP-Glasgow's Russell Barnett.
Scots were firmly to the fore in the U15 Girls event as they took places two, three and four thanks to the efforts of Anna Hedley (Fife AC), Anya MacLean (Garscube) and Kate Richardson (Giffnock North). Helen Chong of Giffnock North took eighth place in that race.
Giffnock's Ethan Carolan was fourth in the U15 Boys race, just ahead of James Connolly of Garscube. There was a 10th place for Alastair Marshall of Livingston. Kilbarchan's Oliver Patton won the Primary Schools Boys race.
And there were a number of overall teams wins on the girls side for Giffnock North in the club races.
*Please do accept our sincere apologies if a significant performance has been accidentally omitted.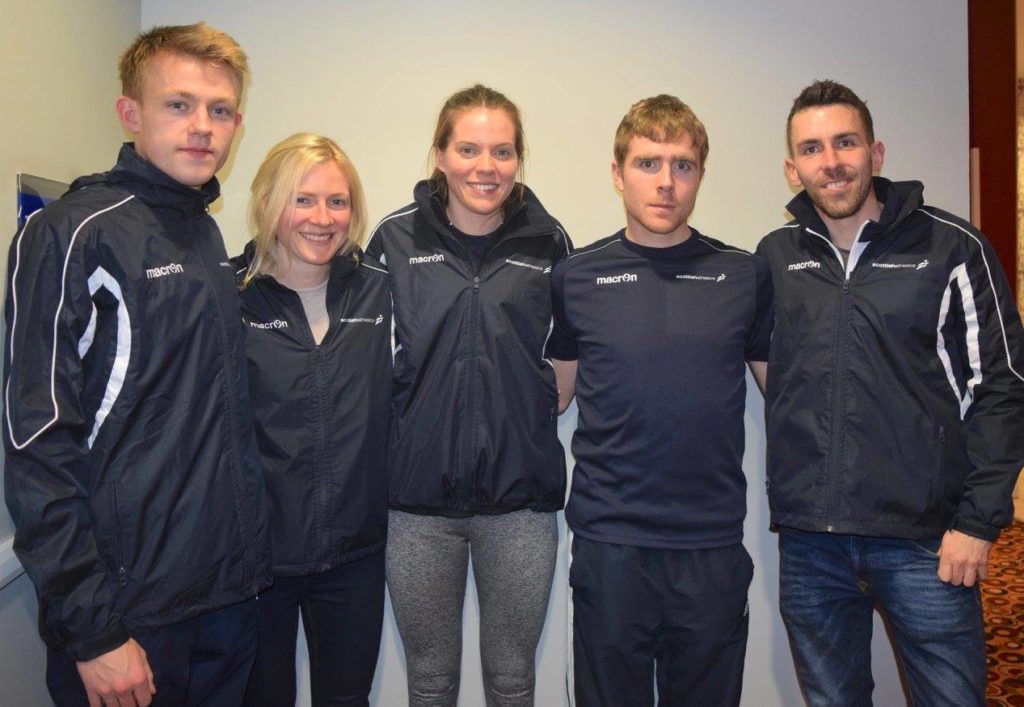 Scotland's five Senior athletes at Antrim
Tags: Antrim, British Cross Challenge, Celtic XC, Scotland