Scottish U17 Champs review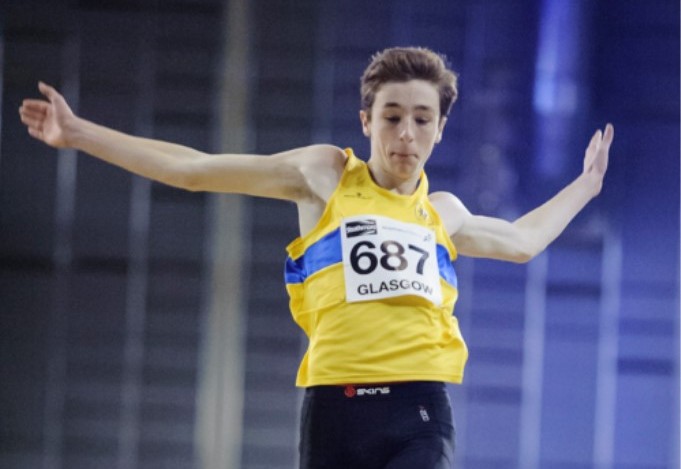 Alessandro Schenini – long jumper has made a great start to 2016
PHOTOS on Facebook by Bobby Gavin
Allan Scott's Scottish U17 long jump record had stood for the best part of 20 years as 2016 dawned – now Alessandro Schenini has leapt beyond it three times in January!
The Giffnock North AAC athlete had confirmation pending of a new record at 7.00m (Allan was at 6.96m back in 1998) following the National Open when he took to competition at the U17 Age Group Champs on Saturday.
Then, twice in his opening three jumps, Schenini reached exactly the same 7.00m mark to equal his own new record and win gold, as the National Academy athlete continues his fine progress with help from coach David Watson and his club.
Schenini was a little frustrated he couldn't leap even further but his performance was among a couple of real highlights of a fine U17 Champs, with Aidan Quinn of Glasgow School of Sport securing a Championship Best in the triple jump with 13.91m. That is also a second equal best on the U17 all-time list. Aidan's Glasgow SoS team-mate, Karen Dobbie gave them a triple jump double with 11.02m.
Aberdeen AAC athlete Katie Forbes was another in top form – landing a gold double in the long jump and the 60m. Pitreavie AAC's fine day in pole vault – with two Senior titles – also featured Alana Dunsmore's gold while Andrew McFarlane won the U17 Men's event with an impressive 4.20m clearance.
'I'm pleased to win the title and get to 7.00m again but I really was looking for 7.10m or something like that,' said Schenini.
'It is a wee bit frustrating and especially as I got that 7.00m in my opening jump and then again soon after (third round). You are hoping then to improve on it if you can. I will keep working away as hard as I can with my coach. I train about four times a week and two of those are sprint sessions.
'We've a decision to make on the rest of the indoor season because I may do the British U17s or the Scottish U20s. I'm ranked No 1 in the UK at U17 level for 2016 thanks to the National Open jump.'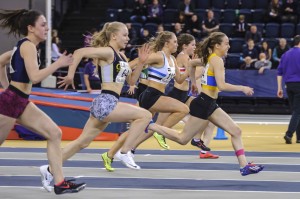 U17 sprints action (photo by Bobby Gavin)
In the throws events, there were shot put wins for Andrew Peck (VP-Glasgow) and Shona Crossan (Shettleston).
Other Scots to win gold medals on Saturday were as follows: Fraser Angus (Kilmarnock Harriers) 60m; Jade Henry (VP-Glasgow) 60m hurdles; Holly McArthur (Whitemoss AAC) 300m; Jamie Sturrock (Giffnock North) 800m; Olivia Vareille (Falkirk Vics) 800m; Kate Gallagher (Central)  1500m; Lauren Greig (Glasgow SoS) 200m; John Maclennan (Central) 200m.
There were a number of fine PB performances and impressions on the U17 all-time list (see the scotstats.net website).
*Switching the U17 Age Group Champs to the same day as the Scottish Seniors was a deliberate attempt to try and improve the atmosphere – and relieve the very congested schedule we've had recently for Age Group Champs.
It certainly felt as if that worked and there were a couple of other fringe benefits: our best U17 athletes can now also compete indoors at the Scottish U20s in March and they also had a chance to see what it may take to feature in the Seniors next year, with a number of teenagers impressing at that level on Saturday.
And the presence of World Indoor Champ Richard Kilty gave us the chance for a special competition for U17 athletes (with a signed Mo Farah vest on offer at the moment for one lucky entrant to the Age Group Champs). We put all the U17 names into the competition and the lucky athlete was Lasswade AC's Ailsa Innes.
The 800m runner stepped off the track after making it through to the final to be told she had won the signed vest from Richard – later Ailsa finished fifth in the final.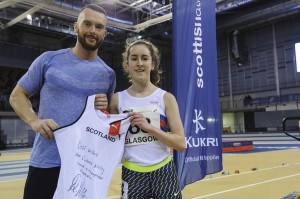 Richard presents Ailsa with signed Scotland vest
*Many thanks to John Elliott for offering scottishathletics a number of video packages from Saturday's event at the Emirates Arena. There are two here from the U17 Champs.
*Enter now for the Age Group Champs  at U13, U15 and U20 and by doing so you will be put into the draw for a signed Mo Farah vest.
https://www.scottishathletics.org.uk/enter-age-groups-win-autographed-mo-farah-vest/
Tags: Alessandro Schenini, Emirates Arena, Glasgow School of Sport, Lasswade Ac, Scottish U17 Champs