Scottish title is important – Sarah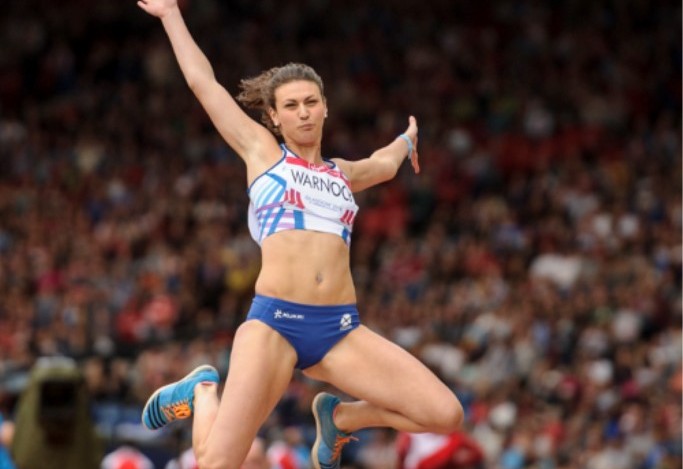 All the Results from the Senior Indoors
Sarah Warnock successfully defended her Scottish title at the Senior Indoors on a day when a number of the next generation of athletes set PBs in various events.
The Team Scotland long jumper produced a season's best and indoor PB herself to win with 6.21m as five women leapt 5.75m or beyond.
PBs were to the fore, too, in events like the pole vault and sprint hurdles as well as the sprints. Men's pole vault gold medallist, Sam Adams, had reached a PB at 4.92m at an event in Manchester some 24 hours before winning the Scottish Seniors.
Warnock was nonetheless disappointed with a lack of depth in the field – not only in her event – and pointed to the Men's high jump as a good example of athletes putting themselves up for Scottish medal contention with our three best-ranked taking part.
'Job done,' said Sarah, with Gillian Cooke taking the silver at 6.06 and Giffnock North AAC youngster, 16-year-old Rachel Alexander, crowning a fine series with a big PB of 5.93m and a bronze medal.
'I wanted to defend my indoor title and I've done that with an indoor PB. I said through the week you are always happy with improvement on your PB – but I would have liked it be a bit more than one centimetre!
'Still, you want to win these championships and for me that is what it is all about. I want to be remembered as someone who won X number of Scottish titles. I've won two indoors now and two outdoors.
I would have preferred if there were more than six athletes in the competition, though. If we want the Scottish Champs to be better, we need more athletes to do them and although some are maybe injured or whatever, I still think more people could make an effort to be honest.
'Put it this way: I can't really see a reason for not doing it if you are taking on an indoor season.The three main male high jumpers we have in Scotland were all there to compete so fair play to them.'
Warnock trains with Rachel Robertson and, like her Giffnock namesake, the Lasswade athlete came up with a PB as she reached 5.75 for fifth place.
'I train regularly with Rachel (Robertson) and both Gillian and I know how she is improving,' added Edinburgh AC athlete Sarah, who is coached by John Scott.
'We can see it happening and that kind of competition is good. Young Rachel Alexander jumped really well on the day, too, and they were getting PB performances. So I knew I had to come up with something to get the gold because that was competitive out there.
'Under those circumstances, you just have to make sure you do what it takes to win. So there are some good signs for the event in Scotland but, as I say, you would always rather there were a few more people in the event.'
Sam Adams and Anna Gordon took the titles in the pole vault with the latter one cm off her Season's Best at 3.70 and Sam winning with 4.65. Tom Chandler cleared 4.00m to set a PB. There were a number of PBs in the women's 60m hurdles won by Mhairi Patience.
'I was at a special Vault event in Manchester on Saturday and managed to get a PB there at 4.92,' said VP-Glasgow athlete Adams, who is being coached again by Brian Donaldson.
'With a Scottish title win on the Sunday then that's a decent weekend, although I'm very tired now. I used carbon-fibre poles for the first time in the International and I had them in Manchester but not at the Emirates.
'I loved wearing the Scotland vest at the Glasgow International. I didn't feel under any real pressure against some top guys and I felt I could jump well and the atmosphere inside the Emirates Arena that day was inspirational in many ways.
'Now the 4.92 PB is taking me ever closer to the 5m mark and that's now looking an achievable target for the season if I can keep working hard and improving. I was not really thinking that until the past couple of weeks so it has been a bit of progress.'
Age Group Record for Eunson
Giffnock North athlete Sarah Eunson has been making big strides over the 800m during the past few weeks.
And Eunson proved it emphatically by landing a Scottish U17 Indoor Record for the distance as she clocked 2.10.28 in the Senior Indoors final, where she finished in fifth place in a race won by English athlete Hayley Mills.
Sarah's run improved upon the 2.10.3 previous best with that having been set fully 35 years ago indoors at Cosford by Olympian Linsey Macdonald.
It is the second Macdonald record to fall in recent weeks with Kirsten McAslan recently having broken a 600m mark. Alisha Rees was only three hundredths shy of Linsey's U17 record for 6om, which stands at 7.58.
Tags: Rachel Alexander, Sam Adams, Sarah Eunson, Sarah Warnock, Senior Indoors