Scottish Wheelchair 10K Champs; WPA Grand Prix in Italy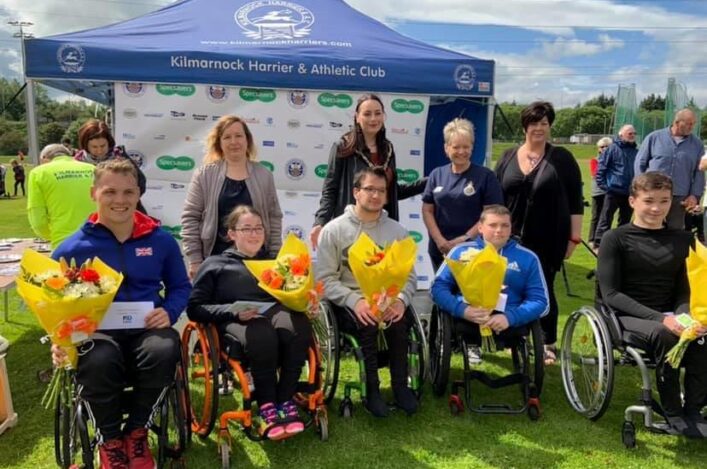 Wheelchair medallists at Roon the Toon 10K at Kilmarnock
Scottish wheelchair athletes gathered in Ayrshire on Sunday as they competed over 10K in our National Championships.
The Roon the Toon 10K event kindly hosted the Scottish Wheelchair 10K Champs, with sponsorship support from Ayrshire Sportsability.
Sean Frame of Red Star AC took the gold medal in the men's race and came up with a course record, too.
The Men's 1-2-3 (with chip times) was as follows:
Sean Frame Red Star AC  26.07 (course record); Ben Rowlings Coventry Godiva/Red Star AC 27.14; Kyle Brotherton Red Star AC 27.33
The Women's race was won by Murran Mackay of Red Star AC in 48.31. And the Junior race was won by Red Star AC's Luke Deighan in 31.52.
With Ben Rowlings not eligible for Scotland as yet, the Scottish medals saw gold for Sean, silver for Kyle and bronze for Luke.
+++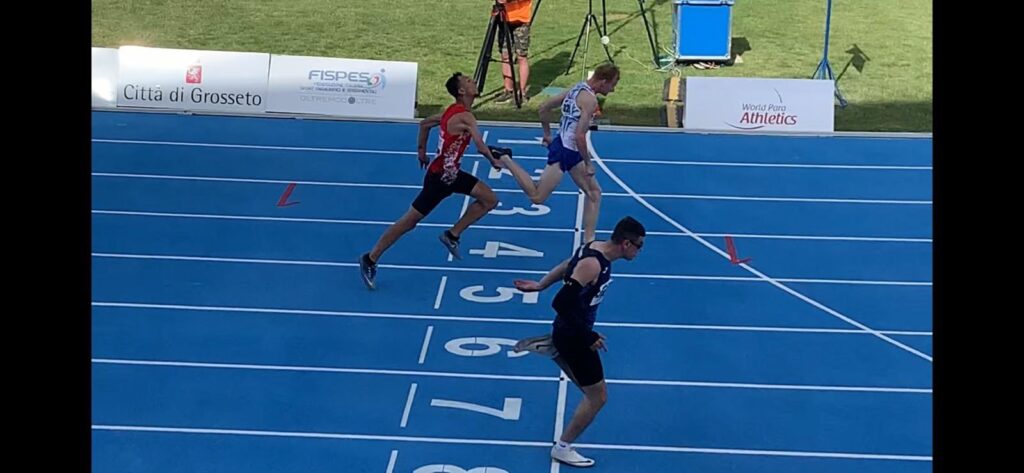 Ross Paterson in action in Grosetto (photo via Twitter)
Three Scottish Para athletes were at the WPA Grand Prix in Grosetto and delivered some fine performances.
Well done to Ross Paterson, Abbie McNally and Steven Stone and their coaches, families and clubs.
Here's the summary of the Results:
Ross Paterson (T38) (Red Star AC): 400m gold 57.40; 200m silver 24.70 (PB); 100m bronze 12.38
Abbie McNally (T37) (Inverness Harriers): 200m gold 31.12; 100m bronze 14.98 (PB); Long Jump 8th 3.79
Steven Stone (T20) (Falkirk Victoria/Forth Valley Flyers): Long Jump 5th 6.56
With thanks to Ian Mirfin
Long jumpers Steven Stone and Abbie McNally in action in Italy (photos with thanks to Ian Mirfin)
Tags: Abbie McNally, Murran Mackay, Para athletics, Ross Paterson, Scottish Wheelchair 10k Champs, Sean Frame, Steven Stone