Scots perform well in Cheboksary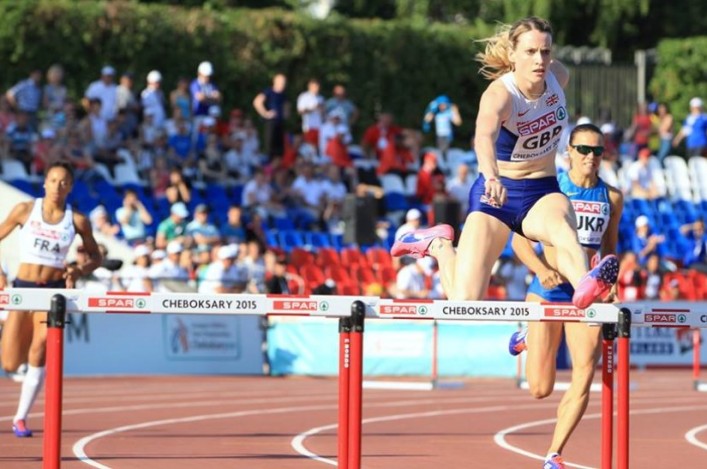 Photo courtesy of European Athletics
British Athletics website report
Eilidh Child produced her best form for over a year to win her event at the Euro Team Champs in Russia – on a good weekend for three of the Scots in Cheboksary.
The European champion had spoken about her willingness to accept the responsibility as favourite and she delivered emphatically in Cheboksary with a Season's Best 54.46.
Child's success landed 12 points and with Lennie Waite taking a second place and Andrew Butchart third in the 3000m, the Scottish contribution to the overall points tally was decent. Combined with the efforts of Kirsty Law, Guy Learmonth and Jax Thoirs, we make it 43 points won by six athletes in the GB final score of 291 – for fifth place.
The highlight was Child's 400m Hurdles as Eilidh set a European Lead and came up with her best run for more than 12 months since a Diamond League outing in Doha early in the 2014 season which of course ended in medals at Glasgow 2014 and Euro 2014.
'I wanted to win the race obviously to get the points for the team and I knew it felt like a nice track when we came in to warm up on Friday,' said Eilidh.
'But on Saturday I knew it was pretty windy so I wasn't too bothered about the time  – so to then win it and to knock a chunk off my season's best I'm delighted and hopefully this can set me up for the next few weeks now.
'I think this event is important because I think you've got to appreciate every time you get a GB vest.
'You never know when it is going to be your last vest and I just think if you get the opportunity to represent your country you've got to take it.

Lennie Waite was in action as the GB pick for the women's 3000m steeplechase – and she did herself and Scotland proud with a fine second place to add 11 points to the GB tally,
By her own admission, the American-based athlete who raced at the Commonwealth Games found it tough in Cheboksary early on but drew on her determination to come from sixth or seventh with less than 1k to go to take second behind clear winner, German   Krause.
The 9.59.75 is adrift of the 9.44 that Lennie needs for the World Champs but conditions were warm in Russia and she has been very close to that time already this season.
'I felt horrible, three or four laps into the race and all I could think was 'you have to run well for your team . . . this isn't what you want'. My legs just felt so bad, but it just goes to show what happens.
'If you kind of stick with it because obviously everyone else was feeling that bad, too! All of a sudden people started coming back to me and I thought it was strange because when that happens you start feeling like you are rolling, but I felt like I was gritting the whole time, so I am so pleased to come second.
'That time is nowhere near what I wanted but I cannot complain because if anyone told me I was going to come here and come second I would have been like 'sounds good to me!"
'I did this event last year and I remember a little voice in my head saying that would be cool to be doing it three years in a row. Then I opened up my season and I ran fast, I thought it was a real possibility.
'It's a lot of travel though! I will try and race a 1500m in between now and the champs, try to get my legs back under me and feel like I'm a little bit flat you know flying from Texas, to London, to Russia, trying to get my legs to get sharp for the champs in Birmingham. I'll be chasing that standard for the worlds, I would love nothing more than to be in Beijing for the World Champs in August.'
Kirsty Law won her first Senior GB vest and finished 10th in the women's discus with her best throw at 50.93m.

Andrew Butchart was in action in the 3000m and came up with a really strong finish to take third place and 10 points for GB.
Andrew was ranked at about seven in the 12-man field but over-turned that with a fine last lap – despite being cut up a couple of times just after the bell.
It was a slow, tactical race but the Scottish National XC champion from Central AC is making a terrific transition to international level on the track following appearances at the Euro Cross and World Cross.
'I wanted top three today and it was so slow I just went to the front,' said Butchart.
'I took it slow but it's just nice to be at the front because you don't get spiked in the slow group.I got a few nudges in the first 50 of the last lap, a few guys were going slower than others and I had to make room on the inside and luckily I got room and got the Spanish runner on the line.So I'll take the points for the team and that's what matters.'
Unfortunately, it didn't go quite as well for Guy Learmonth who was third at the bell in the 800m but finished ninth for four points. The race was won in a championship best with Guy at 1.47.8.
'It's not too good,' said Guy. 'I felt fine for 400m, but just not good at the last 200m like I usually do, but that's not good enough, I am disappointed.
'I have a difficult few weeks but the past 10 days in training has been going really well, but following Russia it's clear not clicked yet but it will.'
Jax Thoirs finished with a 5.30m clearance in the pole vault competition on his first appearance for GB at Senior level. That gave him 10th place in the competition and three points.
Jax said: 'It was fun but I warmed up really well and I thought it was going to go well. First attempt was  brilliant, but at 5.30 I came down and landed on the pole and it shook me up a little bit and after I just couldn't get it quite back together. It could have been worse though.
'I was glad to be able to get over 5.30 at the third attempt to salvage it. It was good to finally compete – I got selected for Zurich last year but was injured right before it, so I've been waiting about a year to try and get the senior vest after earning my call up. It was fun but I do think I could have done better.
With thanks to Liz Birchall of British Athletics for contributing comments from Scottish athletes in Russia
Tags: Andrew Butchart, Eilidh Child, Euro Team Champs, Guy Learmonth, Jax Thoirs, Kirsty Law, Lennie Waite