Scots impress at the Manchester International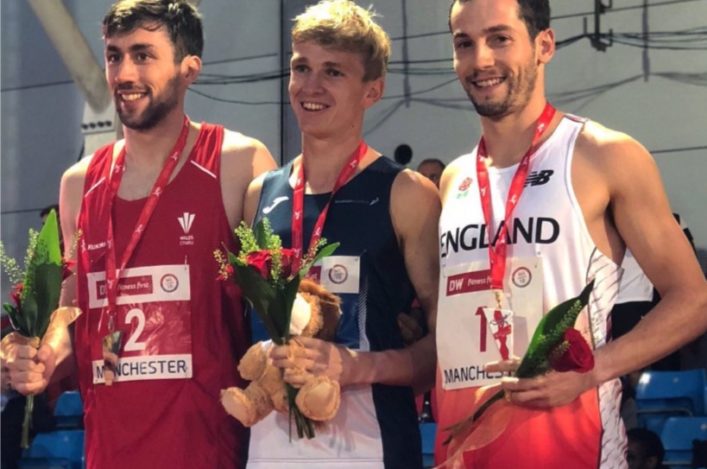 Jamie Williamson tops the podium for Scotland at the Manchester International
Jamie Williamson stamped his class on the Manchester International with a fine victory over 800m to complete a memorable few days.
And Sol Sweeney duly made it men's middle distance double for Scotland with his second international success of the season – as he won the 1500m to follow up his 3000m triumph at the Loughborough International back in May.
Triple jumper Zara Asante was a field events winner for Scotland, too, as she leapt to 12.80m to take the victory. With second places in seven other events on a night when conditions played a part, there were a number of other solid performances at the Regional Arena venue.
Loughborough-based Williamson, who was raised in Germany, had won his first Senior Scottish title at wet and windy Grangemouth last weekend after two rounds and a final.
Come Wednesday night in (wet and windy) Manchester and he timed his kick perfectly to see off all the opposition and win to round-off an excellent season.
'It's my international debut for Scotland so I am delighted to get the full points wearing the vest,' said Jamie, who won in 1.52.4 from the chasing Elliott Slade of Wales (1.52.8) and John Bird of England (1.52.9).
'I've had a good season and this just tops if off, really. I have run PBs at 800m, 1500m mile and 3000m and I've won the 1500m at the England Athletics U23s and the 800m gold at the Scottish Seniors.
'My dad, Graham, had to admit over the weekend that he had never won a Scottish Seniors gold medal. That was a surprise to me but I'm pleased to get one over on him finally.  It was a case of sitting in a bit on the back straight tonight with the wind strong and then trusting my speed. It worked well.'
Offering an international opportunity at this stage of the season was very much the key to the fixture for scottishathletics, rather than the overall points score, and Scotland duly finished fourth out of six teams – ahead of Wales and Northern Ireland. England won the match from the British League Select and GB Juniors.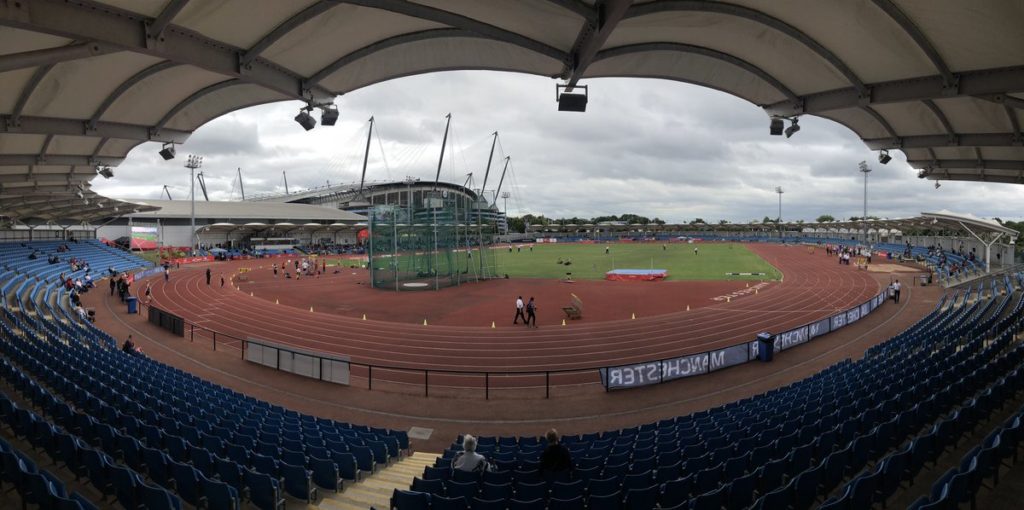 Mhairi Hendry took second place in the Women's 800m – going so close to the win with a run of 2.07.07 that just saw England athlete Mari Smith land the verdict by one hundredths of a second.
Within only a few minutes, Hendry managed to anchor home a Scotland Women's 4 x 400m team to second place behind England, with the quartet also featuring Chloe Lambert, Kelsey Stewart and Anna Nelson.
Kirsty Law, after that 11th Scottish title win last weekend following the European Championships in Berlin, completed a hectic week with a second place finish in the discus with a throw of 54.90m. Angus McInroy also represented Scotland in the discus.
Jack Lawrie had claimed a Native Record at the FPSG Seniors last weekend and his second good run in four days ended in second place in a tight finish. British Leagues athlete Chris McAllister, in fact, had to come up with a PB of 50.36 to hold off the late charge from Lawrie, who recorded 50.42.
'That's the season over for me and it is probably the first time I've actually felt I want it to go on,' said Jack.
'It could have been better although I suppose if I had run that at Grangemouth on Sunday I'd have been on for the £2000 prize pot  (with 50.50 the standard).
'I was pleased with the 50.75 Native Record given the conditions on Sunday and it was one I've had my eye on for a while. The National Record is 50.24 and my PB is 50.25 – so that's what I have to keep pushing on towards. That would be a nice one to get.'
Anna Nelson, on her Scotland debut, finished fifth in the Women's 400m Hurdles with a run of 60.83, while Kelsey Stewart was fourth in the Women's 400m in 54.78 as Shawn Wright finished seventh in 49.21.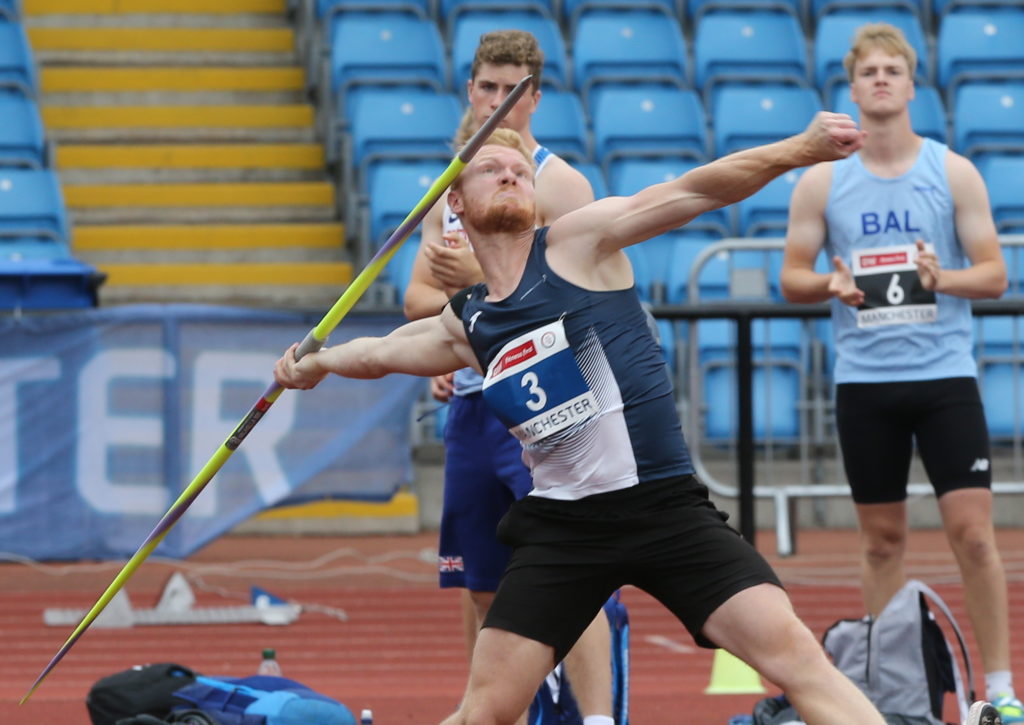 Greg Millar in action in the javelin (photo by Dave Greenwood)
Katy Wyper surprised herself with a podium place as she took third in the 100m – Katy clocked a windy 11.66 – with Alec Thomas recording a windy 10.60 when finishing sixth in his rHace.
'When I saw the line-up on the start line I thought it would be tough to get in amongst them,' said Katy. 'But it was a good run and as I crossed the line I let out a scream because I knew I was in the hunt for second or third. It's close to a windy PB for me so I'm pleased and it is always great to represent Scotland.'
Wyper duly followed that up with an even more impressive second place in the 200m with a windy run of 23.87 – again getting the better of athletes with quicker PBs on paper. Sandy Wilson, on his Senior Scotland debut, clocked a windy 21.47 to take fourth in the men's 200m.
Scottt Huggins took second place in the pole vault with a 5.00m clearance as, in the javelin, Greg Millar took fourth place with a best throw on the day of  62.88 with the wind making it tough for the throwers.
Scotland were placed fourth in the combined men's and women's long jump with Paul Ogun at 7.36m and Sarah Warnock at 5.91m.
Lewis McGuire was fifth in the high jump while Natalie Robbins was at 51.83m in the hammer and Mhairi Porterfield at 12.69m in the shot.
There was a second place in the 3000m steeplechase for Lauren Stoddart, who had won the gold at the FPSG Seniors last weekend, with Lachlan Oates finishing fifth in the men's 3000m steeplechase. Courtney Maguire was fifth in the pole vault with a 3.40m clearance.
Scotland were on the podium for the final event of the night – taking third in the 4 x 100m relay in 41.41 thanks to the efforts of Thomas, Greg Kelly, Wilson and Stephen Dunlop.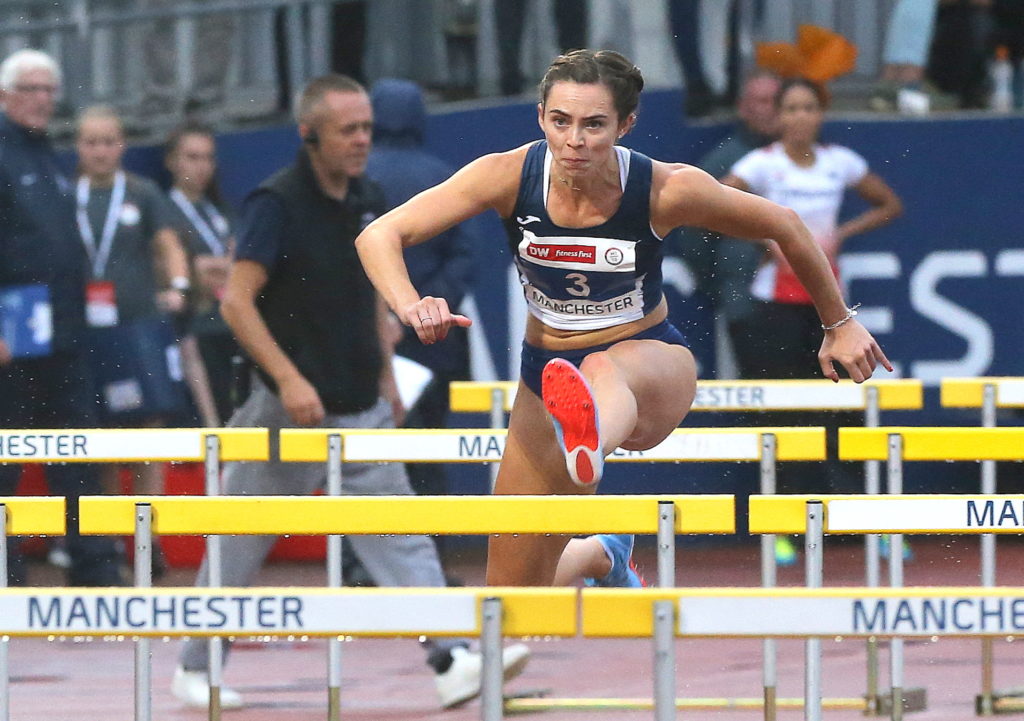 Heather Paton in action in the sprint hurdles (photo by Dave Greenwood)
Tags: Manchester International, Scotland