Scotland get set for Loughborough International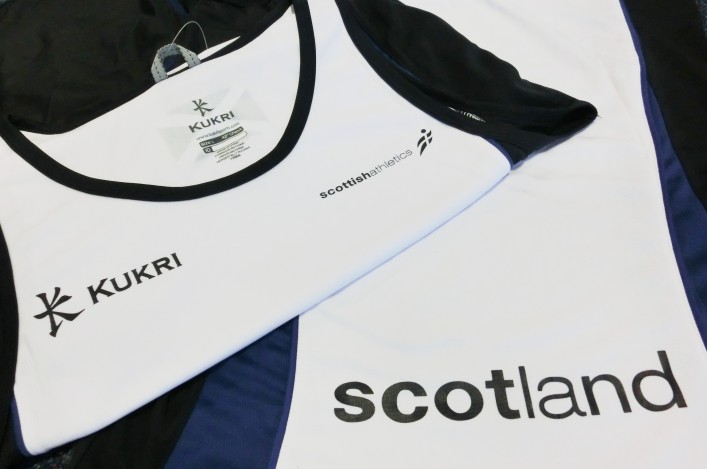 Timetable for Loughborough International
Scotland head for the Loughborough International event on Sunday – and it will be an exciting weekend for Scottish athletes both at the Paula Radcliffe Stadium and beyond.
With Scots allowed to compete for three other teams – hosts Loughborough Uni have first pick, plus the GB and NI Juniors (with three Scots) and British Unis – there will be numerous performances to be assessed by Director of Coaching, Rodger Harkins, and the rest of the performance team.
Rodger has already stressed how he feels the overall points tally is not as important as individuals stepping up to the mark on an early-season occasion while also keeping in mind events elsewhere like Highgate and Hengelo.
But what is not in dispute is the thrill of selection for Scotland remains a big one for athletes, both for those who are regulars for the Loughborough International, or new to this level.
Our announcement story last Saturday created a big ripple across scottishathletics social media as athletes, coaches and clubs savoured the selection bulletin.
Here's just three of the Tweets from some of those who will wear a Scotland vest for the first time:
'Delighted to get my first senior Scottish cap,' 400m hurdler Mhairi Patience.
'Chuffed to get my first Scotland call-up for the track. Third Scotland vest in three months over three disciplines,' endurance athlete, Ben Stevenson, who will race in the 3000m after a 5000m PB in Manchester last Saturday night.
'So pleased to get my first  Scotland selection,' sprint hurdler, Heather Paton.
Kelsey Stewart is one of three athletes called up by GB and NI for the 4 x 400m but will represent Scotland in the 400m. Anna Gordon has been replaced by Courtney MacGuire for the pole vault as Anna savours a first British vest. David Feeeney now competes in the 110m Hurdles.
In the Men's hammer, Chris Bennett represents Scotland and should face Mark Dry – with Mark competing first on Saturday for GB in Halle then throws for hosts Loughborough Uni on the Sunday.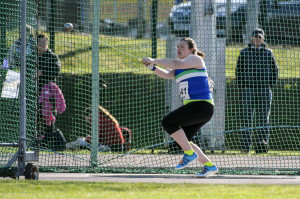 Rachel Hunter in action at the West Districts
Rachel Hunter, in the Women's hammer, can't wait to represent Scotland once again, with her West Districts title win coming after a recovery from shoulder surgery.
'Kilmarnock last weekend was my first competition of the season and I have only been throwing for about a month,' said Rachel.
'I had shoulder dislocation problems and had to have surgery. So I was out for quite a while during the winter.
'Being selected for Scotland for Loughborough earlier in the week gave me a real boost and an incentive to compete in the Wests. I wanted to get out there again and I'm happy with winning it. The last couple were a bit better and closer to 60m.
'I've thrown well at Loughborough the past two years – 65m and 66m. It is a venue I like and the circle is really good. Obviously it is a step-up in competition terms from this but hopefully I will be inspired by it.
'I'm delighted to be representing Scotland again and, as I say, getting the selection email gave me a lift.'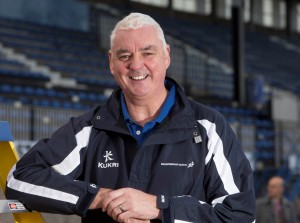 Rodger Harkins
Initial team announcement story
Rodger Harkins feels the countdown is now very much on towards the Commonwealth Games in Gold Coast 2018 – with the action in Australia taking place in less than two years.
'We're now less than a year away to the opening of the qualifying period for the Commonwealth Games in the Gold Coast – so athletes and coaches with that ambition have to be planning ahead and hopefully that applies to those selected for Scotland.
'But I would stress that we're looking beyond the team itself that weekend. We know there are big events in Watford, London, Holland and Morocco in terms of some our best endurance athletes and we wish them well for that.
'At Loughborough, Scottish athletes will wear vests for different teams and we accept that's how the event works and it is all about how individuals perform when it counts.'

Tags: Chris Bennett, Gold Coast 2018, Loughborough International, Mark Dry, Rachel Hunter, Rodger Harkins