Round-up: Hawkins; O'Hare; SUCA, Scottish Schools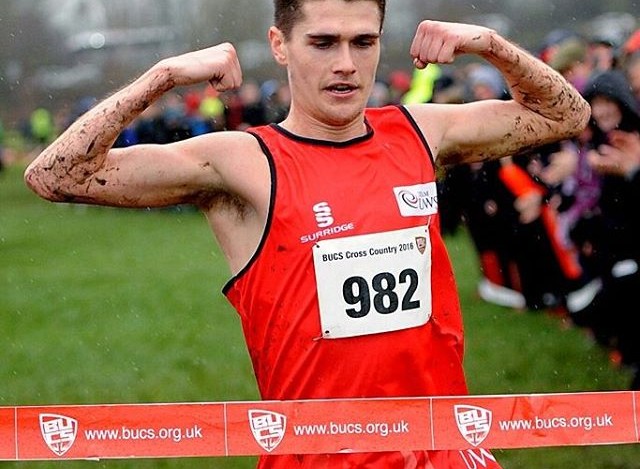 British Unis champion – Callum Hawkins (photo by Mark Shearman)
Callum Hawkins added another title to his name at the weekend as he clinched gold at the British Universities XC Champs.
Gloucester was the venue for this year's BUCS event and there were a number of Scottish athletes taking part – with decent performances in team races for Stirling Uni and Edinburgh Uni Hare and Hounds.
Hawkins was the headline act as he dominated the men's race to win in 30.33 as he represented University of West of Scotland. His Kilbarchan AAC team-mate, Euan Gillham, made the top 20 with a 19th place finish for Edinburgh.
Stirling took seventh place in the team event thanks to the combined efforts of Aidan Thompson (30), Jamie Crowe (33), George Goodwin (37), Douglas Roberts (57). Edinburgh, led by Gillham and backed up by Scott Stirling (38), Andrew Lawler (45) , Callum Symmons (67), were a couple of places below that at ninth.
Steph Pennycook was the best-placed Scot in the Women's race as she came home in 10th and that helped Edinburgh Uni to fourth place in the team race, with support from Hannah Viner (18th) and  Louise Mercer (30).
There were a number of fine performances by Scots in the United States over the weekend as the likes of Chris O'Hare and Lynsey Sharp took to the track in indoor events.
O'Hare was competing at the Armory Track Invitational event in the mile and he won the race in fine style with 3.54.59 – leading home a field which featured seven men breaking the four-minute barrier.
Watch it online here
Giffnock North AAC's Neil Gourley is studying in Virginia and the man who represented Scotland B in the 4 x 1K International Relay at Holyrood Park on January 9 went sub-four for the mile.
Neil clocked 3.59.58 at an event in Virginia and that run will take him into the top five in the all-time list for indoor mile runs – at fourth place in a list which O'Hare heads (with a 3.52.98).
Sharp opened up her Olympic year with an indoor 800m run and clocked 2.02.25 in the same Armory event as Chris, with Lynsey finishing third. Sam Adams won the pole vault with 4.80m.
A couple of other performances in America included Allan Hamilton at 7.36m in the long jump and Josh Kerr at 1.52.25 in the 800m. That run puts Kerr in the all-time indoor list for U20s for 800m and, looking at the top 10, great to see three of those performances have happened in 2016 via the efforts of Ben Greenwood and Aidan Gilbride at the Scottish Seniors and now Josh.
Best place to check these Results is on the Scotstats website (which also has the all-time list data).
*There was a good run by Luke Caldwell to finish second in the Chichester 10K race at the weekend. Luke clocked 29.43 and he was in front of the likes of Scott Overall, Lee Merrien and John Beattie in a strong field.
+++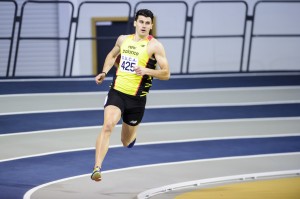 Guy Learmonth – 1.50.20 at SUCA Champs (photo by Bobby Gavin)
Laura Muir and Guy Learmonth were among the athletes taking part in the SUCA Champs at the Emirates – with a number of championship records set.
Glasgow Uni's Muir led the way with her 800m win in 2.02.46 and her regular training partner, Mhairi Hendry, won the 400m with a 55.90 run which is also a record. Others to land that accolade were John McCall at 8.29 in the 60m Hurdles; Chloe Lambert with 24.55 in the 200m and Jemma Reekie with 4.35.78 in the 1500m.
Learmonth clocked 1.50.20 in his 800m heat on day when there a turnout of 216 athletes. The Ian Cosgrove memorial trophy for the top team at the match was won comfortably by the University of Glasgow.
The SUCA season will continue with the Outdoor Championships at Aberdeen on Saturday 2 April.
Results are available via the download here and also on our Events page
SUCA Indoor Championships 2016 Results
With thanks to David Low and Ian Tatton
Photos from Scottish Schools by Bobby Gavin
The Scottish Schools indoor track and field  Champs were held at the Emirates Arena on Wednesday and Thursday – with the event supported by Rotary International.
And this year's champs witnessed two Scottish U17 records created with Alessandro Schenini at 7/09m in the long jump and Erin Wallace setting a new 1500 record of 4:31.71 (subject to a decision on an earlier superior run).
There was fine sprinting with Alisha Rees and Jenna Wrisberg dead-heating in the 60m and Fraser Angus improving his 200m time to 22.19.
Results, videos and photos are online on the SSAA website.
With thanks to Arnold Black
Tags: BUCS XC, Callum Hawkins, Chris O'Hare, Laura Muir, Lynsey Sharp, Neil Gourley, Scottish Schools, SUCA Champs