Round-up (2): Renault; EAC; Percy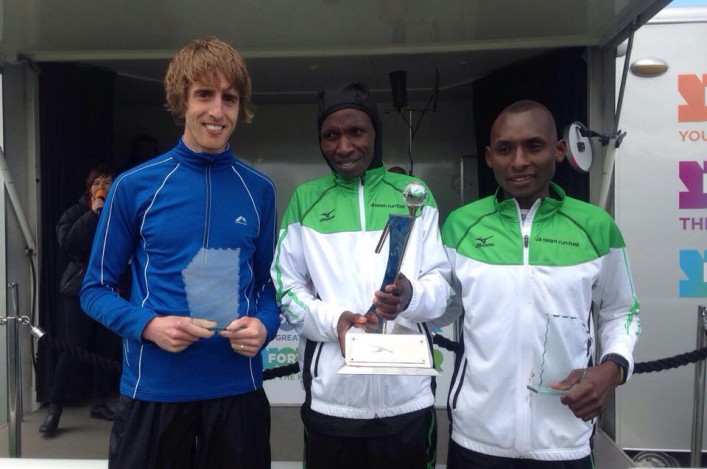 Neil Renault with Kenyans Peter Wanjiru and David Toniok
Scottish athlete Neil Renault came up with a fine second place in the Edinburgh marathon on Sunday
The Edinburgh AC athlete won the prize for best British finisher in the men's race, which was won by Kenyan Peter Wanjiru.
Renault clocked 2.24.35 and among those in his wake on the day was  English Commonwealth Games representative, Steve Way. Wanjiru won it in 2.19.36 with David Toniok third in 2.26.00.
'I'm from here so I knew exactly what the course was like,' said Neil, only five weeks on from a 2.20 effort in London.
'I am training out here all the time. You have to respect the conditions.I factored that into my plan; I sacrificed a bit of speed at the start knowing I needed to be a bit stronger in the second half into the wind. I'll look back and this will be one of the ones I remember.'
Joan Kigen won the Women's marathon race while Kilbarchan AAC's Gemma Rankin enjoyed a win in the half marathon race at 77.21.
Edinburgh Marathon Festival results
+++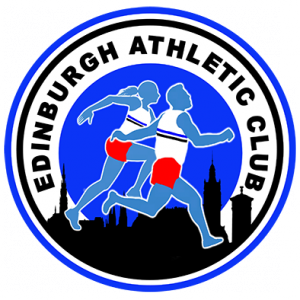 Edinburgh AC made the long trip to Turkey to compete at the European Club Championships as Britain's standard-bearers.
Unfortunately, the capital club finished in seventh place in the seven-team event after amassing the same 48-point tally as Dutch club Phanos.
It was a big ask for the team to try and match the fifth place achieved a year earlier arguably with a stronger squad but there were season's best performances from throwers Susan McKelvie (62.26  in the hammer) and Kirsty Yates (15.34 in the shot. Maddie Murray had a PB in the 800m at 2.08.39 and javelin thrower, Paula Gass, came up with a PB of 44.78m.
Success in the UK Women's League over the past two years has handed Edinburgh AC their European adventures and the club would like to thank all those who supported them for the trip to Mersin 2015 including sponsors and British Athletics.
Results are on the European Athletics website
+++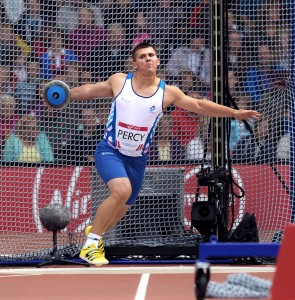 Nick Percy
Glasgow 2014 athlete Nick Percy has qualified for the NCAA finals in America.
The thrower has been in the United States for the past nine months and a discus throw of 55.69 was enough to take him through in the West Champs in Austin.
Unfortunately, Allan Hamilton and Jax Thoirs missed out – Allan was at 7.74m in the long jump – in the West while Neil Gourley was just a fraction away in the East at 1500m as he ran 3.45.67.
Tags: Edinburgh AC, Edinburgh Marathon Festival, European Clubs, Kirsty Yates, Maddie Murray, Neil Renault, Nick Percy, Susan McKelvie