Records and medals in Sheffield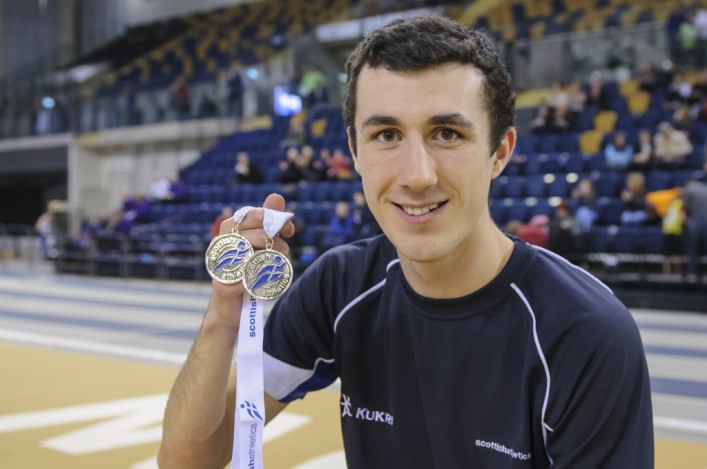 British U17 record for Ben Greenwood – pictured here at the Scottish Age Groups by Bobby Gavin

England Athletics Age Group Results

Video highlights on VincoSport
There were British and Scottish Age Group Records and a clutch of medals for young Scottish athletes who competed in Sheffield over the weekend.
The England Athletics Championships at U15,U17 and U20 level proved to be the right platform for some of our next generation and it was a wonderful day in particular for Ben Greenwood and Alisha Rees.
Greenwood swept to gold in the U17 800m final and broke the U17 British record in the process with a remarkable run of 1.51.62.
Rees has already lowered the Scottish U17 best for 200m during this indoor season, beating a mark which has stood for 32 years, and she brought it down further twice on Sunday afternoon en route to a silver medal with a time of 24.53 in the final.
Perth Strathtay athlete Ben smashed a UK U17 record, clocking a superb 1:51.62 to erase Richard Davenport's 1:52.79, set 13 years ago, from the record books. Ben produced a blistering last 200m to ensure he finished ahead of Brighton Phoenix's Archie Davis and Jake Harbinson of City of Lisburn, who were timed at 1:55.82 and 1:57.31 respectively.
Banchory Stonehaven athlete Alisha clocked 24.62 in the semi-final to beat the 24.78 time she ran in the Scottish Schools at the Emirates Arena on February 4.
That was better than Dawn Flockhart's record from Cosford in 1983 and Alisha then posted a new record of 24.53 in the final as she finished second for silver to Irish athlete Gina Akpe-moses of Birchfield.
'Alisha ran very well in the 200m and to get two personal bests and Scottish records on one day was a pretty good effort, ' said Alisha's coach, Willy Russell.
'As it turned out, it wasn't enough to win the 200m gold but you cannot ask for anything more than what she did on the day in Sheffield.'
There was another highlight for the Scots in the Sheffield audience towards the end of Sunday's action as the U20 Women's 800 final witnessed a Scottish 1-2.
Warrington athlete Carys McAuley came up with the gold medal-winning performance with 2.10.15 as she just managed to edge out silver medallist Mhairi Hendry, with the VP-Glasgow athlete at 2.10.87.
There was a bronze in the U20 high jump for Lewis  McGuire (Central AC) with 2.03m and in the U15 long jump, Arbroath and District AC athlete Joel McFarlane came home with silver with 5.98m.
Those half-dozen medals had been preceded on Saturday by a number of good performance by Scottish teenagers.
Pitreavie AAC's Anna Gordon took a silver in the pole vault with a clearance of 3.80 and Rachel Alexander was also a silver medallist – in the U20 long jump – with the Giffnock North AAC athlete reaching 5.97m. Rachel's leap is the second best of all-time for U20s.
Scott Connal (Whitemoss AAC) was third equal in the U17 pole vault with 3.90m while Olivia Vareille (Falkirk Victoria Harriers) raced to a fine PB of 2.14.66 for bronze in the U15 800m. There was also a bronze in the U17 400m for David Allen (Giffnock North AAC) with 50.24.
All at scottishathletics would like to congratulate the Sheffield medallists and their coaches on making the podium at the England Athletics Age Groups. Well done, too, to all those who made the journey south in search of a high level of competition.
(We have trawled through a multitude of individual event results to put together this round-up – but apologise profusely in advance should there be any significant omissions. Please email peter.jardine@scottishathletics.org.uk if there is a medal-winning performance missed out. Thanks.)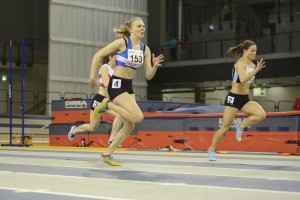 Alisha Rees
Tags: Alisha Rees, Ben Greenwood, Carys McAuley, England Athletics Age Group Champs, Mhairi Hendry, Sheffield