Now Alisha breaks Scottish 60m Record again . . .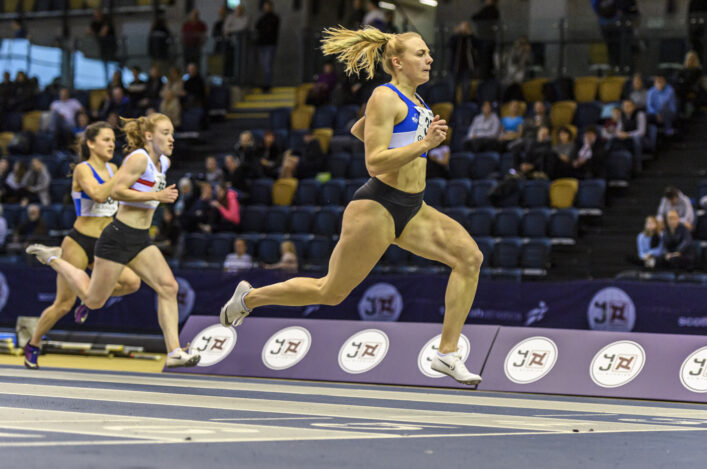 Alisha on her way to the 7.33 run for 60m at the Emirates in January which broke the mark set by Susan Burnside some 17 years earlier (photo by Bobby Gavin)
Alisha Rees has broken the Scottish National Record for the Women's 60m indoors once again.
A quite extraordinary week for athletics in Scotland continued apace in Sheffield at the BUCS Indoor Track and Field Champs on Friday evening.
Alisha had to settle for the silver medal in the BUCS final but has the consolation of a 7.32 time which improved on her 7.33 Record from the 4J Studios Seniors on January 26 in Glasgow.
Cheyanne Evans-Gray won the race in a CBP of 7.28 and Loughborough Uni student Alisha was four hundredths of a second behind for that 7.32. clocking.
Congratulations to Alisha, her family and coach Leon Baptiste.
So, just to recap, since last Saturday afternoon that is:
*Nikki Manson National Record HJ at 1.93m
*Jemma Reekie British Records x two at 1500m and mile indoors
*Eloise Walker U20 Indoor Record for 3000m
*Megan Keith 3k Road Course Record at Armagh for U20 Women
*And Alisha Rees National Record 60m Women's Indoors.

Tags: Alisha Rees, BUS, Sheffield