Nicole lands a third 4x400m Relay medal as Jemma finishes fifth
Results via European Athletics website
Nicole Yeargin came up with a strong anchor run as the GB and NI team took bronze medals in the Women's 4x400m final in Munich.
The Scot thus added European Championship relay bronze to medals of the same colour from the World Champs in Oregon and with Team Scotland at Birmingham 2022.
Holland and Poland relied on their big-hitters to take the gold and silver medals with Nicole, handed over in second place from Jodie Williams behind Belgium, running a superb 49.70 split to keep GB and NI in the hunt to the line – losing out on silver by only six hundredths.
Zoey Clark missed out on a run in the final but will be among the medallists after racing in Friday's heat.
The final quartet, led off by Victoria Ohuruogu and with Ama Pipi on the second leg, could certainly be proud of their 3:21.74  time – the second fastest ever by GB and NI in the Women's 4x400m Relay.
Many congratulations to Nicole and her family and her coach, Boogie Johnson, on a fine performance in that final. Well done, too, to Zoey and coach Ryan Oswald on another 4x400m Relay medal.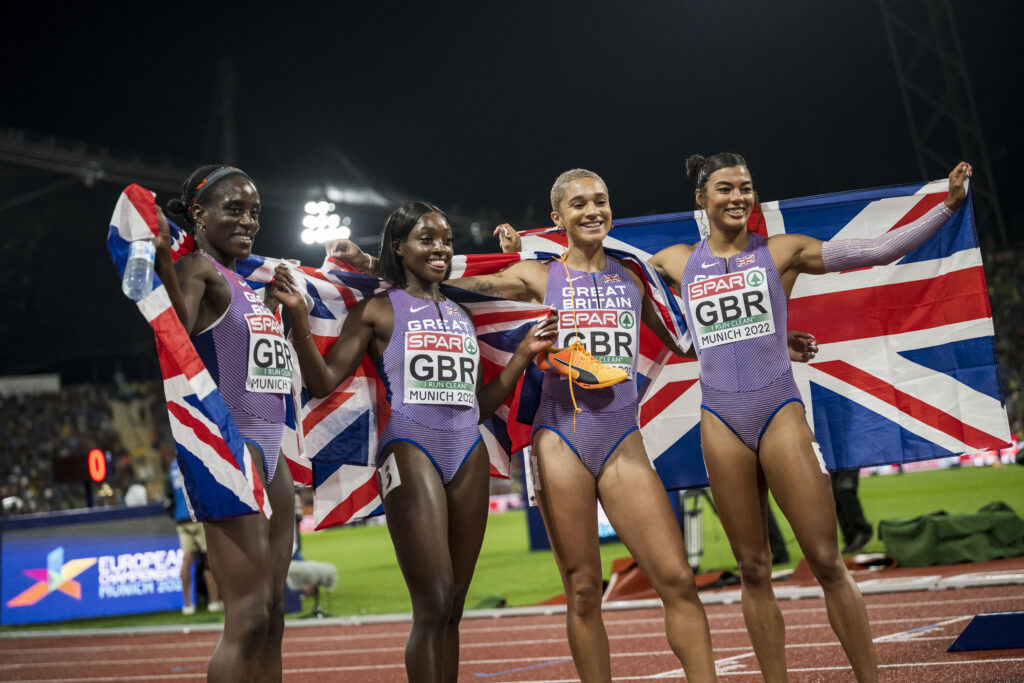 Photo via European Athletics
Nicole said: 'We know the 4x100mgirls have been racking up those medals so we're happy that we are stepping up now and getting our chance to shine!
'I knew she (Holland's Femke Bol) was going to be there and I had a little bit of a lead so I was happy about that, but I just had to give it my all and we were even coming off the curve so I held her off until then, I gave it my best.'
+++
Earlier, Jemma Reekie finished in fifth place in the Women's 800m final.
The Scot was in the hunt for the medals right up until the last 50m or so as she gave everything to make a podium which was duly headed by GB and NI's Keely Hodgkinson.
Jemma clocked 2:00.31 and had no regrets about her bid for glory after losing out in the heats at the Commonwealths before then taking on the 1500m.
'It's been a long season, and  tough, and I feel like all I have done since February when I had glandular fever is work so hard to get this season done,' she said.
'I would have liked to have gone a lot better and I would have liked to medal today to finish off this season but I have to take the positives.
''Andy (Young, her coach) and I both knew if it was a good day I would be able to go out there and challenge Keely and I was hoping to win it but I never know if it is going to be a good day until during the race and down that home straight my energy just wasn't there.'
+++
Tags: European Champs, Jemma Reekie, Munich 2022, Nicole Yeargin