National XC diary: Numbers; GP; Video; Marshals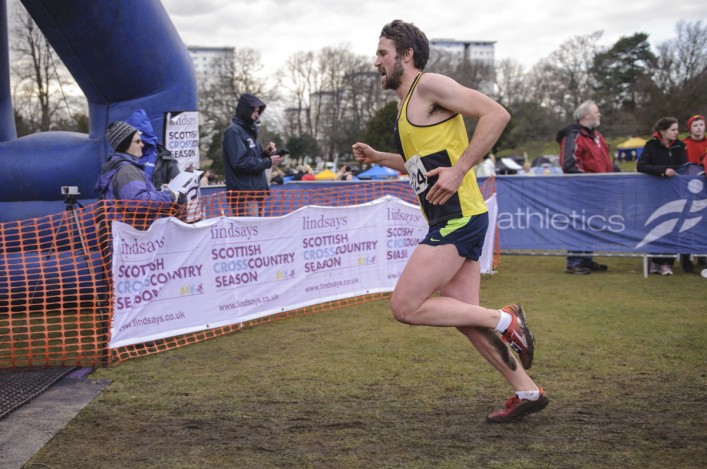 Entries and Finishers numbers on the RR and CC Archive site
The National XC at Falkirk last weekend broke all manner of records in terms of participation on a fantastic day for the sport.
Overall finisher numbers for the nine races reached 1709 to register as the largest-ever National XC championship since men's and women's events merged in 1994.
With 898 finishers in the two Senior races, it means that almost a quarter of all eligible scottishathletics members completed the Callendar Park courses over 12K for men and 8K for women.
Our membership figures for those aged over 21 are currently at 3865 – so the 896 finisher tally for Senior Men and Senior Women means a remarkable 23 percent of the adult membership raced at Falkirk!
Andrew Butchart won gold for the second successive year and was followed him by a further 632 men with that field the largest recorded at the National XC since 1990.
Finally on the numbers front, there's positive evidence that the 'retention' battle is being won in cross country at least with U20 and U17 numbers up significantly on last year. In total, there 268 finishers in those age groups last Saturday compared to 227 back in 2015. That's a rise of 18 percent at U20 and U17 level.
So we want to again say a massive thank you and well done to clubs the length and breadth of Scotland who demonstrated such a deep commitment to competition and who by galvanising their members have led to such exciting growth in this particular event.
BBC Scotland's Bryan Burnett, our on-course commentator last weekend (who ran 10.25 miles in the line of duty), is in no doubt about the enduring  appeal – and why the event is growing in partnership with backing from Lindsays.
'I think one of the reasons the National XC is so special is that you can enter it simply by being a scottishathletics member,' he said.
'You cannot say that in every sport. In other sports you can't just wander into the National Championship.
'But at Falkirk you can do it and find yourself lining up alongside last year's British cross country champion (Andrew Butchart, 2015 Inter-Counties winner); you can line up alongside Olympians; you can line up alongside Team Scotland athletes.
'And, then, right alongside them folk who are doing their first-ever National XC – who maybe only joined a club a couple of months earlier. Or we think about the youngsters just coming into it and racing U13 at National for the first time.
'No matter what level of runner you are, you are here on the day of the National XC and I think that is what makes so many people want to keep coming back.'
Mark Mitchell – third in GP
There's a huge competitive edge to the National XC, of course, and for the seniors there were double points on offer in the scottishathletics Cross Country Grand Prix.
With £4000 in prize-money to be distributed at the end of the season, the final event at the Inter-Counties in Birmingham offers Senior athletes the chance to improve their position.
The Women's top ten in particular is open for athletes to move up and earn a slice of the cash – with the top prize in the GP set at £750 with £400 for second and £250 for third.
Andrew Butchart can't be caught in the Men's table with his Central AC team-mate, Alex Hendry, in second place on 137 points. Andrew Douglas (Inverclyde) is third on 126 and he is followed by Mark Mitchell (Forres) on 119 with Michael Ferguson (Aberdeen) in fifth on 101 after fine run for fourth place in the National XC.
Women's leader Freya Ross is now in America and will miss Birmingham but below the Edinburgh AC athlete there is a real scrap developing for the cash.
Stornoway's Eilidh Mackenzie is second in 103 points with Michelle Sandison of Springburn in third on 102. Angela Richardson (Fife AC) is fourth on 96 with only a one-point advantage over Fiona Rudkin (Metro Aberdeen). There are a number of other athletes close to those tallies so it could all change at the Inter-Counties!
+++
At scottishathletics we have a clear communications policy of seeking to grow the promotion of our biggest events.
We'd like to think those plans are bearing fruit with the National XC and engagement over the past week, particularly on social media, has been huge.
Special video preview pieces proved hugely popular on our YouTube channel – we call it scottishathleticsTV – and, with the help of our sponsorship from Lindsays legal firm, we employed Vinco Sport to produce footage of all nine races on Saturday.
The highlights package takes in clips from all age groups and Seniors and also captures quite superbly the atmosphere at Callendar Park. And the link here takes you to the play-list from the National XC Race Action so you can look at highlights of each of the different races.
Freya Ross – helped as a marshal in 2015
The National XC wouldn't happen each year without a huge contribution from volunteer helpers and scottishathletics and the Road Running and Cross Country Commission are indebted to those involved.
Falkirk Victoria Harriers have shouldered the responsibility for the course in recent years, in tandem with landowners the Falkirk Community Trust, and thanks are due to them.
Alex Jackson also met with a good response to appeals for help with marshalling around the course – with 14 of 16 clubs contacted duly supplying help. (We won't shame the two clubs who did not – but you know how you are!)
Here are those clubs, led by chief marshal Ian Hislop,  who did respond in a positive manner and thank you to each and every one of those individuals who put in a shift at Falkirk.
Bellahouston H, Dumbarton AAC, Dundee Road R, East Kilbride AC, Edinburgh AC, Giffnock North AAC, Helensburgh AAC, Kinross Road Runners, Livingston AC, Maryhill Harriers, Perth Road Runners, Perth Strathtay Harriers, Portobello AAC, Pitreavie AAC, Westerlands CCC, Shettleston Harriers, Carnegie Harriers. Garscube Harriers, Lothian RC, Volunteers via Falkirk Community Trust.
Sometimes, mistakes are made. And that's what happened with a couple of team presentations last weekend. We apologies to all the clubs involved and the athletes and their parents.
To help put things right, our Events Manager Alasdhair Love travelled to Moorfoot Runners on Monday evening to present them with gold medals for the U13 Boys race and hand over the trophy for that particular race.
Congratulations to Ethan Elder (who was among the individual medals with silver), Corran Carrick-Anderson, Michael Girler and Maxwell Drummond.
The Moorfoot lads also had a special message from a certain Chris O'Hare, from his training base in America.
'That is a fantastic result for the Moorfoot team and the two young men from West Linton.
'Ethan, Corran, Michael and Maxwell, congratulations on such a great achievement this weekend at the Scottish Championships.
'I am very proud of you all for your hard work at training and in races. Continue to do your best every single day and you can all achieve anything that you put your mind to.
'Enjoy being Scottish Champions. Hopefully see you soon,'
Chris 
Tags: Andrew Butchart, Cross Country Grand Prix, Falkirk, Freya Ross, Moorfoot Runners, National XC