Muller British Champs (Sunday): Jemma and Beth book Tokyo tickets
Two more Scots clinched their places for the Olympics in Tokyo at the Muller British Champs to complete a great weekend for athletics in Scotland.
Jemma Reekie and Beth Dobbin required top two finishes in the Women's 800m and the Women's 200m respectively and that is exactly what they delivered.
With Laura Muir's selection now a formality, a minimum of 11 Scots are now due to be named on Tuesday within Team GB and NI by the  British Olympic Association.
Four medals were added to 10 from the previous day on a hugely-encouraging weekend for the sport in Scotland, kick-started by Megan Keith's U20 3000m win on Friday night at the Manchester Regional Arena.
SILVER for Beth Dobbin in the Women's 200m
SILVER for Jemma Reekie in the Women's 800m
SILVER for Chris Bennett in the Men's Hammer
BRONZE for Laura Muir in the Women's 800m
Dobbin secured her ticket in the final event of the track. Jodie Williams completed a 400m-200m title double with 23.02 for the win and Dobbin had to rely on her characteristic strong finish to be sure of second.
'I've had sleepless nights over this over the past few weeks and so much stress,' she said.
'That's what the British Athletics Champs are like when you know you have to be in the top two.
'Five years ago when Rio was on I was nowhere near this level. My coach, Leon Baptiste, has done an amazing job and even in 2018, my breakthrough year, I was doing 40 hours a week in part-time jobs.
'Now this is my job and I've got support but that brings a bit of pressure. My family were all in tears there when I went off to celebrate with them. I am sure my dad was in tears but he will probably deny it!'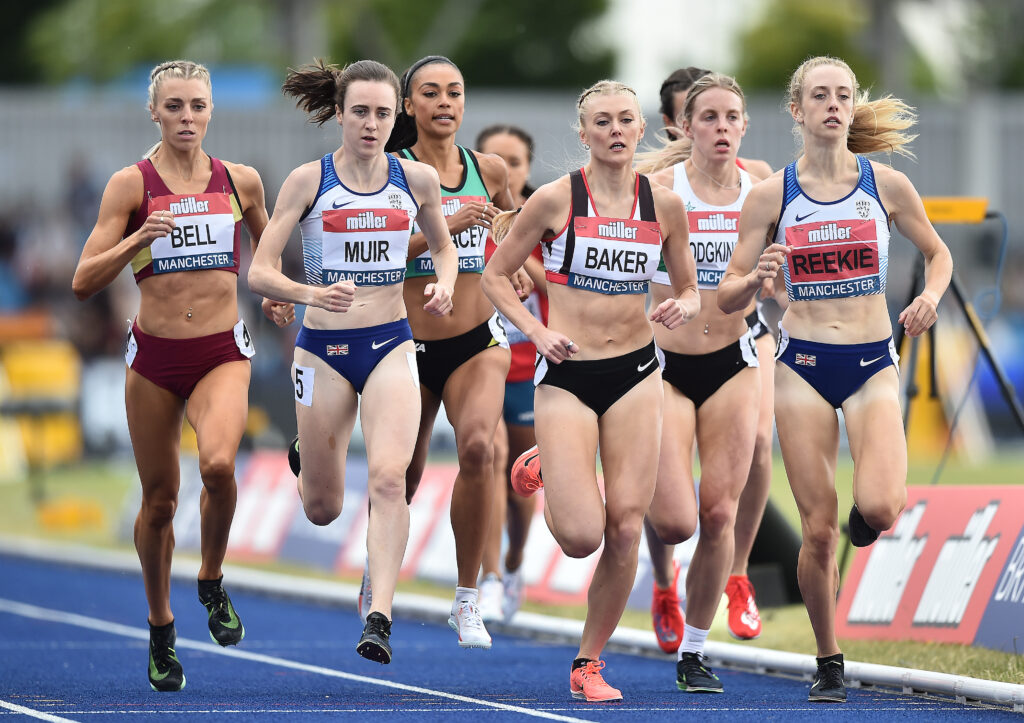 Photo by Getty Images via British Athletics 
Jemma Reekie booked her ticket for Japan in an exciting finish in the Women's 800m.
Keely Hodgkinson came through on the home straight to claim the gold medal and automatic selection – with Jemma having very briefly edged ahead of training partner Laura Muir.
Hodgkinson duly won it in 1:59.61 with Reekie at 2:00.12 and Muir taking home the bronze in 2:00.24.
Jemma's emotions bubbled over at the finish as she raced over to hug her family in the stand while Laura remains open to the prospect of doubling up over 1500m and the two-lap distance.
'It was an amazing race,' said Jemma.
'I didn't really want to lead it out again but sometimes that's how races pan out. But I certainly feel I have done my best in that race and give everyone a chance.
'Carrying the torch years ago my Olympic journey began. I didn't know it would come this soon but I am so excited and I want to go to Tokyo to compete.
'The British girls should be out there looking to medal as we are all very strong and in with a chance. We all push one another and we all deserve to be there.'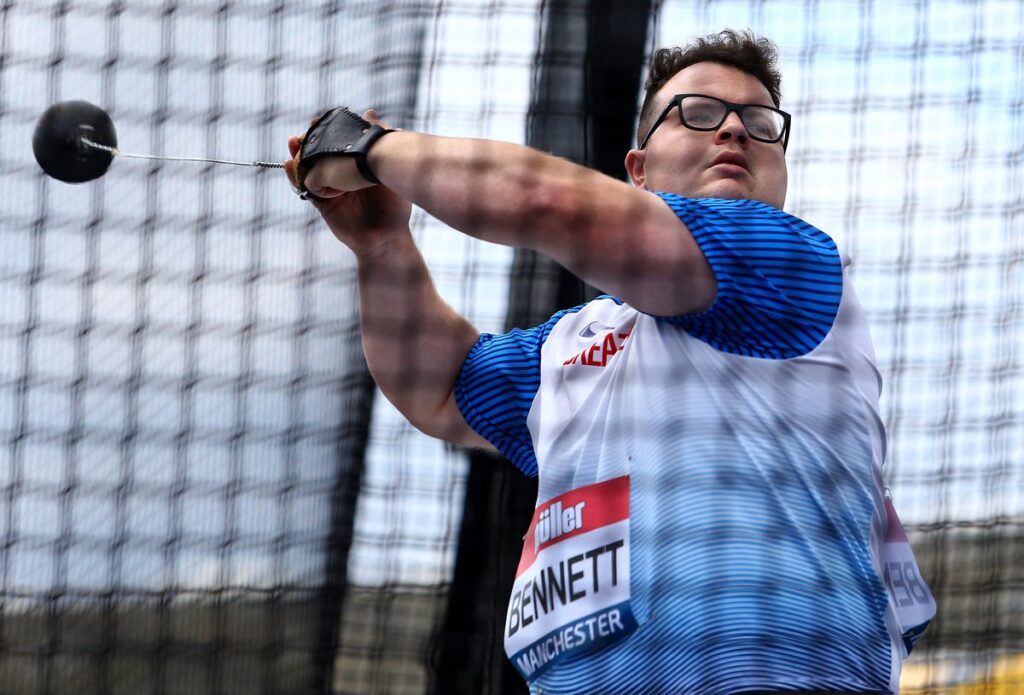 Photo by Getty Images via British Athletics
Chris Bennett had been the first Scot to win a medal on the third day of the Championships.
The Men's Hammer began just after 10.30am and Chris took silver with a solid series of throws. His best was 73.53m but he had to defer to Olympics-bound Taylor Campbell, who won with 75.10m.
Unfortunately, it wasn't a great day at the office for Kirsty Law. Champion for the past couple of years, Kirsty had to settle for fourth place in the Women's discus with a best of 52.73m.
Eilish McColgan did not start the Women's 5000m having already earned selection for the Olympics in the 10,000m. In the event, Jess Judd won it in 15.10.02 with Mhairi Maclennan taking tenth place in 16:35.19.
Nikki Manson was fourth in the Women's High Jump with 1.82m her best clearance. Carmen Neat cleared 1.72m in the same competition.
Heather Paton made it through to the 100m Hurdles final and delivered a Season's Best run of 13.37 seconds for seventh place. It was a Commonwealth Games standard for Heather.
In the Women's 200m heats early in the day, there were runs of 23.81 for Alisha Rees and of 23.89 for Georgina Adam with neither enough to make the final. Krishawn Aiken clocked 21.45 for sixth in his heat.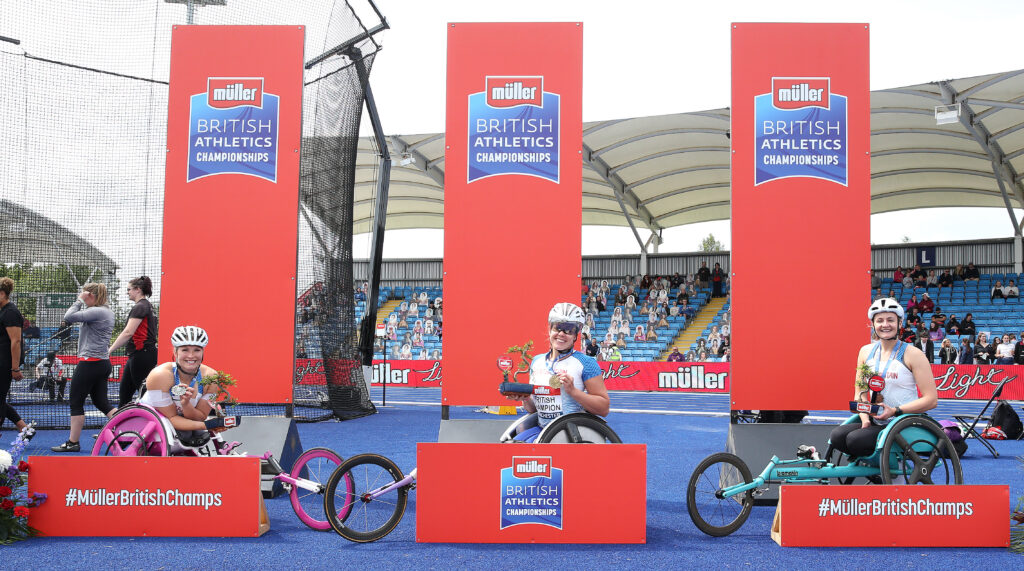 Sammi Kinghorn and Mel Woods on the podium in Manchester (photo by Getty Images via British Athletics)
In a mixed classification wheelchair race over 400, Sammi Kinghorn was just edged out over the final 10 metres or so by Hannah Cockroft, who won in 56.43 as against 56.60. Scottish athlete Mel Woods was third in the race in 59.99.
Maria Lyle is already headed for the Paralympics and she had a Season's Best run in the mixed classification 100m with a run of 14.36 into a headwind to take sixth place.
Stef Reid leapt to 5.28m in the long jump.

Tags: Beth Dobbin, Jemma Reekie, Manchester, Muller British Champs