Muir ready for first World final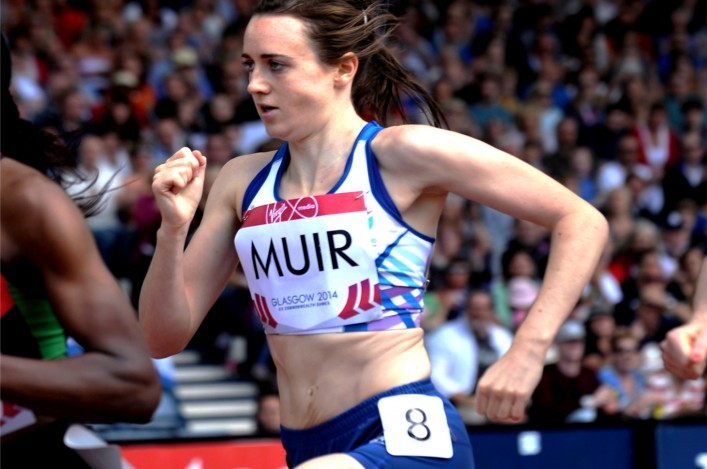 Scots in Beijing – in their own words
Laura Muir is ready for the first global final of her career in Beijing on Tuesday.
The Scot was highly impressibe again in the semi-final as she made certain of her final place with third in behind Genzebe Dibaba and Faith Kipyegon.
Muir clocked 4.07.37 to progress and looked as assured as she had the previous day in her opening round.
Now, just three years after competing in the Scottish Age Group Champs at Grangemouth and winning the 1500m in 4.38, Laura is mixing it at the very top level of the sport in China.
She set a new Scottish National record in the 1500m in Monaco earlier in the summer by becoming the first Scottish woman to break the four-minute mark and also won a Diamond League outing in Oslo.
But all the preparation and planning by coach Andy Young has been geared to Beijing and making the final was Laura's own stated first target after disappointment in Moscow a couple of years ago.
'It went pretty well,' said Laura.
'I just needed top five, top five, top five. I knew I just needed to do the best race I could tactically.
'I came out of this heat really, really well and it was one of my best races tactically. I just need to take confidence in that and then it's just a matter of putting a great race together.
'It was a case of being in the top five – that's all I was worried about and I'm glad to be through.'
Laura had come through the opening heat with a run of 4.05.53 to finish second and progress.
Her GB team-mate, Laura Weightman, also did enough to qualify but a bad fall on the track immediately after the finish line saw her suffer concussion – and she was withdrawn from the semis by the GB medical team.
After the heat on Saturday, Muir said: 'It was really good – I just stayed at the back out of trouble to let things settle down and then came through when it started to speed up a bit.
'I'm really pleased with the way I did it. We got delayed on the bus coming over to the stadium and we arrived five minutes before my warm-up should have started. I just had to deal with it, which is what I did, so I'm pleased. '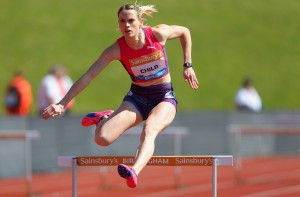 In the early hours of Sunday, Eilidh Child comfortably progressed from her heat in the 400m Hurdles.
It was a smooth passage for the European champion as she came home just behind reigning World champion, Zuzana Hejnova. Eilidh's time was 54.74 with her season's best at 54.46.
'I always get really nervous with the heats because with it being the first round, you want to conserve as much energy as possible, but not muck up either,' she said.
'I was happy just to qualify comfortably, get a feel for the track and I can just go back and chill out for a little while now.
'I played my stride pattern quite safe there and was within myself. I'll probably go out a little bit harder (in the semi-final) over the first six hurdles, try and hold my strides. I did 15 to five today so I'll try and do 15 to six, which means I'm a little faster over the first 200m and then maintain that around the second 200m.
'I'm delighted for my GB team-mate Meghan (Beesley). I saw her train out in Japan (at holding camp) and she's flying. I'm really pleased to see her get a PB.'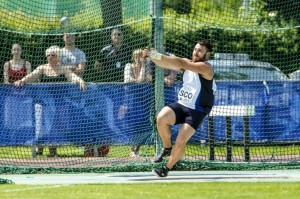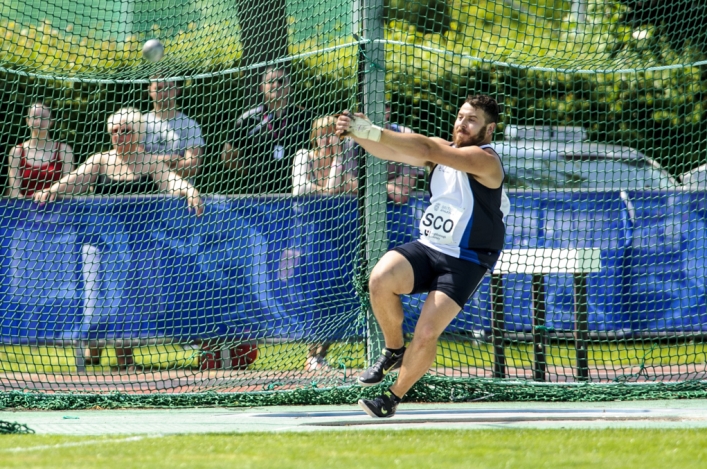 Unfortunately, Mark Dry's World Champs came to an end after three throws in the heats of the hammer.
Mark was in the second Pool in the early hours of Saturday morning our time and managed a best of 73.87m. It left him missing out on the 12-man final – and with the frustration of knowing another 65cms would have been enough. Fellow Brit, Nick Miller, was an impressive qualifier for the final with a throw beyond 77m.
He was apologetic in the aftermath but of course it is worth remembering he had to twice throw better than the erstwhile Scottish National Record (held by Chris Black for 32 years) to make the GB selection for Beijing.
'Obviously it's a little frustrating,' said Mark.
'I didn't manage to put three great throws together – I got three out there, but they were not just going that far. I have to go back and review – obviously I've got some technical issues, it just didn't come through the way I wanted it to.
'I'm in good shape, practice has been good, everything has been good and I've been supported really well coming out here.
'I've been given every opportunity to perform well, so I can only apologise.'
Tags: Beijing, Eilidh Child, Laura Muir, Mark Dry, World Champs