Muir lands British Record and GB captaincy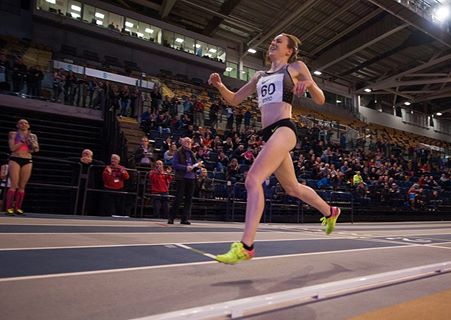 Photo by Bobby Gavin
Watch the race on video thanks to Glasgow Athletics Association
Muir to captain GB at Holyrood Park
Laura Muir took a British Indoor record over 5000m at the Glasgow Miler Meet – breaking the mark set by Scottish track legend Liz McColgan some 25 years ago.
Muir clocked 14.49.12 to out-strip by 14 seconds the existing record mark set by McColgan at 15.03.17 back in 1992 in Birmingham.
Then, within hours of that superb performance, Laura was named team captain for GB and NI for the Great Edinburgh XCountry event at Holyrood Park on Saturday.
On Wednesday evening, the Scottish Athlete of the Year for 21016 also went under the 9.00 being asked by British Athletics for qualification at 3000m for the European Indoors in Belgrade in March.
It was a remarkable solo run for around 16 of the 25 laps of the 200m track at the Emirates Arena, in an event hosted by the Glasgow Athletics Association.
'I am delighted to get it and it is nice to know now where I am at in terms of the 5000m,' said Laura.
'I kept looking at the times, and my coach Andy Young was shouting them out, but I tried not to look at the number of laps remaining. I kept my focus on 3 minutes per one kilometre, thinking the last one would take care of itself, and those tactics paid off.
'I've been in South Africa for training and the sessions there and since we came back were at PB times for 5000m so I felt good going into the race.'
There was a Scottish U20 Record for indoor 3000m for Muir's training partner, Jemma Reekie, at 9.28.19. Erin Wallace also broke the previous record with 9.33.02.
And Ben Greenwood beat his own Scottish U20 best for indoor 600m, with 1.18.98.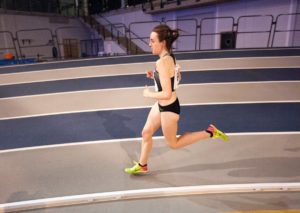 +++
The British team competed strongly at 2016's Great Edinburgh XCountry, with Muir lining up as part of the mixed 4 x 1Km relay team for the 2017 edition.
Speaking on being bestowed with the captaincy, Laura said: 'To be given the opportunity to captain a British Athletics team is a great honour, especially on home-soil and with such a strong team.
'We saw from the medals won at the European Cross Country championships last December that we have some fantastic cross country runners in both the senior and younger age groups, and hopefully, as team captain, I can help contribute to another successful event for the British team.'
Team Leader Spencer Duval added: 'Laura enjoyed a terrific 2016 in the sport, and as both an Olympic and World Championships finalist in the last two years she now holds a level of experience that will allow her to lead the team by example.'
The Great Edinburgh International XCountry is free to spectate and will be shown live on BBC One Scotland.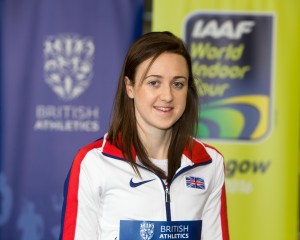 Muir – GB captain in Edinburgh
Tags: Emirates Arena, Glasgow Athletics Association, Laura Muir, Liz McColgan