Muir, Butchart set new Scottish Records in London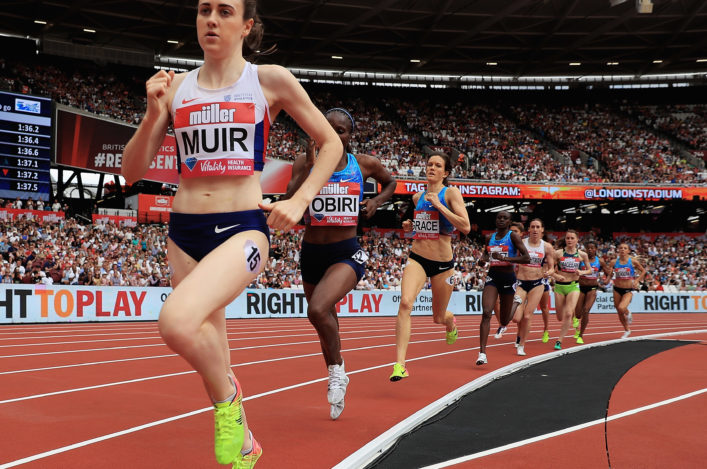 Photo courtesy of British Athletics/Getty Images
Muller Anniversary Games Results
Laura Muir and Andy Butchart set new Scottish Records at the Muller Anniversary Games – as Chris O'Hare stormed to a 1500m victory.
Guy Learmonth rubber-stamped his selection for the London 2017 World Champs and Jake Wightman went second on the Scottish all-time list at 800m in the same race.
It was another remarkable demonstration of Scottish power at the Diamond League meeting in the stadium which hosts the World Champs next month.
Muir and Butchart finished second and third respectively in the Women's Mile and Men's 3000m race – but each could be content with beating their PBs from 2016 to improve the Scottish Records.
Guy thrilled to land London return ticket
Individual athletes, and their dedicated coaches, must rightly get the credit for current performances. As a collective, however, there's something both awesome and inspiring about the way Scottish athletes, under what we like to call the #SALTogether banner, are raising their levels.
Impressions on the all-time lists are happening regularly and the 'team effort' for Sunday read something like this: two Scottish Records; a 1500m win; 800m World Champs selection plus second on all-time list; two fourth places and a third on the all-time Mile list.
Hellen Obiri won the Mile race in 4.16.56 with Muir at 4.18.03, just outside Zola Budd's British Record.
'I can't complain with a PB,' said Laura, who missed a couple of weeks of training with that foot injury before returing in Lausanne last Thursday with a sub-two 800m run.
'I am really happy. I took the race on and really went for it. Training has been going really well and I have had no reaction to the foot. It responded well today and hopefully it will hold up for the worlds.
'I knew Hellen was in really good shape. I heard her on my heels but I gave myself the best chance to win and get the record. The Worlds are still a month down the road and I am encouraged after today – I know I can come back even fitter and faster.'
Steph Twell claimed a 4.25.39 PB in the same race and that's third best on the Scottish all-time list, lifting her above Liz Lynch, who ran 4.16.11 some 30 years ago in 1987.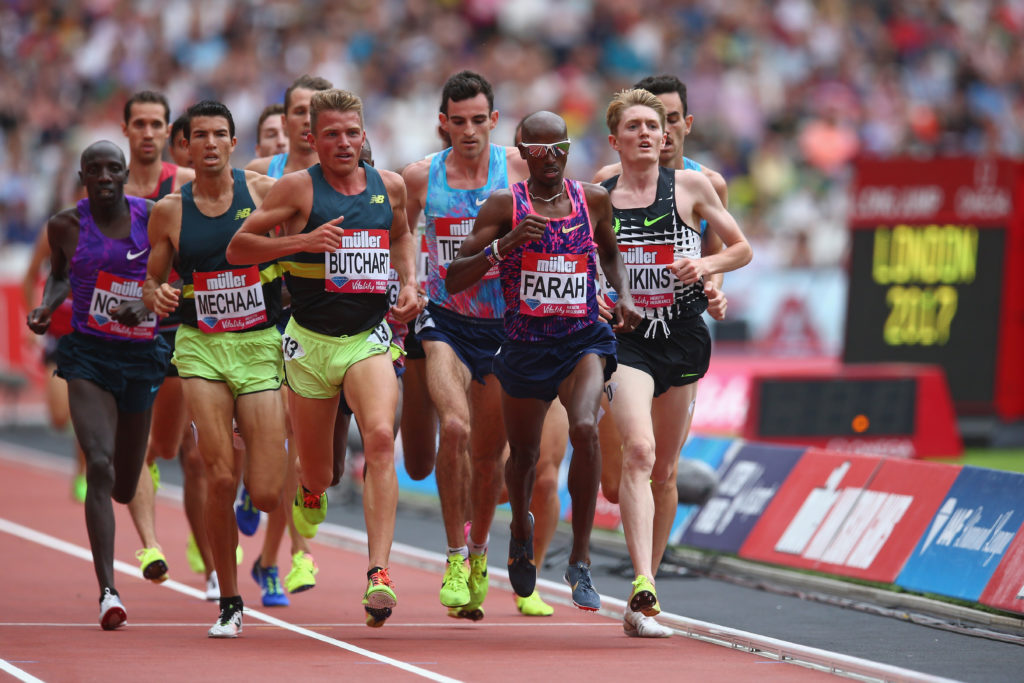 Photo courtesy of British Athletics/Getty Images
Butchart came home third to Sir Mo Farah (7.35.15) as the Scot clocked 7.37.56. That's a big step up from his 7.45.00 outdoor run last year and 7.41 indoors this year.
'I'm over the moon with that performance, and the stadium was incredible,' said Andy.  'Mo was coaching me mid-race and giving me advice on what to do, and I felt really good. The British Champs was an easy race for me, so my legs were quite fresh. I had so much fun out there; it was a good rehearsal for the world championships.
'Next I'm off to Font Romeu for prep camp, and then in August I'm rooting for a place in the final. Today gave me a lot of confidence and I have a lot of self-belief I can do really well in London.'
Chris O'Hare stormed home to win the 1500m race in superb style with a run of 3.34.75. Charlie Grice had looked well-placed at one stage to challenge but O'Hare timed his finish to replicate the success that Jake Wightman enjoyed in Oslo, (although the London race was not actually in the Diamond League programme).
'It was great,' beamed Chris. 'I knew with 200 to go I had a lot to do. I was mad at myself for that so I thought I had better go and hope there was enough track left and there was by half a metre.
'I feel so much stronger than I have ever been. I have put in a lot of work. I didn't use any of my finishing speed until the last 150m. It is huge just knowing even in a 3:34 race that I've got the finish and could close down on the big guys so it is a huge confidence builder.'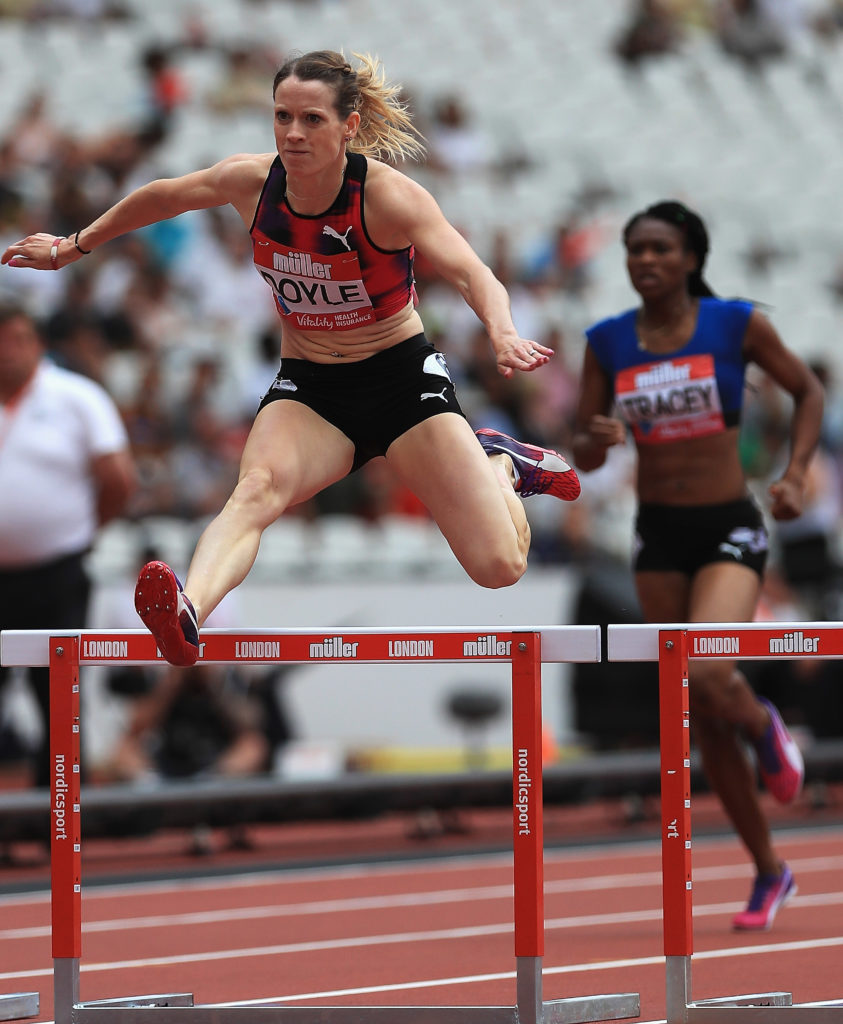 Photo courtesy of British Athletics/Getty Images
Eilidh Doyle took fourth place in the Women's 400m Hurdles with a run of 54.82 – in what was her fourth race in nine days.
'I felt pretty good but I was just dying over the last 50m,' said Eilidh. 'I've raced quite a lot recently – there were two at the trials last weekend and the Diamond League in the week – so I think my legs were a little bit 'what are you doing to me' when I reached the home straight.
'I'm happy to have been competitive in that race though and take a couple of scalps, and I feel it's coming together nicely now.'
(Many thanks to British Athletics for quotes from athletes)
Tags: Andy Butchart, Chris O'Hare, Eilidh Doyle, Laura Muir, London, Muller Anniversary Games, Steph Twell