Monument Mile Classic; Equality seminar; Mark Telford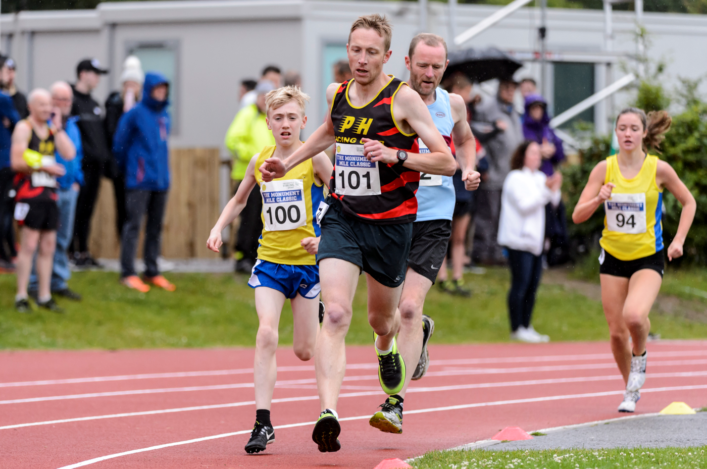 Action from the first Monument Mile event at Stirling last year (photo by Bobby Gavin)
Start-lists and Timetable on our Events Section page
The Monument Mile Classic takes place in Stirling on Friday evening with almost 190 names on the start-lists.
That is a significant rise on the 156 names taken last year for the pilot event which Central AC organise themselves and the endurance community is clearly starting to support with entries.
Yellow vests from the host club could well be to the fore with Alastair Hay and Jamie Crowe chasing the 4.05 cash prize and Morag Millar now set to try and challenge the women's target of 4.40.
'I am really looking forward to competing at The Monument Mile Classic on Friday as I aim to test my speed before the Vitality London 10,000 on Monday,' said Morag, the Scottish 5K champion on the road recently in a Course Record.
'Having watched last year I know it will be a great event and I am sure that all competitors will enjoy a great night of racing on Scotland's most beautiful track.'
scottishathletics were represented in London last week at a special equality event to discuss various issues including non-binary inclusion.
The event, organised by UK Athletics and UK Sport, was tied in with others happening on Friday 17 May, which was International Day against Homophobia, Biphobia and Transphobia.
Fran Snitjer is our Equalities Officer and she headed south to be part of the panel for the round-table discussions on a number of issues.
Fran has been instrumental in helped out Events team introduce non-binary entry categories for all Scottish Championship events (in all disciplines) from earlier this year.
+++
scottishathletics has been saddened to learn of the passing of Para athlete, Mark Telford.
The Carluke athlete was an excellent wheelchair racer, one of Scotland's best over the years, and enjoyed a number of successes including a win in the 2016 Great North Run Wheelchair event.
We send our condolences to Mark's family and friends at this sad time.
+++
Tags: Alastair Hay, Fran Snitjer, Mark Telford, Monument Mile Classic, Morag Millar, Stirling