Our awesome quartet: How four Scottish men claimed TEN major medals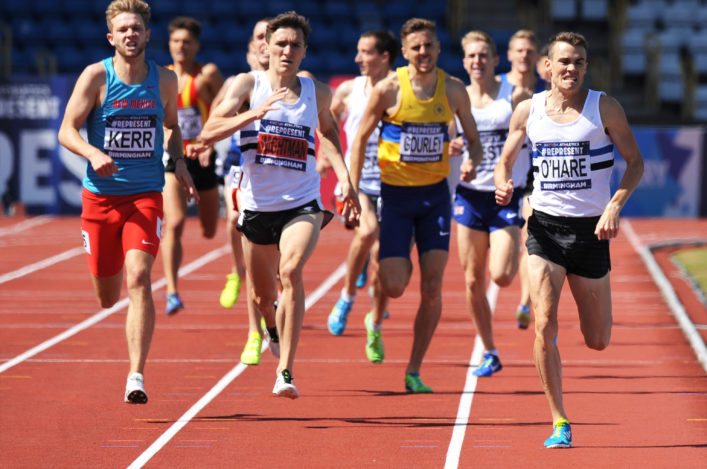 Mark Shearman's signature photo from the British Champs in 2017 captures a Scottish 1-2-3-4 in the Men's 1500m
Check out our YouTube channel for interviews, action
By Peter Jardine, Head of Communications
It's competition time (not really, but bear with us)!
Using your skill and judgement, study the photo above from the Men's 1500m final at the British Championships in Birmingham in the summer of 2017.
Can you name the four Scottish athletes and their clubs? And, for a supplementary, can you list the number of major international medals these athletes have won individually and, thus, collectively?
So, certainly easy enough on the four athletes and the names across their numbers are something of a giveaway! From left to right; it's Josh Kerr (Edinburgh AC), Jake Wightman (Edinburgh AC), Neil Gourley (Giffnock North AC) and Chris O'Hare (Edinburgh AC).
But did you know the medal tallies?
Josh – One (Olympics)
Jake – Five (Two Commonwealth, Two European, One World Champs
Neil – One (European Indoors)
Chris – Three (One European, two European Indoors)
Yes, our awesome quartet have seized no fewer than 10 major middle distance medals in recent years, with nine of those being over 1500m (Jake won a European 800m silver last summer).
It's quite a Scottish haul of fame, when put into context.
The period over which these medals have been won began in August 2014 when Chris took bronze in Zurich at the European Champs. So the span is less than nine years.
And, in each of these Men's 1500m events, there are probably more than 40 entrants (certainly outdoors) with the vast majority with PBs sub 3:40 and a large cohort nowadays even sub 3:35.
For our four Scots to keep beating a path to the podium ahead of all that opposition represents sustained excellence – #SALtogether, #SALachieve if you like.
In additions to the medals, there has been success at Diamond League level, countless medals at the British Champs, NCAA titles and Records, and high profile wins at events like the Fifth Avenue Mile or the Millrose Games.
Chris, now retired, is rightly proud of his 'standard-bearer' role in showing three younger men the route to medals.
Neil, at 28, has had to, if not quite 'live in the shadow' of the other three, then certainly work extremely hard indeed to feature in the same conversation.
He's there now, that's for sure, and that rise merits serious appreciation and congratulation.
Glory for Gourley: Neil lands silver at the European Indoors
'We are certainly trying to gather in medals,' said Neil, when asked about the collective effort.
'Bit by bit, I think we push each other on and raise standards. We are starting (collectively) to pick up medals across a number of championships and that's great for athletics in Scotland and the UK.
'Josh started it in terms of world level with the Olympics in 2021 and Jake took that up another notch by winning the World title in Oregon last summer.
'I am doing my best to live with those standards. I am getting closer and closer – I put Jakob under a lot of pressure in Istanbul but didn't quite come up with the win. But my goodness I am so much closer than I was last year so I take encouragement from that. We will keep working hard.
''That's a British title, a British Record and a European silver over the past fortnight so when you put it like that . . .  it's definitely decent!'
It most certainly is. And so is the 'team effort'.
+++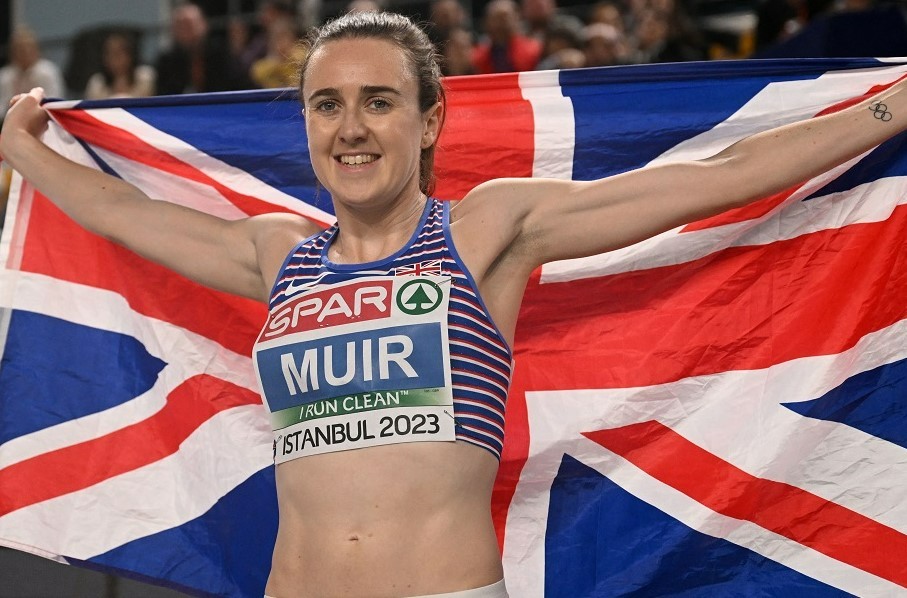 Photo via European Athletics/Getty Images
Magnificent Muir! Laura claims her seventh European title in Turkey
What more can we say about Laura Muir? Plenty!
Laura is utterly peerless now in Europe and continuing to rack up achievement after achievement on her CV regardless of event, competition or opposition.
Let's restrict it for the moment to highlight the 29-year-old's incredible consistency.
Since the Olympics in August 2021, when Laura took silver in Tokyo, four more championship events thereafter have consecutively yielded five final appearances. On every occasion, Laura has picked herself up from the track to stroll towards the podium.
It's six-from-six as follows: Olympics 1500m silver; World Champs 1500m bronze; Commonwealths 800m bronze, 1500m gold; European 1500m gold; European Indoors 1500m gold.
Amid so much happening last summer, Laura's medal double in the 800-1500 inside 24 hours was possibly under-played slightly.
Years from now that six-from-six may well come to better appreciated. Similarly, this 'golden generation' (see above re Men's 1500m quartet) in a wider, media context. The support and excitement within the athletics community in Scotland is not in dispute.
'It has been insane in recent years because I think we have had at least one or two Scots on podiums at every major champs going back a wee bit,' said Laura in Turkey.
'We have women, we have men, we've had 5000m, 800m, 1500m. So it is brilliant time and brilliant to be part of it.'
+++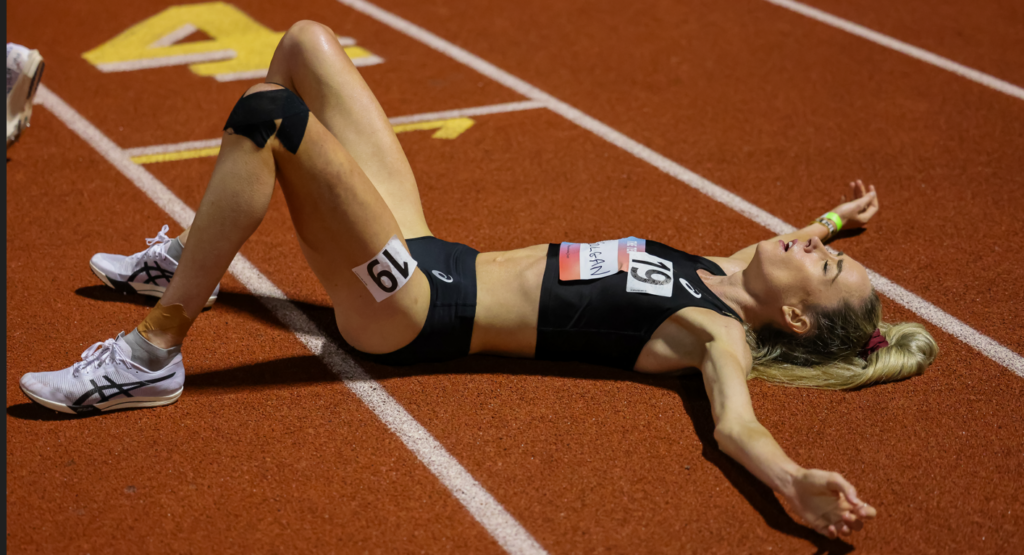 Photo by Gregorio Denny in California (Instagram @dvgregori)
So if Laura remains very much the standard-bearer, what about Eilish McColgan?
We can't let the past few days slip by without mention of that awesome British Record in California.
Not only did Eilish eclipse the Paula Radcliffe Record which had stood for more than two decades, she also stripped 19 or so seconds off her own erstwhile Scottish mark. That's very impressive at this stage of 2023.
Eilish's emergence in the global elite over the past couple of years has been truly exciting and heart-warming. And there is still that eagerly-awaited marathon debut to come.
Paula must feel a little nervous every time Eilish toes a start-line.
+++
Tags: Chris O'Hare, Eilish McColgan, Jake Wightman, Josh Kerr, Laura Muir, Neil Gourley