Masters XC review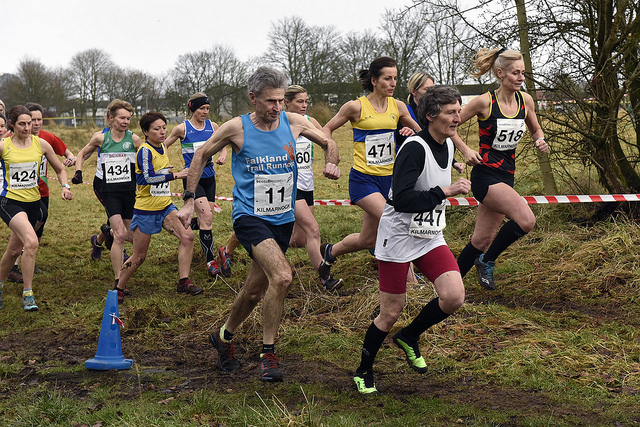 Action from the Women's and M65 and above race – photo by Mike Scott
Masters CC Champs 2018 Final Results
Scotland international hill runner Charlotte Morgan claimed the Women's gold at the Scottish Masters XC Champs with a dominant performance.
And Shettleston's Jethro Lennox made it two-in-a-row as he followed up his victory at Dundee last year with a repeat success at Dean Castle Country Park.
To say conditions were muddy would be an understatement.
There was mud and hills and muddy hills, plus a horses' field, tree roots to negotiate, paths with mats thereon and, not to forget, a log to hurdle on a steep uphill. It was, as organisers and host club Kilmarnock Harriers had promised, 'proper cross country' and a mental as well as physical battle.
Morgan burst clear early on in the Women's and Men's V65 race and seemed to relentlessly keep building that advantage. In the end, she romped home in 23.41 – fully 51 seconds ahead of nearest rival, Catriona Morrison of Stirling Triathlon Club. There was a bronze medal for Lesley Chisholm of Garscube Harriers.
Gala Harriers women are often prominent on these occasions and 2018 was no different as they took the team golds back to the Borders. Chisholm led Garscube to silvers, with Giffnock North AC landing the bronzes.
Lennox won the men's V40-60 race over 8k in a time of 30.13 to take it by only a couple of seconds from silver medallist, Iain Reid of Cambuslang Harriers in an exciting finish. In fact, for Jethro it was basically a repeat of last year when he took the title from another Cambuslang athlete – Robert Gilroy. The bronze medal went the way of Tom Ferrington of Corstorphine.
Ferrington's performance helped Corstorphine to the team gold medals with Cambuslang taking the silvers and Shettleston Harriers in third for the bronzes.
Tony Martin of Falkland Trail Runners won the M65 race ahead of Frank Hurley of Cambuslang and Andy McLinden of Hamilton Harriers.
There were a number of other medals in the five-year age categories and these are all laid-out clearly on the Provisional Results download at the top of the story.
Many thanks to host club Kilmarnock Harriers for superb efforts in staging the Masters XC and putting in a lot of work to deliver the event and a tough course. Thanks, too, to Dean Castle Country Park staff and to all the volunteers making a vital contribution as marshals, time-keepers, finish-line video and Results and so on. Your assistance is vital to making events happen.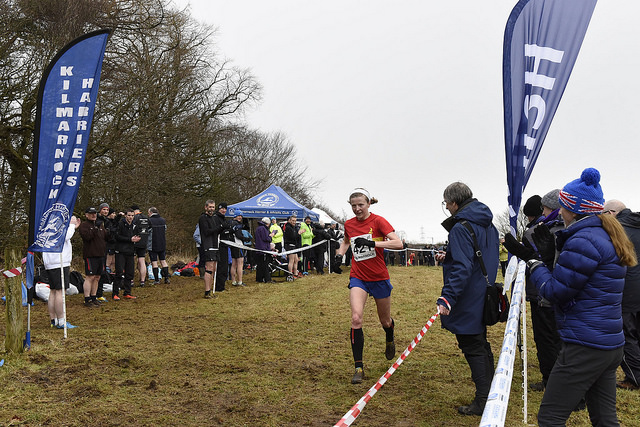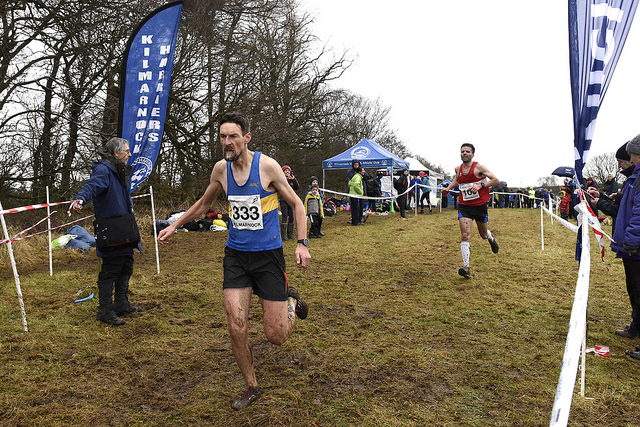 Tags: Charlotte Morgan, Dean Castle Country Park, Jethro Lennox, Kilmarnock Harriers, Masters XC