Masters XC Champs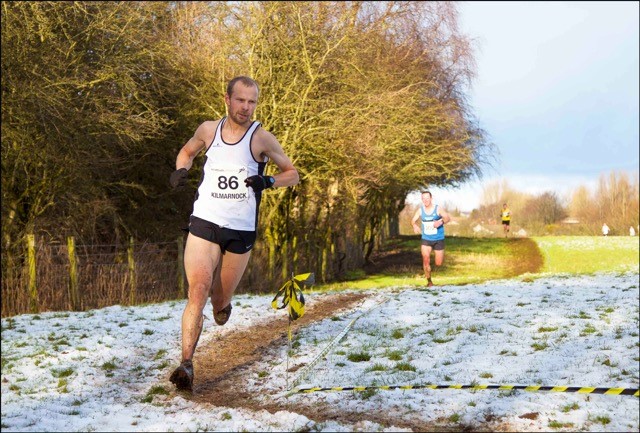 All the Results from Kilmarnock (scroll down page and on left)
Photos: with thanks to Kilmarnock Harriers
Snow, mud, ice, sand and a short stretch of pot-holed tarmac and gravel. The Masters XC at Kilmarnock had all that is required from a decent cross country course – and a bit more – yet a few athletes no doubt still felt the day out in Ayrshire was 'benign'.
Maybe those were the hardy souls who survived Hawick 2014 which was described by Road Running and Cross Country secretary Alex Jackson as the 'worst conditions I've ever known for a cross country' as sub-zero wind-chill caused deep distress for many athletes in the Borders.
This time the sun shone for much of the day as the organisers came up with a variation on the course used for the West District XC event late in 2013 which included a much-feared 'swamp'.
Recent conditions rendered that impossible so now there was a detour along the River Irvine bank and up around a hilly field for the two longer laps on a day when Masters athletes from clubs as far afield as Gala, Greenock, Aberdeen and Highland Hill Runners descended on Ayrshire.
When the races finished, there were main race wins for Lesley Chisholm of Garscube Harriers and Keith Hood of Corstorphine AAC, as well as a host of medallists in the various age-groups.
There certainly was an appropriate symmetry in Phyllis O'Brien climbing on top of the podium to collect the F55 gold medal – with the Hunters Bog Trotters athlete having spent a night in hospital a year earlier after suffering from hypothermia in those appalling conditions at Hawick.
Edinburgh AC's Walter McCaskey was a winner again as he moved in the V80 age group. Walter featured in the Herald newspaper on Saturday and he lived up to his billing.
And Eddie Stewart added to his vast personal medal collection with victory in the V55 men's race. Ronhill Cambuslang athlete Eddie may soon require a large vault to store his haul.
For women's winner Chisholm, it was a first Masters experience after she turned 40 a month ago. Ann White in the F60 catrgory gave Garscube a second women's Masters gold medallist.
'I enjoyed it and it was good to win the gold medal in the Women's race but it was a bit of a different experience for me,' said Lesley.
'Normally when I've been running in Senior Women's races there are people around you, people to chase and so on. I was out on my own in bits today although it was a good battle with (other medallists) Jenny MacLean and Megan Mowbray.
'I think I ended up about 30 or 40 seconds ahead and it was good to win. It was only my second race back after a recent hamstring injury, too, so that is pleasing.
'I will take things on now for theNational XC at Falkirk in three weeks. It is everyone in together again there, in terms of Seniors and Masters, so we will see how it goes on the day.'
Gala Harriers picked up the Women's team golds thanks to the efforts of Fiona Dalgeish, Kate Jenkins and Jennifer Forbes. Hunters Bog Trotters took second with Mowbray their first counter while the bronzes went to MacLean's Edinburgh AC.
Ronhill Cambuslang are often impressive on these occasion and they were peerless again in the Men's team race. With Kerry-Liam Wilson and Stevie Wylie picking up silver and bronze medals behind Hood,  the team race win looked assured and that duo were assisted by Greg Hastie and Chris Upson. Cambuslang also won the Men's V50 team race.
In the Women's race there were other age-group golds as follows:
F45 Melissa Wylie (Dumbarton); F50 Rhona Anderson (Dunbar); F55 Phyllis O'Brien (HBT); F60 Ann White (Garscube); F70 Elizabeth Gilchrist (Ferranti AAC).
In the Men's V40 to 60 race, there were other gold medals as follows:
M45 David Millar (Irvine), M50 Chris Upson (Ronhill Cambuslang), M55 Edward Stewart (Ronhill Cambuslang), M60 Tony Martin (Fife AC).
In the Men's M65 and above race, the golds were as follows:
M65 Alex Sutherland (Highland Hill Runners), M70 Robert Young (Clydesdale Harriers); M75 Leslie Nicol (Metro Aberdeen); M80 Walter McCaskey (Edinburgh AC).
*Many thanks from scottishathletics to the Road Running and Cross Country Commission for staging the Masters XC once again with great commitment by clubs, athletes and helpers on the day.
A special mention for Kilmarnock Harriers, who took on hosting the races for the second time in four years: your help is much appreciated.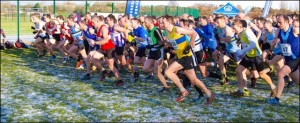 And they're off . . .
Tags: Corstorphine AAC, Gala Harriers, Garscube Harriers, Keith Hood, Kilmarnock Harriers, Lesley Chisholm, Masters XC, Ronhill Cambuslang